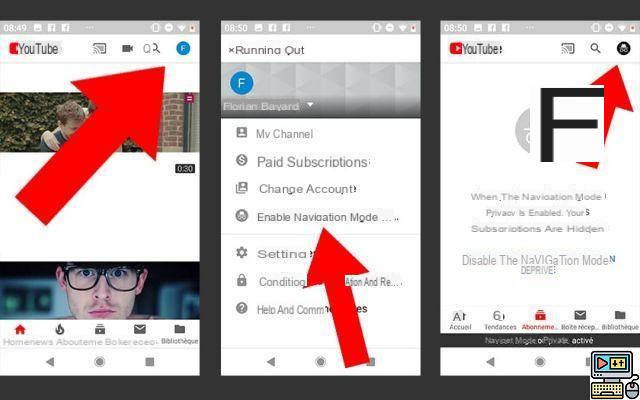 YouTube has a private browsing mode that allows you to surf incognito, without leaving any traces. Here's how to activate it.
This option works the same as the private navigation on different web browsers. It is therefore of little use on a PC, which is why the web version of YouTube does not benefit from an Incognito mode. It makes perfect sense on mobile, where we use the YouTube application more than open it in a browser.
How to enable private browsing on YouTube
To browse incognito mode on YouTube when using the mobile app, it's easy. Follow the next steps:
Open the app and tap profile picture of your account in the upper right corner
Press on " Activate incognito mode In the options that appear on the screen. Then touch OK to validate the activation.
Now private browsing is enabled on YouTube on your smartphone. To deactivate it, all you have to do is press the mode icon which replaces your profile picture or your name's initials at the top right. Then press Deactivate incognito mode.
Finally, note that the parameter only applies to the scale of the smartphone, and not to your YouTube (Google) account. In other words, by activating private mode on one device, it does not affect the others on which you usually connect. Once Incognito mode is activated, you can surf youtube without leaving any traces. Your searches are not kept, nor the history of videos viewed.
Your activity does not influence your experience either. In other words, the recommendation algorithm becomes inoperative. Also note that it is impossible to access your subscriptions, videos to watch later, your playlists and all the other options related to your account. You also cannot like videos or react in comments. Finally, by remaining inactive for more than 90 minutes, your private browsing session is automatically deactivated.
The editorial advises you:
Windows 10: how to activate dark mode
How to Download YouTube Video on iPhone, Android, PC and Mac
The ability to speed up or slow down a video on YouTube can be very useful. It was possible to do this in the web version of the platform for a while…YouTube now offers a Night mode, also called Dark mode, to change all light surfaces to dark surfaces. Since we always make it easy for you, here's how to activate the mode… First broadcast in 1984, the famous animated series based on Transformers toys was uploaded to YouTube. You can now watch videos for free…In order to increase subscriptions to YouTube Premium, Google is testing a cheaper subscription in Europe. It's YouTube Premium Lite, which offers browsing that includes YouTube Kids and…