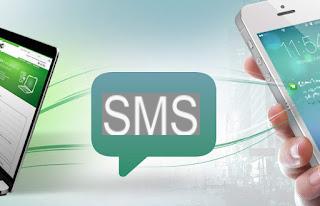 Even if now everyone uses Whatsapp, SMS are still important, especially for sending messages to people who use traditional mobile phones or those who live more offline than online.
Furthermore, SMS are now given away in packages every time you subscribe to a new subscription or a new rechargeable SIM.
For those who, on the other hand, are forced to send SMS to a friend or relative who does not use Whatsapp or who seems to have been offline for some time, if they do not want to spend telephone credit, especially if they are abroad and the rate for a single message is higher, then they are still very useful
sites to send free SMS again in 2017
.
PLEASE NOTE: When it comes to sites that want to register an account to send free SMS, if they also ask to indicate their phone number, there is a risk that the number will then be sold to marketing companies making it end up in the lists of call centers.
In order not to risk it, it would be better if the registration to these services to send free SMS is done with a mobile number that we do not use every day.
If you want you can also try to register using the sites they generate
phone numbers to receive SMS
.
NOTE2: The following sites can be used for single, not multiple SMS sending or for marketing campaigns.
1)
FreeSMS.net
is a service offered by the Agile Telecom company which for years has been one of the few that have always worked to send SMS from the internet.
The site requires the registration of an account, with name, email and telephone number that can have the prefix of any country in the world (so you can also use a number of those generated to receive SMS) and use a temporary email to receive the confirmation link.
With this site you can send an SMS all over the world.
2) You can send free SMS messages from the in your languagen site
UrbanTrash
, with a clear and clean interface.
To use this site you must first register your account on the SMS Hosting site for free in order to receive the PIN that will be requested in the SMS sending form.
A small advertising message is also attached to each SMS sent, limiting the available characters from 140 to 109.
3)
freeSMS
is another site that works to send free SMS with a maximum length of 146 characters to any mobile phone in the world, with indication of the sender.
In this case there is no registration to do, you just have to write the verification code indicated at the end of the form.
This site has been around for years and doesn't always work (although it's okay at the moment).
4)
Youmint
is a free SMS site that requires registration, which works all over the world.
5)
globphone
sends SMS all over the world without registration, even if the sender cannot be defined, which must therefore be written on the text of the message.
6)
e-freesms
which does not require registration and works for in your languagen numbers that are not with operator Tre.
7)
SMSGot
, German site that also works for in your languagen numbers, without registration.
The number must be indicated with the in your languagen prefix 0039, for the rest it can be easily understood that the Weiner key is the sending key and that the green writing will indicate the success of the shipment.
8)
FreeBulkSMS
is a site for sending 100-character SMS to telephone numbers all over the world, without registration.
9)
SendSMSNow
is one of the simplest web services to send free SMS messages.
The site requires you to register for an account, even if you don't need to enter your phone number.
10 )
24Sms.net
is a site that allows you to send SMS from all over the world, without registration, with 160 characters available and the possibility of indicating the sender.
11 )
Openingtextonline
is a site for sending SMS that also allows you to receive replies via email, without registration and without limits.
12 )
Send Anonymous SMS
, to send anonymous SMS without registration.
15 Sites to send free SMS from the internet