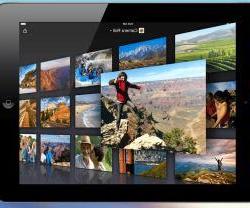 After taking a photo with a Samsung, LG, HTC or other Android mobile phone, this is then visible from the Gallery app, simple and with some basic editing and adjustment tools.
But if you wanted a more intelligent and advanced application for
browse images and organize photos taken by the camera or posted on the internet
, on Facebook and Google, there are others
best apps to view photos on android
that we are going to list.
1)
Photo Gallery
is an app that automatically organizes photos based on the date they were taken. Smart Album is just a calendar that shows the photos taken for each day of the year. Instead of looking in the photo album for a particular image, you can use the calendar if you remember at least the month in which it was taken. Smart Album also has a few different views, to see all the images taken in a specific month or day of the month.
2)
Simple Gallery
is an excellent application that allows you to view your phone photos in different ways, organize them and even edit them quickly. Without advertising, it allows you to see and browse the images in a pleasant way. The photos are organized chronologically, by year and can be shared with whoever you want in a simple way.
3)
Google Photos
is the app to manage your phone photos, automatically organized in albums. In the Google Photos settings you can activate the creation of automatic albums based on the location and quantity of photos taken. After a trip, you can then wait for the generation of the album with the best photos and edit it as you wish.
4)
Amazon Photos
is an ideal application for those who have an Amazon Prime account, both because it is able to backup photos online without limitations, and to review their photos even on TV or from PC, through the Prime website or app.
5)
A + Gallery
organizes photos into four different album categories (travel, baby, couple and more) and you can select images to put them in the right one. The app is based on the events and photos taken in a party, also great for having reminders of birthdays, anniversaries or other events.
6)
Gallery Hide
is a different app that allows you to hide some images from the gallery and prevent mobile phone users from opening some folders and photo albums that you have chosen to protect and hide.
In another article:
Alternatives to the Gallery app for Android to browse photos on mobile and tablet
6 ways to view photo albums and pictures on Android