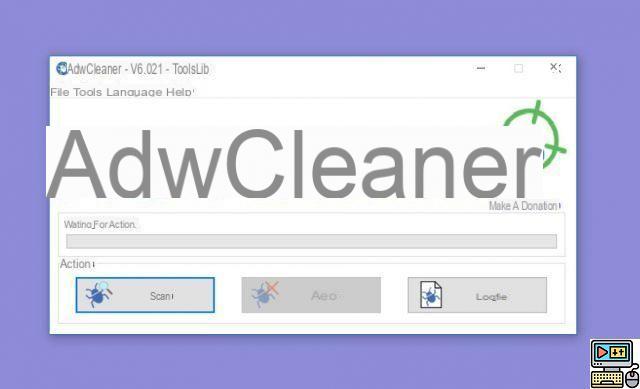 AdwCleaner is an extremely effective cleaning tool for your PC. If it does not remove viruses, it does however very well get rid of toolbars and other adware installed against your will with other applications. We explain how to use it!
The web is full of malware that fit into various categories: Trojans, ransomware, roolkits, ect. Adware or adware is also increasingly common. And some take the vice to extreme lengths to annoy you with intrusive advertisements. The worst part is that most of the best antiviruses are not effective in neutralizing them. We show you how to get there with the best specialized software: AdwCleaner.
Remove adware with AdwCleaner
As a first step, we advise you to quickly back up your PC's hard drive, in case you encounter problems or you delete software that you actually want to keep. Here are the steps to follow:
Start by downloading Adwcleaner in its latest version.
Be careful not to download it from other sites than the one offered in the article linked above. Other sources might offer you fake versions and take advantage of it to install malware on your computer.
Go get the file AdwCleaner.exe which can be found in "Downloads" on your PC. Double click on it, then authorize its launch. It is a portable software, that is to say that there is no installation to do. Just click on it to launch it.
Click "Scan" and wait for it to finish. Several tabs are then displayed with the results, in our example "Folders" and "Register. The following threats are detected:

Adware you probably don't want
Potentially unwanted software
Toolbars that install when you're not paying attention
Default home pages that install despite you
If AdwCleaner shows you potentially malicious software, be sure to sort it yourself by looking carefully at which software or extensions are displayed. If you wish to keep them, you simply have to uncheck the corresponding box or boxes.
You can now clean by pressing the "Clean" button !
You will be asked to restart your PC to perform the cleaning properly and a text file will then open, detailing the software that has been deleted. To go further, we also present the best free software to clean your PC.
The editorial advises you:
Gmail: how to delete heavy emails quickly to free up space
The ability to speed up or slow down a video on YouTube can be very useful. It was possible to do this in the web version of the platform for a while…Facebook allows you to deactivate the automatic playback of videos in your news feed. It's very simple, even if the path is not obvious to anyone who has never seen it...Google Chrome includes a reading mode that allows you to consult a page in optimal conditions. The functionality, however, is hidden in the bowels of the browser. In this tutorial,…It is easy to know if a contact has blocked you on WhatsApp, but some indicators can also trick you into believing it unfairly. So how do you know...