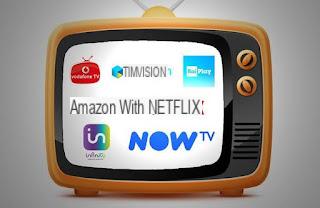 Netflix is ​​undoubtedly the best streaming service, thanks to the numerous TV series (many exclusive) but also to the catalog full of films (old and new), cartoons and documentaries. With Netflix we have unlimited access to everything cataloged thanks to a subscription with a very affordable monthly price that can be easily shared with friends and relatives. But if
we do not want to pay for the Netflix subscription or we look for valid alternatives even for a fee
, what should we expect? Is it also possible to find valid alternatives to Netflix in the city?
Precisely to answer these questions we have created this guide, in which we will show you
all real alternatives to Netflix
available both for free and for a fee; by combining free services with the tests of paid services we will be able to replace Netflix effectively without spending a single euro and, for those who want to spend something, they can always activate one of the alternative subscription services.
Best alternatives to Netflix
After having seen all the sites present in the following chapters together, you will no longer need to find illegal streaming sites: there are now so many streaming services that using piracy is not only wrong but also illegal, since the most beautiful contents are available for free or paying subscriptions accessible to all budgets.
Alternative gratuite a Netflix
The first completely free service that we recommend you try as an alternative to Netflix is
RaiPlay
, accessible on the dedicated website and as a free app for Android and iPhone / iPad.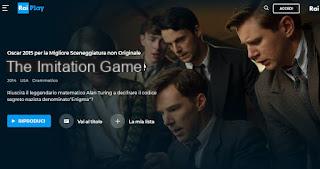 Both from the site and from the app we will be able to choose between films and TV series broadcast on Rai channels, divided by genres and categories, so as to satisfy the tastes of the whole family. Once you have chosen the content to be played, all we have to do is press the Play button to start streaming viewing.
The RaiPlay site requires registration for access to content: as soon as any content is opened, we can either log in with your credentials or create a new Rai account on the fly, even using quick access (with Google accounts , Facebook or Twitter).
If the movie or TV series we like has been broadcast in the past on Mediaset channels, we can review it by accessing the streaming platform
Mediaset Play
, accessible on the dedicated website and as a free app for Android and iPhone / iPad.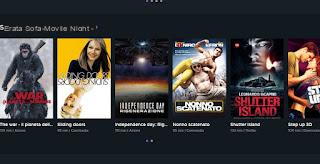 By opening the site or the app we will have access to the films section, where you can find many recent films; for those who love TV series, on the other hand, they will be able to see all those broadcast by Mediaset over the years, including the dramas that have had such success with the general television audience.
Also on Mediaset Play we can access all contents for free after registering the Mediaset account. It is therefore advisable to use it even before finding the desired program by clicking on the button
Log in
on the site or app and using the registered credentials; if we haven't registered any account yet, from the same screen
Log in
we can immediately create a new account by pressing the Register button or by pressing one of the two quick access buttons (
Facebook
o
Google
).
If we love Japanese cartoons and anime in general, we absolutely cannot miss the service offered by
VVVVID
, accessible on the dedicated website and as a free app for Android and iPhone.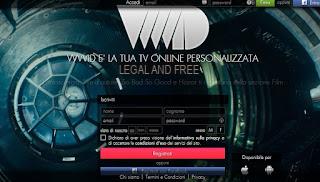 On this site we will find many cartoons in Japanese with English subtitles or translated into in your languagen, to the delight of fans of the genre. In addition to Japanese cartoons we can also find American cartoons and other independent film productions. The site can only be viewed after registration, which can be easily done using the fields offered on the homepage or by associating a Facebook account, so as to speed up access.
Alternative paid streaming services
If, on the other hand, we are willing to pay for a quality streaming service but are looking for alternatives to the Netflix subscription, we advise you to immediately take a look at the services reviewed in the next few lines: we are sure that we will not regret Netflix!
The first Netflix paid alternative that we feel we can recommend
Amazon Prime Video
, accessible from the dedicated website and as an app from Android and iPhone / iPad.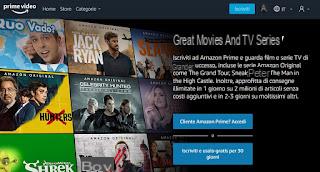 This Amazon service offers a vast catalog of films, including many masterpieces of modern cinema and past cinema, as well as exclusive TV series and engaging documentaries. The service is free for all users who already have
benefits of Amazon Prime
for the use of fast shipping, while for all other users it is possible to try the service for free for 30 days along with all the other benefits of Amazon Prime. At the end of the trial period the service will cost
39 € per year
, a bargain when compared to the monthly prices Netflix requires to view its content.
To learn more about the topic, we suggest you read our guide
How to watch Amazon Prime Video for free
.
Another service that can effectively replace Netflix as a subscription streaming service is
Disney +
, accessible from the dedicated website and as an app for Android and iPhone / iPad.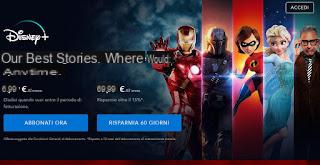 The service is very young compared to its rivals but can boast some truly exceptional exclusives, such as all the Marvel movies, all the Disney cartoons and the animated productions of Pixar and the productions related to Star Wars (from canonical films to cartoons animated series, passing through the exclusive series). Disney + can be activated as a subscription from € 6,99 per month or as an annual subscription from € 69,99 per year.
Another new service that you can try as a Netflix alternative is
Rakuten TV
, accessible from the dedicated website or as an app for Android and for iPhone / iPad.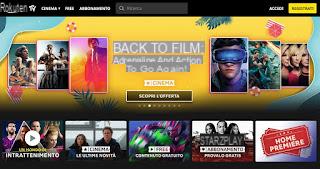 This service is designed for all cinema lovers, as it offers a catalog full of films released in recent years and able to appeal to the most avid cinephiles. There are also TV series and films for the whole family, so that we can meet everyone's needs.
The Rakuten TV service can be tried for free for 7 days, after which (without canceling) the renewal will be automatic at a cost of € 4,99 per month. To test the goodness of the service we can also access the free section of Rakuten TV, where there are some films and some documentaries accessible for free.
Mediaset also offers its own streaming platform called
Infinity
, available as a dedicated website and as an app for Android and for iPhone / iPad.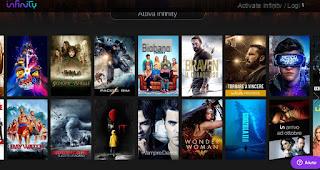 This streaming service offers so many recent movies, many of them still unreleased on traditional and exclusive TV channels. Infinity TV also offers content in 4K HDR, one of the few along with Netflix to offer this type of quality over the Internet; in addition to films, it offers Mediaset TV series and all the contents of Medusa Film, a house affiliated with Mediaset. To see the contents of Infinity you need to pay € 7,99 per month, without any trial period.
Sky also offers its dedicated streaming platform:
NOW TV
, available as a dedicated website and as an app for Android and iPhone / iPad.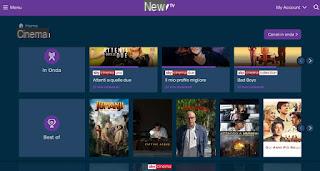 With this service it is possible to access the best of Sky movies and TV series (many of which are exclusive) using only the Internet connection, thus avoiding having to buy a dish and a satellite decoder. NOW TV offers both on-demand content such as Netflix and direct Sky channels, so you can choose (in the old fashioned way with a defined schedule or with the contents of our choice).
NOW TV is available by subscription with different packages that can be activated: for those who are passionate about cinema and TV series, the Cinema + Entertainment package is available in promo for € 3 per month for the first month (€ 14 starting from the second month).
To learn more, we recommend that you read our guide
Better Netflix or Sky NowTV? differences between offers and costs of the best movie sites
.
Another site that we recommend you try as an alternative to Netflix is
CHILI
, accessible via a dedicated website and as an app for Android and iPhone / iPad.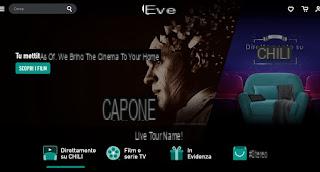 Although not very famous compared to the competition, this service really offers a catalog full of films, many of which have been released in cinemas a few months ago. The site acts as a sort of online movie resale, so there is no subscription. All the films, TV series and cartoons in the catalog can be either purchased or rented, as was once done with the only difference that the films will remain linked to our account. The costs vary from film to film and also from the method of purchase (rental or not): they range from € 2 up to € 11 per film, but they will always be ours if we decide to buy them. With CHILI we can rediscover the pleasure of bringing DVD video libraries back to our homes, this time in digital version.
Two other sites that we can try as alternatives to Netflix are TIMVISION and Vodafone TV, two streaming services reserved for TIM and Vodafone users.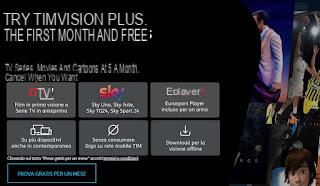 Often included in the new fiber optic subscriptions of the two operators, these streaming services allow you to watch a good number of TV series, films, Sky satellite channels and even other events (always borrowed from Sky) at a negligible cost. or already included in the cost of the monthly bill. In the case of TIMVISION we can subscribe even if we are not TIM users, with a trial period of 30 days (upon expiry the renewal will be automatic at € 5 per month).
On this topic we can read our article
Sky is free with TIMvision Plus available to everyone
.
Conclusions
For those who were not very confident of finding real alternatives to Netflix, after reading this guide you will absolutely have to change your mind: many services offer content equal to or superior to those offered by Netflix, all we have to do is subscribe to the service we like best or which features the content we watch most often. If we don't want to spend anything, the choice is very limited (only Rai, Mediaset and VVVVID services), but at least it's all free and legitimate stuff.
To discover other sites where you can watch free streaming content, we suggest you read our guides
Best sites to watch streaming movies on the internet
e
See Cartoons streaming on the internet, Sites and Apps for free
.
If, on the other hand, we want to use an app for smartphones or tablets to watch movies and TV series in streaming, all we have to do is read our in-depth analysis.
App to watch movies for free and in streaming
.
Alternative to Netflix for free and for payment