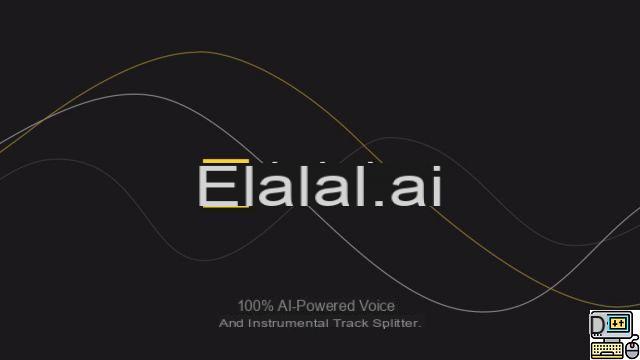 An indispensable tool for isolating drums, bass, piano and vocals in a song
Who has never needed to recover only the instrumental music or the voice of a song. In many musical situations, whether you are a professional or an amateur music lover, it is sometimes necessary to separate the instrumental part from the vocal part of a title. A computer tool with impressive performance offers a surprising result in this area: Lalal.ai. It also integrates for this year 2021 a brand new neural separation network, called Cassiopée.
We are going to present to you the main functionalities of this online service, accessible from any computer, the different scenarios where you may need this type of tool, as well as a quick tutorial to master the best different processing parameters.
Lalal.ai, what is it?
Lalal.ai is therefore an online service, which makes it possible to extract and separate the instrumental and vocal parts of a song or video with almost surgical precision depending on the complexity of the file. It is also possible to choose the type of track extraction. You can separate instrumental and vocal tracks, drums, bass or piano track. This last feature, eagerly awaited by Lalal.ai users, is available to everyone, regardless of the version subscribed, free or Premium.
The service interface is translated into several languages ​​including Spanish and the manipulations to extract the two parts are reduced to the strict minimum to simplify the process as much as possible for the user.
Lead processing level in Lalal.ai
Of course, the better the sound quality, the better the final result. Several levels of sensitivity are offered. The Soft setting is best used for files with a clearly identifiable voice, without complex sound effects such as echo or reverb, or without a fading effect between the voice and the music. A simple instrumental part with an a cappella voice will be the preferred files for the Soft parameter, which has the advantage of being faster in terms of processing time. The Medium or Normal setting is the default setting, which provides higher quality rendering for more complex melodies. The final level, titled Aggressive, is more sensitive and recognizes voice transformations and effects.
Support for audio and video files
In terms of file formats, everything is just as simple, since the service exports the files in a format identical to the import. You import music in MP3 format, your 2 files will be in MP3 format. No conversion system, nor configuration of the resolution or the quality of the output file, everything is automated. The user has very few manipulations to do, which makes it possible to affirm that Lalal.ai can be used by any user, whatever his degree of computer aptitude. Only technical point, Lalal.ai supports audio files in MP3, FLAC and WAV formats and video files in AVI, MP4 and MKV formats.
What's new in the latest version of Lalal.ai?
Among its new features, Lalal.ai now allows to isolate and extract drums, bass and piano from the rest of the song. The algorithm is able to separate the different instrument tracks through a more careful approach to sound data processing.
In what situations can Lalal.ai be needed?
Besides the stunning effect of this tool, Lalal.ai can provide many services. Here are some examples.
In particular, you may need to extract the instrumental from a song to create a karaoke. Once the musical part is separated, you will then need to associate and synchronize it with a video, via editing software.
You are a YouTuber in the process of creating a cover, an amateur singer and you want to exercise your voice on existing melodies, make covers or adaptations when you have no musicians available. You just need to extract the instrumental part of songs to affix your voice. And conversely, you are a musician wishing to recover the vocal part of a song to accompany it. Lalal.ai allows you to extract the desired item and the instrument you want to remove (drum, bass, piano).
Tutorial: how to use Lalal.ai?
Lalal.ai is a very easy to use online service. No software to install, authorization to give, form to fill out or account to create to get a glimpse of its capabilities, and no operating system constraints, whether you are using a computer running Windows, Mac or Linux . Everything happens directly online. All you need is a web browser and an internet connection.
Go to the Lalal.ai website and drag and drop your audio or video file directly into the box indicated. You have the opportunity to drag and drop your file directly into the service interface or browse your directories to select the file to import.

© lalal.ai

Then select the level of processing, Soft, Normal or Aggressive, depending on the quality and complexity of the song.

©lalal.ai

Then select the type of track you want to rip. You can extract the vocal and instrumental tracks, but also separate the drums and percussion track from the rest of the instrumental associated with the voice, or even the bass or the piano.

©lalal.ai

Start importing and processing the file, then start playing a one-minute preview of each generated track. If the expected result is not there, click Return to repeat the operation by changing the extraction level for example. If you want to preview other tracks, just select the type of ripping tracks and click "create new previews".

©lalal.ai

If the result is conclusive and if your request is only occasional, you will be able to create a free account to process and download up to 10 minutes of files or 50 Mb. This free edition only supports audio files in OGG, WAV or MP3 formats.
If you have more data to process, 2 paid options are available: The Lite version allows you to extract up to 90 minutes of songs or videos or 2 Gb. Processing is faster and compatible with audio (MP3, OGG, WAV and FLAC) and video (AVI, MP4 and MKV) formats. The Plus edition offers the same features but allows you to process up to 300 minutes worth of files.

©lalal.ai

Conclusion
Lalal.ai is a simple and powerful music extraction tool and the processing quality is there. For musicians and singers wishing to separate instrumental and vocal tracks without using complex audio editing software, this is the ideal tool.
Article written in collaboration with Lalal.ai