Summary
Android 12 Date New Compatible Smartphones Reviews
Android 12 is already available on some smartphones in beta or stable version. List of new features, compatible smartphones ... find everything you need to know about this new version of the Google OS.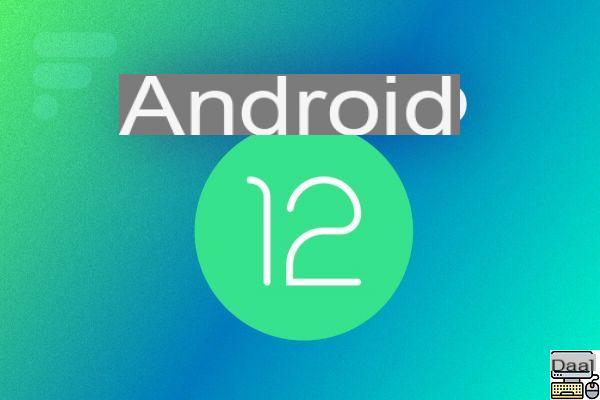 During Google I / O 2021, we were able to attend the presentation of beta 1 of Android 12. After several months of development (and various phases in the beta program), the proper deployment has taken place on the Google Pixels for the general public - at the same time as the officialization of the Pixel 6 and 6 Pro which benefit from it natively.
What's new, date of deployment, compatible smartphones… In this file, find all the information on Android 12.
Android 12 deployment date
The deployment of Android 12 in a stable version was scheduled for the fall of 2021. By updating its compatible Pixels on October 19, Google met the deadlines it had set for itself. Now it's the turn of other manufacturers to follow suit.
The stable version of Android 12 is available in AOSP so that they can get down to it without delay.

New in Android 12
Below are all the new features of Android 12, whether officially announced by Google on the official blog or discovered using the system.
More security
"Privacy is at the heart of everything we do and, in Android 12, we continue to give users more transparency and control while keeping their devices and data secure," says Google. Several changes have been made within the system in this regard.
To learn more
Google wants to reassure: "nothing is more important than your privacy"
The WebView has thus been revised in order to improve the transparency of the use of cookies across sites. Its operation is thus similar to what the various browsers offer, Chrome at the top of the list.
Application developers also need to be more transparent. When exporting and assigning activities or services, Android 12 requires more transparency. For example, it is now impossible for an app in the background to launch a service in the foreground.
The phone's MAC address can no longer be accessed from an application.
Better user experience
More roundness
Android 12 is accompanied by a big aesthetic change driven by Google's new philosophy in terms of design: Material You. This redesign wants to offer as many customizations as possible so that the interface looks and matches the user's desires as much as possible. The accent colors thus adapt to the dominant color of the wallpaper for more immersion. However, this function is initially reserved only for Google Pixels.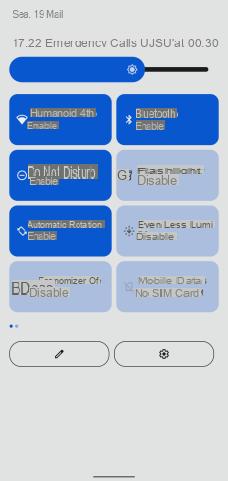 Beyond that, Material You on Android 12 also brings much more curves within the windows of the system. This is particularly the case on the volume or screen brightness bar, both wider, but also with the multitasking screen, with widgets or with pop-up screens in the settings.
Note also a major reorganization of the quick settings tiles, while the locked screen has also been entitled to changes. The time, for example, is displayed larger when you have no notifications to further enhance your peace of mind.
Photo and video encoding / decoding
Android 12 brings a new layer of video decoding in order to make HEVC and AVC video formats work at all levels of the system, including in applications that do not support it natively. Using this format improves file compression and ultimately saves storage space.
For still images, the system adds support for the AV1 Image File (AVIF) format. This results in a much higher image quality than an equivalent size.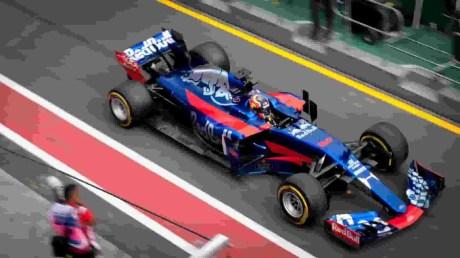 JPEG file 20,7 kB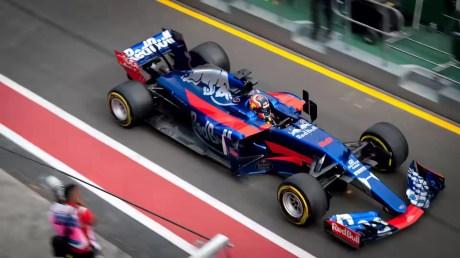 Fichier AVIF 18,2 kB
Audio improvements
With Android 12, apps can now use the vibrations of haptic feedback to create a more immersive audio experience. For example, a video call application could integrate personalized ringtones in order to identify a caller through haptic feedback. This feature can also be used in games to simulate the granularity of a terrain for example in a racing game. Note also that the vibration can be redirected to the controller when a controller is connected.
Spatial audio is also supported to handle up to 24 audio channels (up from eight previously). On a related subject, the management of Bluetooth audio should also see a nice improvement thanks to Android 12.
Better management of verified links
Currently, if you open a Twitter link from the Facebook app, Android will ask if you intend to open the link with the Twitter app or through your browser. Android 3's DP12 simplified the process by automating this system. Therefore, if you have the appropriate application installed on your smartphone, the links will automatically open in the application, without going through your phone's Internet browser.
New notifications
The display of notifications has been revised to bring a touch of modernity, as a preview before the launch of Android 12. In addition to a general redesign with transparency effects and new icons, transitions and animations have been improved for more fluidity.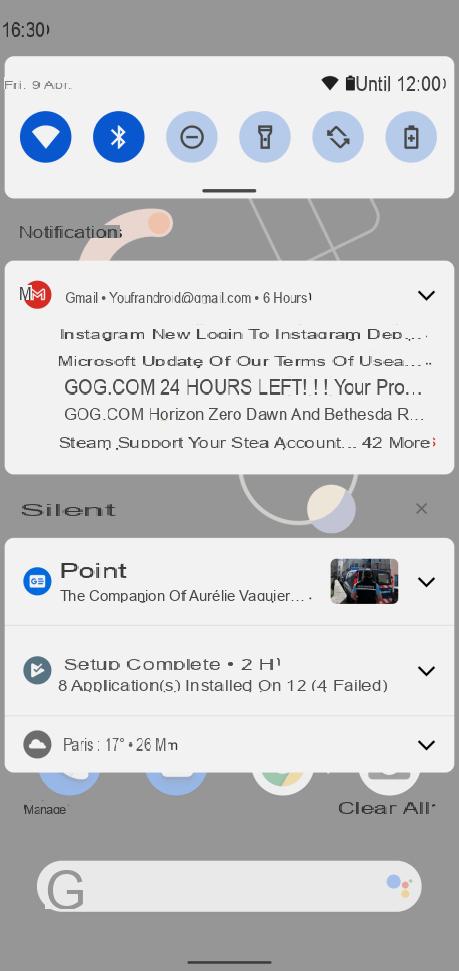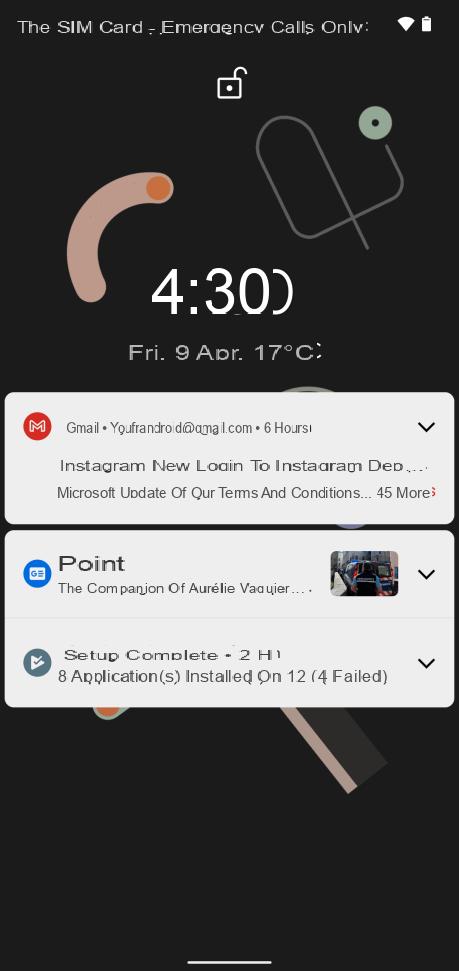 A change in the triggering of notifications is also intended to improve the speed of launching the application when clicking on a notification.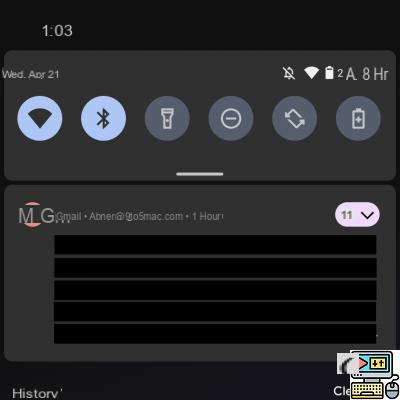 In addition, Android 12 will allow you to indicate the number of notifications grouped within the same group of notifications with a small counter. Convenient to know how many mails you have received without having to scroll down the list. It is also possible to fine-tune the notifications for each application to know what type of notification it has the right to send: messaging notification, default notification, silent notification or real-time notification.
Widget management made easy
To make it easier to find widgets, the widget selection screen now shows a list of different apps. Each of them can then be unrolled to reveal the different available widgets, organized in the form of a horizontal carousel, as before.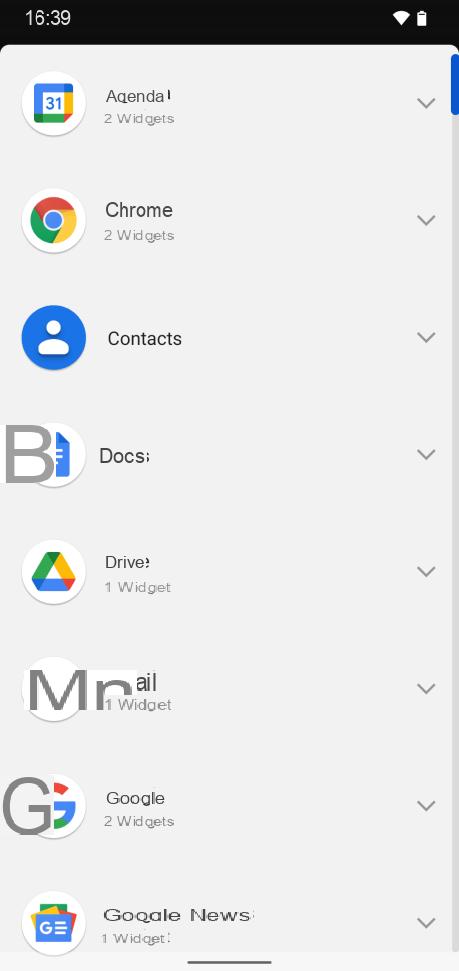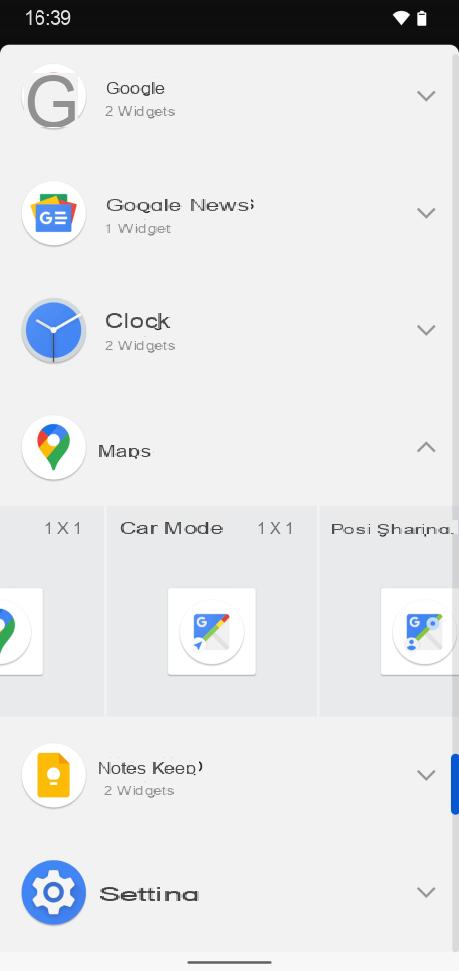 It is also possible to search for a widget using the dedicated search bar. Useful if you have installed many applications by offering. In addition, Android 12 will also integrate recommendations for widgets.
New features
A game mode
Like many other brands, Google includes a new game menu in Android 12 (discovered in DP2). Although not available by default, this screen allows you to quickly manage certain phone settings, such as activating Do Not Disturb mode or an "FPS" option which should improve game performance. There is also quick access to streaming. on YouTube, taking a screenshot or recording the screen.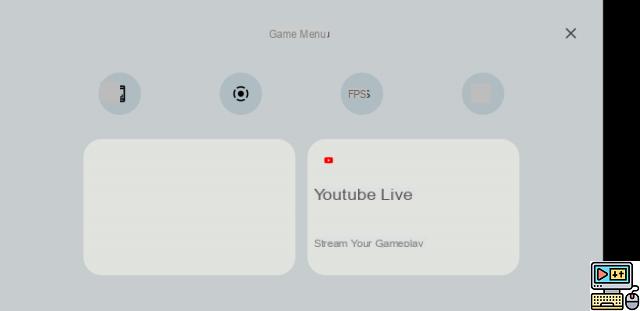 Le Game Dashboard d'Android 12 // Source: 9to5Google
Its presence in a "Google" package and not "Android" suggests that this would be an exclusivity of the Pixels.
Simple WiFi sharing
To facilitate sharing your WiFi code, Android 12 integrates a QR Code system directly from the WiFi settings menu. Even simpler, it is possible to use proximity sharing to allow anyone to connect with a few clicks without having to copy the code or scan anything.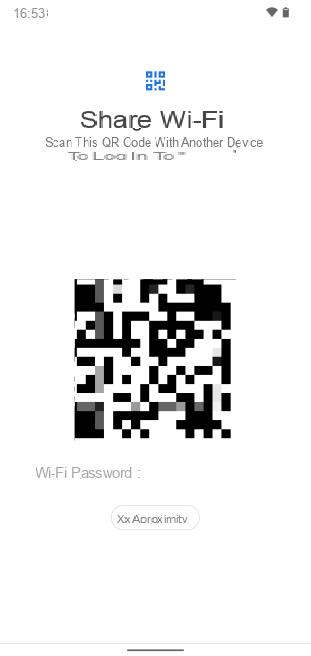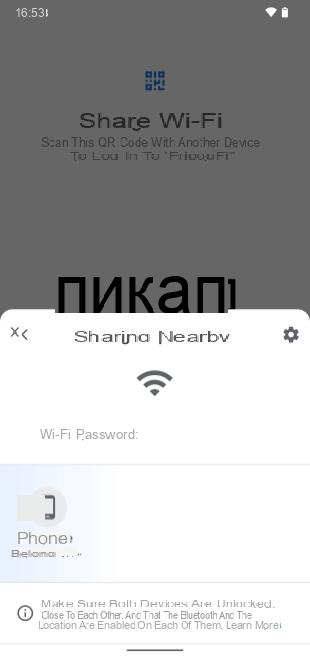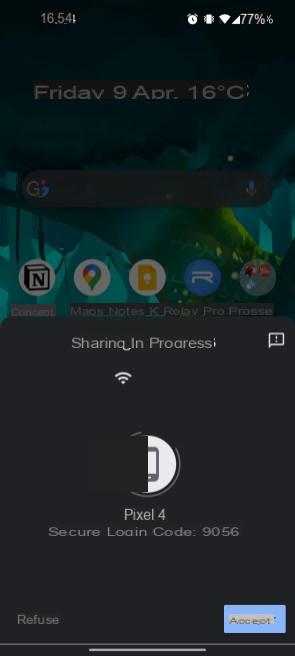 Improved Picture in Picture (PiP)
The Picture in Picture interface has been improved in Android 12. Now, a single click on the floating window displays the video player controls while a double click maximizes the window. Until now, a single click performed both of these actions while a double click brought the video back to full screen.
It is also possible to temporarily hide the floating window in order to easily consult the content that might be below.
A new one-handed mode similar to the iPhone
In Android 12, Google integrated a one-handed mode very close to what Apple offers on the iPhone. By sliding your finger down on the navigation bar at the bottom of the screen, the display shrinks and descends to the lower half of the screen. The screen automatically returns to its normal size after a few seconds of inactivity (or by doing the opposite).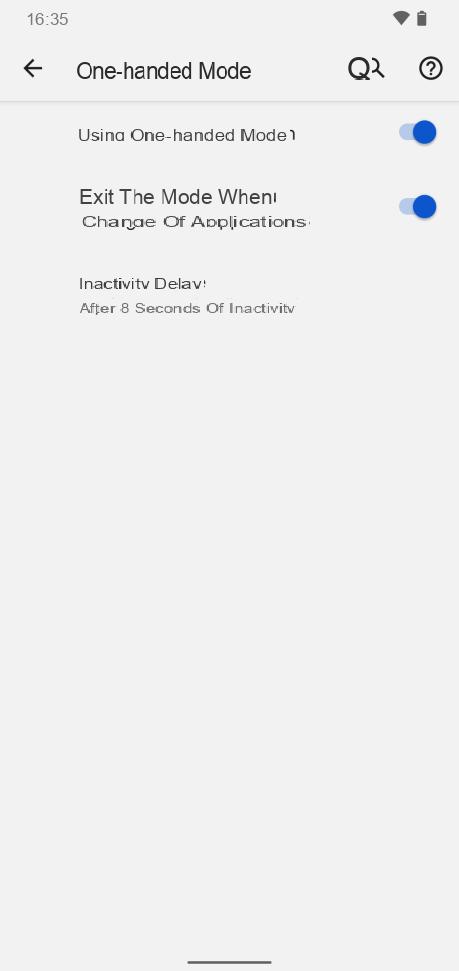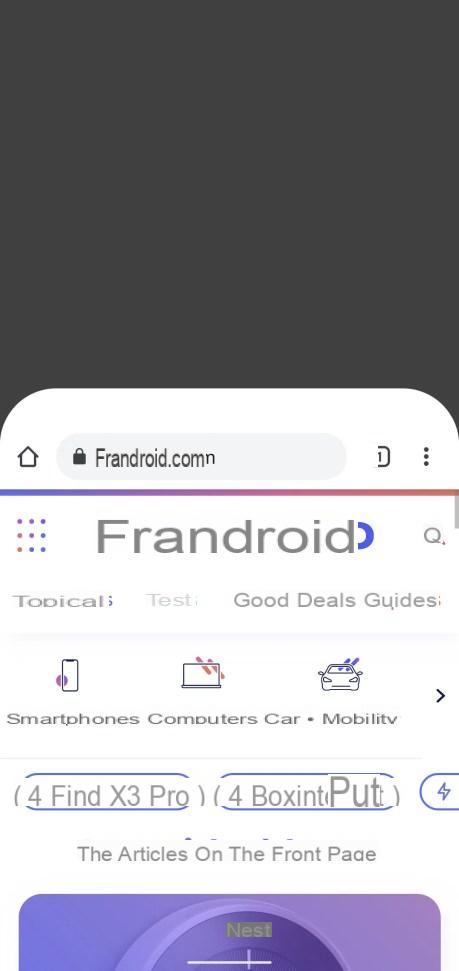 The process has been simplified even more since Developer Preview 3 of Android 12, since this one-handed mode is now activated by default on Android 12. No need to dig into the settings to activate the option "use one-handed mode" , since this option is now enabled by default. You only have to make the gesture to benefit directly from it.
Extended screenshots
Already available on many smartphones, the extended screenshot makes a timid entry on Android 12. Basic inaccessible, this feature can be activated via an ADB command, adding a button when taking a screenshot to scroll through the screen. 'recording the image. This function remains uncertain for the final version of the update.
Still regarding screenshots, Android 12 DP3 added a little welcome feature. In addition to the default font proposed for the annotations, it is possible to choose from several other writing fonts.
Greater compatibility
As part of the Project Mainline aimed at separating the blocks of Android from major updates, Android 12 integrates the ART module into the Google Play system in order to allow simplified updates of this layer allowing the execution of the applications. Improvements can thus be made to manage the execution performance of applications or memory management without requiring a major system update.
The different device formats are also better managed. After the optimization of the tablet format and that of foldable screen smartphones, it is the turn of TVs to be entitled to it. Thus, the preview of Android 12 for Android TV is also available to improve the experience of applications on this platform.
And more
Many other optimizations have been made to the system, such as improving gestural navigation for example to avoid false positives (or false negatives) as much as possible. We also think of hibernating applications that have not been used for a long time to free up storage, the fact that your smartphone can serve as a car key or remote control on Android TV.
Smartphones compatible with Android 12
A total of 22 smartphones were eligible for the Android 12 beta. But since October 19, all affected Google smartphones can install the stable version. In Spain, since November 18, the Galaxy S21, S21 + and S21 Ultra also receive One UI 4 (Android 12) in a stable version.
Some Galaxy Fold and Note 10 and Note 10 Plus can also benefit from it. Some mid-range models have started to benefit as well, such as the Galaxy A52.
On December 7, 2021, the stable version of OxygenOS 12 was made available for owners of OnePlus 9 and OnePlus 9 Pro. However, the first version was riddled with bugs. So much so that OnePlus was forced to put the rollout on hold for a few days. On December 17, OnePlus released a patch and resumed the rollout.
On December 11, some owners of the Oppo Find X3 Pro were able to benefit from the stable version of ColorOS 12. The deployment should not be long any longer.
The schedule for Realme smartphones has been unveiled. It will run until August 2022. Sony's latest Xperia 1 III and 5 III are also starting to receive the major update.
Smartphones in Spain with the stable version of Android 12
Asus Zenfone 8
Asus ZenFone 8 Flip
Google Pixel 3
Google Pixel 3 XL
Google Pixel 3a
Google Pixel 3a XL
Google Pixel 4
Google Pixel 4 XL
Google Pixel 4a
Google Pixel 4a 5G
Google Pixel 5
Google Pixel 5a (not available in Spain, added along the way)
OnePlus 9 (Source)
OnePlus 9 Pro (Source)
Oppo Find X3 Pro
Realme gt
Samsung Galaxy S21
Samsung Galaxy S21 +
Samsung Galaxy S21 Ultra
Samsung Galaxy ZFlip 3
Samsung Galaxy ZFold 3
Sony Xperia 1III
Sony Xperia 5III
Smartphones in beta or soon to be updated
For the rest, here are the smartphones still in the initial beta program of Android 12:
Nokia X20 (Source)
Realme GT (Source)
Tecno Pouvoir 4 (Source)
TCL 20 Pro 5G (Source)
Vivo Iqoo 7 Legend (Source)
Xiaomi Mi 11 (Source)
Xiaomi Mi 11 Ultra (Source)
Xiaomi Mi 11i (Source)
ZTE Axon 30 Ultra 5G (Source)
On these devices, you can therefore install the Android 12 beta. Oppo has also unveiled the new features of ColorOS 12 and the deployment dates. Samsung is also working to offer an update to the stable version of One UI 4.0 fairly quickly on more models (the Galaxy S10 and Note 10 have also joined the beta).
Asus has also unveiled its upcoming deployment schedule. Here is the list of the brand's smartphones that will be updated to the final version of Android 12:
Asus ROG Phone 5 and 5s: first quarter 2022
Asus Zenfone 7: first half of 2022
Asus ROG Phone 3: first half of 2022
On the Vivo side, too, things are accelerating around Android 12. For example, the Vivo X60 Pro and V21 will benefit from it from the end of January.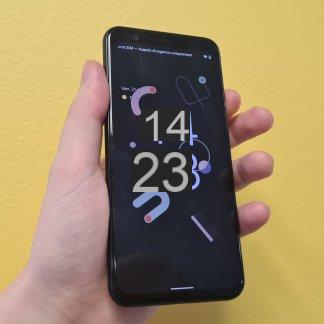 How to install Android 12 in beta on your smartphone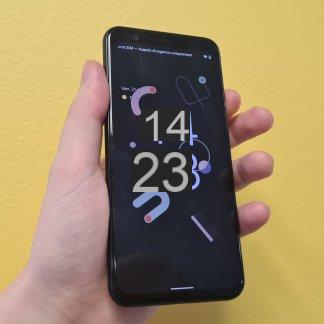 You can now install Android 12 Beta on your smartphone to take advantage of the new features of the future version of Google's mobile OS. Here's how to do it.