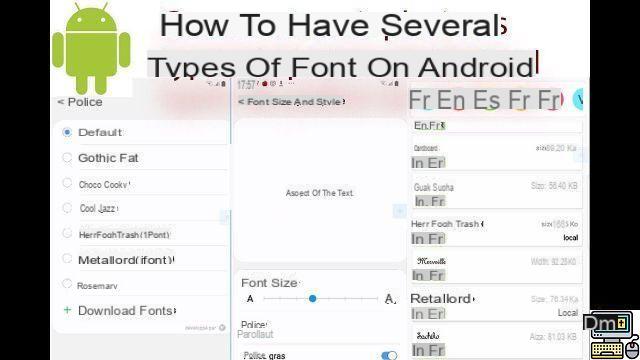 On Android smartphones, it is possible to change the font. A customization option which is however not available by default on all phones. We explain the procedure to breathe new life into your interface.
It is quite possible to change font on his Android smartphone. But this feature is not natively available on all models. Some manufacturers offer it directly in their overcoat. Others do not allow their users to change the font in the settings. For those who cannot benefit from it, it is necessary to go through a third-party application, or even to root their smartphone. We will detail all the available options in this guide.
Change the font without root
If you have a Samsung, LG, HTC smartphone, you can easily change the OS font. The methods differ according to each brand but are similar. It is generally enough to go rummaging in the parameters and settings, more precisely in the section dedicated to the display. For Xiaomi or Pixel owners, be aware that font customization should be available if you have a recent OS.
Here's how to do it on a Samsung:
Access the settings and then enter the Display section.
Press Police.
Select the style that suits you the most.
If you don't like the fonts on offer, you can get your hands on other fonts (free or paid).
To do this, press Download fonts.
On HTC:
You must keep your finger pressed on the home menu.
Then click immediately on Change the theme.
Make your choice then press Download and finally Apply.
Change Android Font with Alternative Launcher
Depending on your overlay and your operating system, you may not have the necessary permissions to change the font. If you are not eligible, we suggest you go for a third party app like Go Launcher. However, this method does not allow you to modify the font in the menus of the OS. It is all the same already good to take for those who do not want to root their smartphone.
DOWNLOAD GO LAUNCHER ON THE PLAY STORE
After downloading Go Launcher:
Keep your finger pressed on the home screen then access the Go Launcher settings.
Click on Font.
Press Select Font.
Select the font you want. Do not hesitate to press Scan font to have access to a wider choice.
Android: police changer in the root of your smartphone
Some brands - like Xiaomi, Meizu, Huawei, Samsung - work with the iFont app without requiring root. Just download the app and then select the desired font. On some models, however, this will not work and you will therefore need to root your Android phone.
An action that can however cause you a lot of inconvenience : loss of warranty, outbreak of malware, no more security patches… Weigh the pros and cons before rooting your phone, as we explain to you on this side.
DOWNLOAD IFONT ON THE PLAY STORE
To change the font, download the app from the Play Store and then follow the steps below:
Several fonts are listed in the iFont interface.
It is also possible to download a TTF font and then install it from the My section My Font tab.
When you have identified the one that suits you, click on Download at the bottom of the screen
Once the font has downloaded, tap Set.
Note that to continue, it will be necessary to activate the installation of applications from unknown sources on the smartphone. Just follow the on-screen instructions
Once done, all you will have to do is set the newly downloaded font.
That's it that's all. iFont is a great application for changing fonts. If your smartphone model allows it by default, you do not need to root. Otherwise, it is the only option to make a system-wide change.
The editorial advises you:
How to Change DNS Servers on Windows 10, Mac, Android, and iPhone
Insufficient storage: how to clean your Android smartphone
How to change your Facebook password
The ability to speed up or slow down a video on YouTube can be very useful. It was possible to do this in the web version of the platform for a while…Facebook allows you to deactivate the automatic playback of videos in your news feed. It's very simple, even if the path is not obvious to anyone who has never seen it...Google Chrome includes a reading mode that allows you to consult a page in optimal conditions. The functionality, however, is hidden in the bowels of the browser. In this tutorial,…It is easy to know if a contact has blocked you on WhatsApp, but some indicators can also trick you into believing it unfairly. So how do you know...