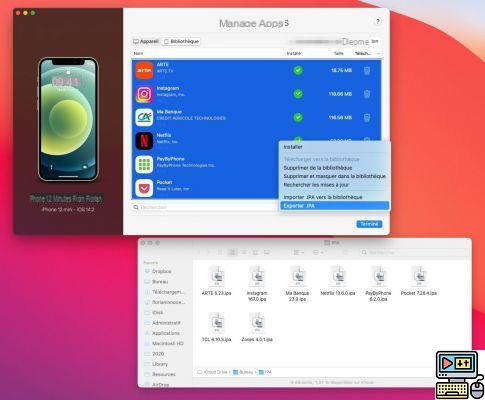 Comment (11)
Version 10.0.2 of iOS 10 not only fixed a random bug in the EarPod earphones with Lightning plug supplied with the iPhone 7 and 7 Plus, it also includes new management of multimedia rights, since it is now impossible to take screenshots of copyrighted content.

Rideau on Netflix, except for the subtitles (here the Hot Fuzz feature film).

If you're a user of Apple mobile products, you love screenshots of all kinds - and especially of your favorite series on Netflix - and you're about to upgrade to iOS 10.0.2, the latest version, here you are. warned: screenshot is no longer possible on iPad, iPhone, iPod Touch compatible from this version of iOS 10. This is one of the new features carefully avoided in Apple's official communication about iOS 10, but the firm now prevents users from taking screenshots of copyrighted content. At least, it is still possible to trigger a capture, but at best emerge subtitles (if activated) or the player menu used by the multimedia application. A novelty that we already find within macOS (iTunes, Safari) and which lands very logically on the mobile.
to read also: 40
NEWS: Smartphone / Mobile phone
Release of iOS 10: we tested all the new features concocted by Apple for iPhone and iPad
Starting today, Tuesday, September 13, 2016, part of the iPhone, iPad and iPod Touch ranges can be updated to iOS 10, the no...
5 years ago
Until then, it was possible to capture video content within Netflix, Molotov, MyTF1 or even the video player integrated into iPhones and iPads. Now, this is no longer possible. According to our colleague Pierre Dandumont, via his blog Le Journal du Lapin, this could come from the recent acquisition by Apple of FairPlay Streaming technology, which allows the encryption of multimedia content information to protect copyrights.

Above, a live capture on the Molotov app with an Apple device running iOS 9. Below, the same content, on the same app, captured on iOS 10.

Note that the impossibility of taking a screenshot also depends on the content provider (with its injection of DRM) and not only on the content itself, since a mobile TV application, such as B.TV from Bouygues Télécom , still makes it possible to capture complete images of the programs it broadcasts (below, a capture of the Quotidien program on TMC, accessible on B.TV, hidden on Molotov).
Same story for YouTube. If Apple already communicates on the thing on its page reserved for developers by highlighting a reinforcement of the security of the contents within iOS, it also ensures a more than cordial agreement with the depositaries of the various copyrights concerned. through practice and content distribution platforms. The twittos kings of the live tweet of emissions and series with force captures since their iPhone will have on the other hand to find an alternative.