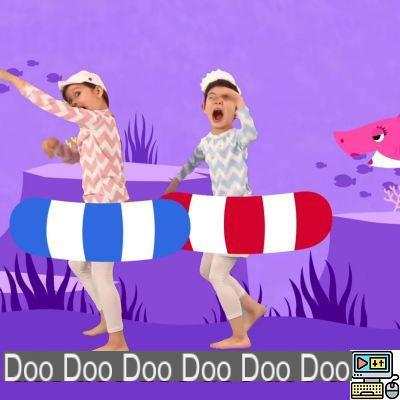 Comment (8)
Baby Shark is no longer just another children's nursery rhyme, it's a real phenomenon on the Internet. His clip even became the most viewed YouTube video in history!
You thought the most viewed video in YouTube history was still Psy's Gangnam Style? Shape of You by Ed Sheeran? Despacito by Luis Fonsi? You have to get up to speed! With 7,05 billion views, the most successful video on YouTube is now Baby Shark, the original dance rhyme from Pinkfong (a South Korean company).
If you have a child born in the last four or five years, it's unlikely you could have escaped this hit sung by 10-year-old Korean-American Hope Segoine. In the clip, children "dressed up" as fish mime the behavior of a family of sharks taken with a furious desire to dance, in "doo doo doodoo" mode. The air is injected into your neurons in a microsecond and never comes out again (or almost).
Adding up all of these views, Baby Shark has been seen continuously for 30 years. YouTube streams of this video alone reportedly earned Pinkfong some $187 million. And again, this does not take into account the countless remixes and other versions, including the most distressing of all: the one which consists of playing the song on a loop for an hour (and which still has 5,2 million views). Some parents obviously wanted a little peace of mind.
Who composed Baby Shark (and why)?
But where does Baby Shark come from? Nobody really seems to know. Some say that the rhyme was invented in the 70s and was sung by summer camp leaders in the United States. Others claim that it was inspired by the release of Jaws, the Steven Spielberg film shown in cinemas in 1975. creators (yes, there are several "Baby Shark… tu tu tutu", which like this one have several million views).

"Help, sharks!" © Pinkfong/YouTube

A real phenomenon, Baby Shark gave rise to the #BabySharkChallenge and is the subject of a complaint filed by children's singer Jonathan Wright who swears that he composed this song and this melody in 2011. The song was also, in a much less encouraging way , at the heart of the conviction of three American prison guards who, in Oklahoma, used it to punish inmates. Five handcuffed prisoners were indeed forced to listen to Baby Shark over and over for several hours, which could have caused "intense psychological stress" as well as "sufspains" according to justice. The kids are asking for more.