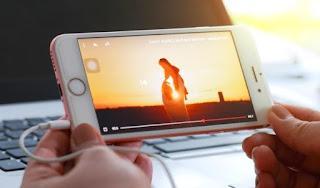 An iPhone or an iPad are excellent portable devices for watching videos and films, since on the new models the screen is very sharp and allows a clear and limpid view of each movie. Unfortunately, however, the default application does not always manage to open the video files and films that we have transferred from the computer, forcing us to convert it to MP4 format before transferring it to the Apple device. To avoid this tedious job, it is better to have another video player, to be installed as a simple app on the phone or tablet and to be used every time we have to watch a movie transferred from the PC.
In this guide we will show you
the best video player applications for iPhone and iPad
, listing you
media players for movies
.
Best video players for iPhone and iPad
To watch a video file on your iOS device, we recommend that you try the following free applications for iPhone, iPad, which can be downloaded directly from the Apple App Store.
VLC
The best free player we can install on iPhone and iPad is undoubtedly VLC, already famous as an all-round player on Windows, Mac and Android.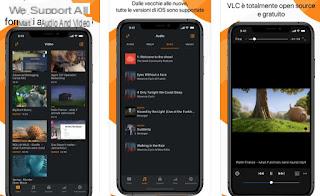 The app reads any video format, including MKV files and files with H.265 codec, does not have any type of advertising in the interface, plays all contents at maximum speed and provides an internal indexing system with which to quickly access all videos and movies in the device's internal memory. With VLC we will therefore have everything we need to watch videos and movies without having to convert from the computer before transferring.
MX Video Player
MX Video Player is the iPhone version of a hugely popular Android smartphone app, which supports all common video formats.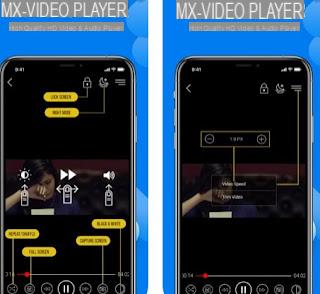 The MX Video Player interface is optimized for Retina displays for an excellent movie viewing experience, and offers all the buttons and features of a high-end player (video playback speed, night mode, screen lock and gesture control).
PlayerXtreme Media Player
Another good video player for iPhone and iPad is PlayerXtreme Media Player, also available for free (see official website).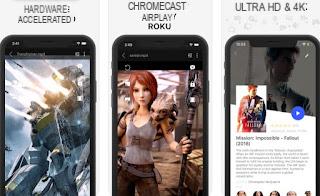 This app supports all types of video files (3gp, asf, avi, divx, dv, dat, flv, GXF, M2P, M2TS, m2v, m4v, mkv, Moov, mov, mp4, mpeg, mpeg1, mpeg2, mpeg4, mpg, mpv, mt2s, mt, MXF, ogm, ogv, ps, qt, RM, RMVB, ts, vob, webm, wm, wmv), has a hardware acceleration system useful for reproducing even high quality videos without slowdowns, supports Ultra HD and 4K files and allows you to send movies and videos on your device to Chromecast and AirPlay devices.
In addition to playback, this app also allows you to play videos from your PC or other network device and also transfer videos from computer to iPhone via Wi-Fi network. It also supports subtitles and also allows you to download them.
KMPlayer
KMPlayer is the iPhone and iPad version of the popular open source PC player.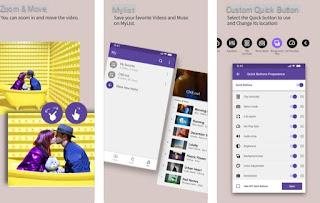 KMPlayer is offered for free and allows you to watch videos and movies on the iPhone and iPad even with the presence of subtitles. KMPlayer supports 3gp, avi, divx, flv, mkv, mp4, mpeg, ogg, vob, wmv and many more videos. With this program we will also be able to start the playback of streaming videos from the internet, all we have to do is open the direct link to the video source to be played.
8player
Among
best free apps to watch videos and movies
we also find 8player.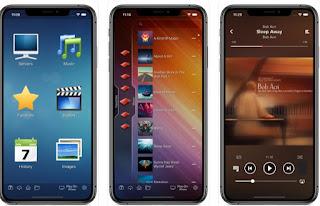 By installing this app on our device we will have a simple player with which to play AVI, DivX, Xvid, VOB, MKV, MP4, MOV, OGM, WMV, FLV and other formats
on iPhone and iPad
, even in HD quality. If we don't need too many additional functions and we want a player that is really easy to use, I would say that this is the player to install on our device.
Other video players for iPhone and iPad
If the apps seen so far have not completely convinced you, we can try one of the players present below and compatible for all iPhone and iPad models supported by Apple:
InFuse is a video player with an elegant interface, with support for AirPlay for streaming videos, subtitles, synchronization with iTunes, and the ability to play any format without conversion.
OPlayer is a similar application that is mainly used to view videos from http sources, namely i videos found on the internet. OPlayer is in 3 versions: OPlayer Lite for iPhone and iPod, OplayerHD Lite for iPad and paid OPlayer. If your internet connection is good, you can stream videos from any site with this media player.
Movie Player, as the title says, allows you to watch movies, transferring them from your PC to the iPhone or iPad, without having to convert them first.
nPlayer Lite is a great application for watching videos without converting them that can also play videos from various streaming sites and remote devices.
PowerHD Media Player can play almost all major video file formats. PowerHD Media Player's interface is very clean and simple to use, with gesture support.
It's Playing works well for playing local files or streaming video from cloud storage and local networks. The app offers video resolution up to 1080p, can play videos on AirPlay, and has Dolby Digital audio output. It supports multiple video file formats, including MP4, MOV, MKV, AVI, WMV, VOB and RMVB.
Conclusions
By installing the right app player we will be able to view any video or movie in our possession directly from the iPhone or iPad, ideal if we travel without an Internet connection or abroad and want to watch a good movie saved in the local memory of the device.
If we want to convert the videos on the PC into a format compatible with the internal iPhone player, we recommend that you use one of the programs in the guide on how
convert Avi and DVD videos and watch them on iPhone (to MP4)
.
If, on the other hand, we are looking for a way to be able to read video files saved on a NAS or on a data server on the home LAN, we can read our in-depth analysis on how
Watch videos via wifi network or from the internet on iPhone and iPad
.
Best App for iPhone and iPad to watch videos and movies