Since WhatsApp has introduced the new states, you can no longer do without them and not a day goes by without posting a photo, phrase or image that represents your daily mood. Since you really appreciate this new feature you would like to know what they are the best WhatsApp statuses, so that you can always publish trending content and phrases?
Well, if that is the case let me tell you, unfortunately there is no official ranking of which are the best states to publish. The status of WhatsApp is a rather personal matter and it is not actually possible to establish if there are any better statuses ever; it all depends on a person's tastes and interests. Furthermore, what may be a noteworthy state for one may not be for another.
I have made these premises to tell you that, if your goal is to find the ones that, to your personal taste, represent the best WhatsApp statuses, know that you will find my guide really useful. During this tutorial I want to explain to you in detail how you can find the right inspiration for your WhatsApp status every day, taking advantage of images, GIFs, photos and videos from the main social networks and websites of images. All clear? Yup? I bet you can't wait to get started, right? I knew it! Okay then let's get started right away. I wish you a good read as usual.
How to get the new WhatsApp statuses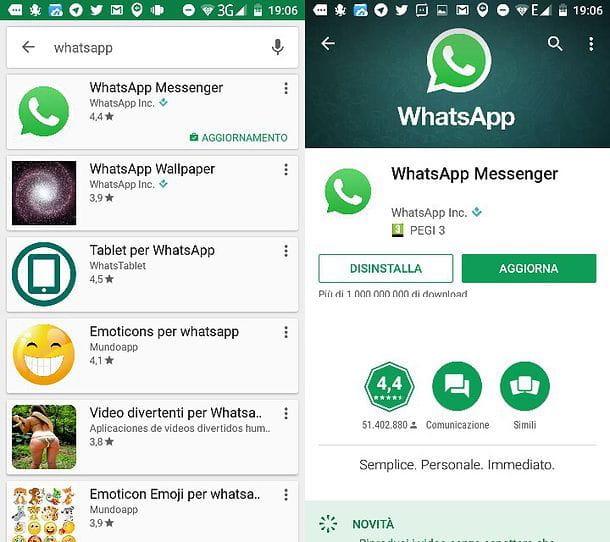 Before starting my tutorial in detail, I would like to open a small parenthesis to explain to you that the new WhatsApp statuses have been automatically introduced in the application starting from February 2017.
The update of WhatsApp has in fact led to the introduction of the new section State, through which you can share (and see those posted by others) images, photos, phrases or GIFs with all the contacts in your address book that are present in the well-known messaging application.
The statuses are currently available in the WhatsApp application on iOS, Android and Windows Phone devices but, if you still do not see them, I suggest you carry out a short procedure indicated below.
First try to restart your device and if the result is still negative, make sure that the failure to view the status of WhatsApp is not due to an update of the app not carried out.
To resolve the WhatsApp status not showing, then open the Android PlayStore or the iOS App Store. Then type WhatsApp in the search engine and check that the button appears in correspondence with the app tab apri. In case there is the button Update, here is the problem. Then tap the button Update to update. When the download is complete, start the app by tapping on apri: following this update you should now be able to see the WhatsApp statuses too.
How to create states on WhatsApp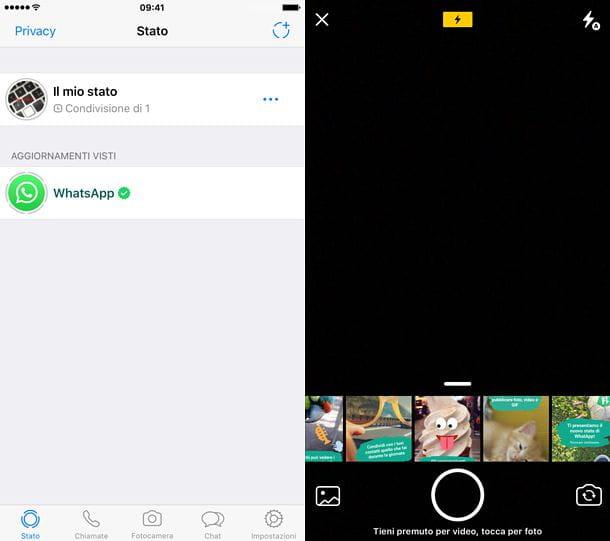 Now I want to briefly explain how to create WhatsApp statuses using all the tools made available by the application itself. You'll see, I'm sure you missed something.
To start creating a WhatsApp status, the first thing to do is go to the section State. At the entry My status, you can tap the button with the symbol of a camera (to publish a photo from the memory of your device or take one on the spot), or on the pencil symbol to publish a state with colored lettering. As a WhatsApp status you can also post a video (the maximum duration is 30 seconds) or a GIF.
If you want to deepen the subject, and find out in detail how to create a WhatsApp status, read my dedicated guide in which I explain the procedures to be carried out in an extremely detailed way.
How to find phrases for WhatsApp status
If you would like to have the right inspiration every day that allows you to write a sentence as a WhatsApp status, I recommend below some Internet sites not to be missed.
Aforisticamente.com
One of the most famous Internet sites for searching for phrases and aphorisms from which to take inspiration. The web portal in question has a very streamlined user interface and is easy to use.
To search for a phrase to use as a WhatsApp status, you just have to go to its main website and choose the topic for which you would like to write a phrase. In fact, you can find the category on the Home Page Popular phrases and topics or that of Most read authors; You can thus filter the search according to phrases related to a specific topic or a specific author.
Through the main page of the website in question you can also find some main categories: phrases about love, phrases and greeting cards, proverbs and poems, the best tweets from Twitter, funny and funny phrases and phrases about God and the soul.
Once you have clicked on the category of your interest, just scroll down the page to find a phrase you like. You can browse the aforisticamente website also directly through your browser for mobile devices; so you can copy the sentence and paste it directly into the WhatsApp status to be created.
Other sites of phrases and aphorisms
The aforisticamente.com website is just one of the many websites that catalog famous phrases, thoughts and aphorisms every day. I point out other noteworthy sites that you can use to search for inspiration for your WhatsApp statuses every day.
Pensierieparole.it: is a website that offers a huge collection of phrases, aphorisms, phrases suitable for every occasion, thoughts and poems of famous people. Each sentence or aphorism is cataloged by topic or by author.
Frasicelebri.it: well-known website that catalogs the most famous phrases of each author. The peculiarity of this website is given by the presence of famous phrases also for films, books and TV series.
How to find pictures for WhatsApp status
If, on the other hand, you are of the idea that an image is worth a thousand words, I suggest you take a look at the websites and social networks indicated below to find the right inspiration for your WhatsApp status. You will see that you will discover that there are some noteworthy Internet sites.
Top Pictures.com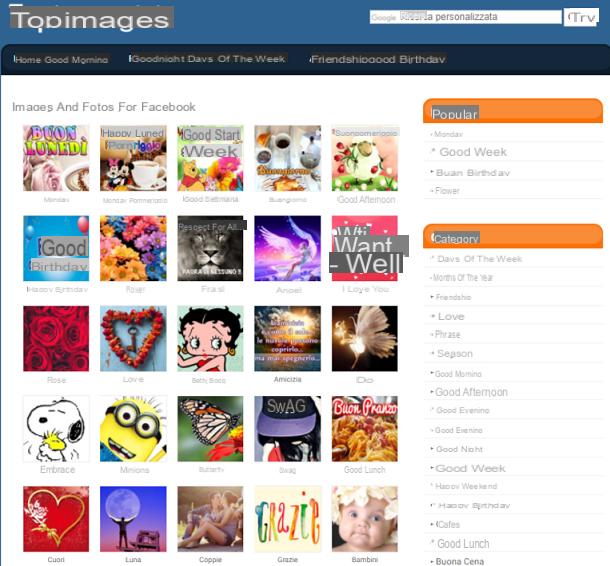 If you love to publish images as a WhatsApp status, you absolutely must bookmark the Topimphotos.com website, which specializes in publishing images grouped under different themes. The site has a clear and immediate user interface, designed to allow you to download the images and share them on social networks.
All you have to do to search for images to publish as WhatsApp status is to connect to its official website. You can search for images using the search engine or you can use the categories on the Home Page, divided into Popular, Categories e Popular Pictures.
To download an image you can click on it with the right mouse button and then click on the item Save image as ... from the drop-down menu. If you are acting from a mobile device, you just need to hold your finger on the image and then press on the item Save Image (iOS) or on Download Image (Android).
Pinterest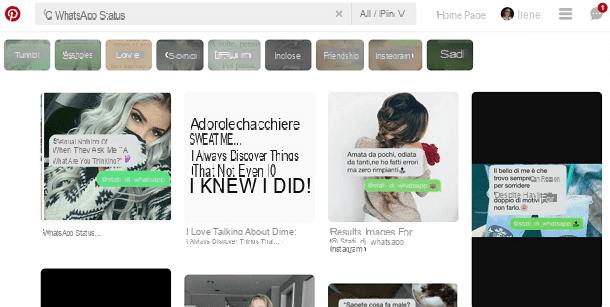 Although little known, Pinterest is a visual social network; you can use it to search daily for an image to publish as a WhatsApp status.
All you need to start using Pinterest is to create a free account by registering with it. Once you have gone to the main page of the website you will then have to create your account via Facebook (button Continue with Facebook) or through your Google account (button Continue with Google).
Registration can also be done via an email address of your choice. Clearly in this case you will have to manually indicate all the data that will be requested during registration.
Once you have registered and logged in to the social network, you can easily search for images to be published as WhatsApp status using the search engine at the top. In fact, you just need to type in the keyword related to the image of your interest and identify the one you like among the search results. You can also type the word WhatsApp states to see more WhatsApp status images that you can take inspiration from.
To save it, click with the right mouse button if you are acting as a desktop and, from the drop-down menu that will appear on the screen, press on the item Save image as ...
Pinterest is also available through the application for Android and iOS: to save an image in the multimedia gallery of your device, through the application, tap on three dots symbol and then press on the item Download image.
If you wish to learn more about the other noteworthy features of the Pinterest social network, I refer you to reading my guide dedicated to the topic.
Other Internet sites and social networks:
I want to point out below other Internet sites and social networks for which I advise you to use. You will see that you can find the right inspiration every day to post a noteworthy status on WhatsApp.
Google Images: is the Google engine, in its version exclusively dedicated to images. You can use it as Google itself, by typing the keyword related to the image to search for.
Tumblr: is a microblogging social network that is all the rage when it comes to looking for pictures or quotes.
Instagram: it is the most famous visual social network and you can use it to search for images to be published as a status on WhatsApp.
How to find GIFs for WhatsApp status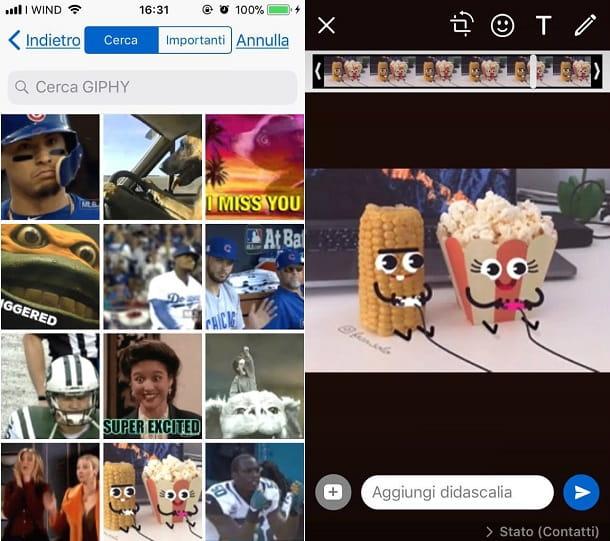 Following the most recent updates, WhatsApp has integrated a search engine for GIFs on iOS. To use it, and thus publish a GIF as a WhatsApp status, tap on the section State of WhatsApp.
Then tap on symbol of a camera and press the button that refers to the multimedia gallery of your device.
By tapping on the GIF item you will have a search engine for GIFs integrated into the messaging app. In this way you can publish the GIF identified as WhatsApp status.
Furthermore, on both operating systems for mobile devices, you can publish a GIF already present in the memory of your device as a WhatsApp status.