What are WhatsApp stickers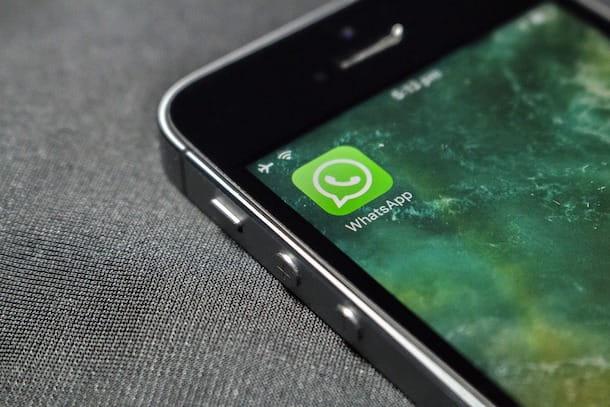 Before going into the heart of the subject, it seems only right to clarify you what are WhatsApp stickers: if this is not clear to you, it would not make much sense to continue reading the article.
As I partially anticipated in the introduction of the article, the stickers (or stickers) are images in PNG o GIF which are used to graphically express emotions and moods, which can be used instead of the "classic" emoji. Some ready-to-use sticker packs are included on WhatsApp (some of which are animated), but it is also possible to install third-party packages and even create your own custom stickers, using ad hoc apps.
Please note that once you send stickers to another user, they can install them on their device and use them in turn.
In the next paragraphs, I will therefore have the opportunity to tell you about some apps, available for both Android and iPhone, which allow you to find and install beautiful sticker packs for WhatsApp. See which ones are right for you, try them out and install the sticker packs they offer to surprise your friends.
Best Android WhatsApp stickers
To find the best Android WhatsApp stickers, I recommend the apps listed below, which offer tons of ready-to-use sticker packs.
WAStickerApps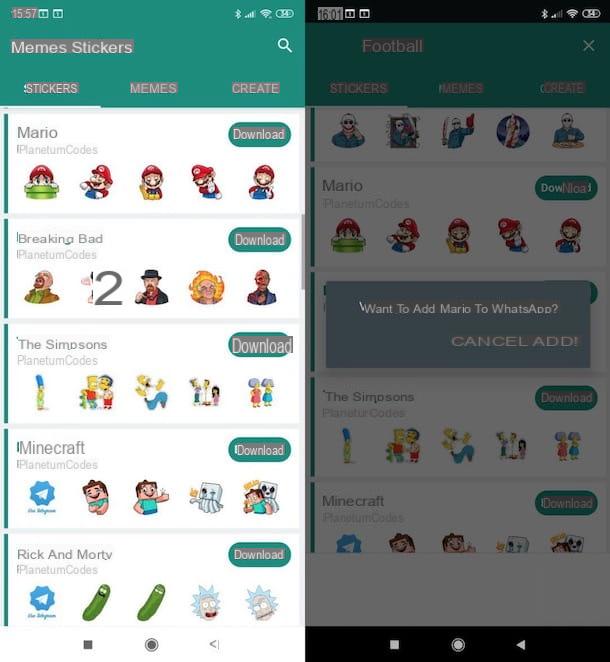 The first app I recommend you to try on Android is WAStickerApps, which is free, simple to use, and gives you access to numerous sticker packs. One of its main strengths is that it is constantly updated with new stickers.
After installing and starting the app on your device, then press the button Free Access and allow WAStickerApps all the permissions it needs to function properly. At this point, wait for the sticker packs to load and swipe the screen displayed to load them.
When you have identified a package of your interest, press the green button Download located next to it and choose to open the package with WhatsApp (just select the appropriate option from the menu located below). Finally, confirm your intentions by pressing on the voice Add present in the box Do you want to add [package name] to WhatsApp? And that's it.
The package will be added on WhatsApp and you can use it to send the stickers contained within it.
Other apps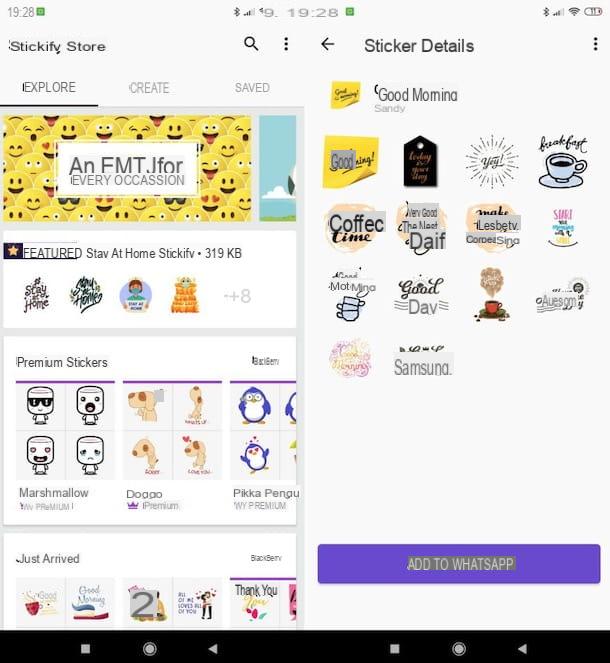 If WAStickerApps did not satisfy you, you can safely fall back on other apps analogues, such as those listed below. I recommend: take a look at them at least!
Funny stickers for WhatsApp - if you have a particular interest in funny stickers, this is the app for you. In fact, it allows you to install really hilarious sticker packs.
New stickers to chat - is an app that offers a rather large set of ready-to-use sticker packs, which allow you to give your chats a personal touch. I would like to tell you, however, that not all packages are free: to unlock them all you need to make in-app purchases starting from 2,39 euros.
Stickify - it is a sort of gigantic sticker store, which allows you to download and add them to WhatsApp in an extremely easy and fast way. Furthermore, I would like to point out the possibility of using a function through which it is possible to create personalized stickers, starting from photos and images that must be cut out (if necessary) and added to your personalized package. However, I would like to point out that the app is not completely free, because to unlock all the functions you need to make in-app purchases starting from € 1,09.
Best WhatsApp iPhone stickers
Now let's move on to the side iPhone and let's analyze some apps to find the best stickers for WhatsApp on Apple's mobile platform. I am sure you will like the solutions listed below.
Top Stickers Sticker Maker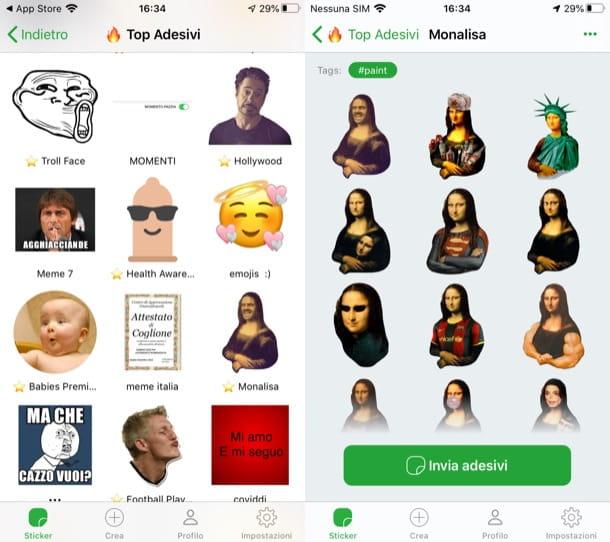 The first app that I recommend you try to download new sticker packs for WhatsApp on iPhone is Top Stickers Meme Sticker. It is one of the best in its category, as it allows you to both upload ready-to-use packages and create your own. Basically it is free, but to eliminate advertising (not invasive at all) and access all its features, you need to buy the full version, which costs € 2,29.
After installing and starting Top Stickers Meme Sticker, tap on the tab Stickers and presses on the voice Show all located in correspondence with the wording Top Stickers present at the top or, if you prefer, in correspondence with one of the other categories available in the app (eg. Recent, emotions, Pets, Memes, Cartoon, TV / Film, Nerd - Nerds, People o Sport). Otherwise, perform a "manual" search by clicking on the icon magnifying glass and carrying out a search using the appropriate search search bar located at the top.
Then, locate the sticker package of your interest, tap on its preview and, if you actually want to install it on WhatsApp, press the green button Send stickers (below), then presses on the voice Send to WhatsApp in the opened menu and, in conclusion, press the button Save.
Other apps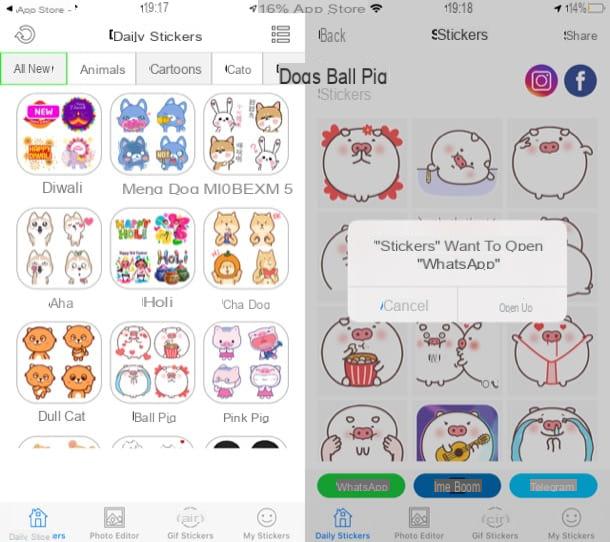 Below I point out other apps for iPhone useful for finding stickers to send on WhatsApp to your contacts. You can find them listed below.
Sticker Maker Sticker Studio - is a 100% free app that allows you to download many ready-to-use sticker packs. It also offers a convenient function to create your own customized packages.
Sticker for WhatsApp & More! - offers the possibility to install and use many stickers for WhatsApp (and not only). To access all its contents, you need to sign up for a subscription starting at € 8,99 / month.
Sticker Packs for WhatsApp - app belonging to the category in question, which allows you to download over 4.000 stickers (some of which are also animated) to be sent via the main instant messaging apps, including WhatsApp. It usually costs 2,99 euros, but in some promotional periods it is free.
Create personalized WhatsApp stickers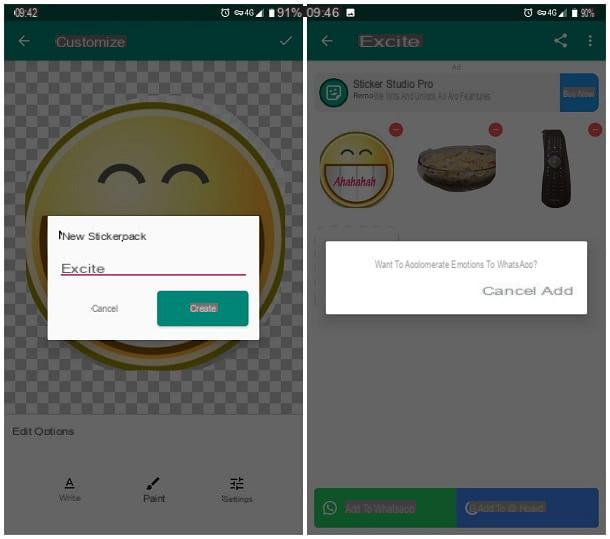 Instead of downloading ready-to-use sticker packs, would you like to create a custom one, perhaps using photos or illustrations made by yourself? This can also be done.
As I have already mentioned a few lines above, in fact, there are apps that allow you to create personalized WhatsApp stickers (some of these are the same ones that allow you to download them and that I have already mentioned in the guide). Their operation is simple and intuitive, but I want to tell you that, in most cases, the packages created are usable only locally.
In fact, if you want your friends to use the sticker packs you create, they will have to install the same app with which you created your packs and import them into WhatsApp via the latter.
If you want more information on how to create custom stickers for WhatsApp, take a look at the guide that I have dedicated entirely to the topic. I am sure you will find it useful.