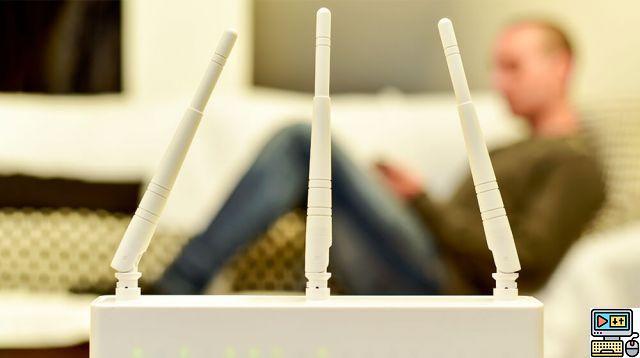 Do you find the connection to the wifi network of your internet box a little slow? An intruder may have entered your network. Fortunately, by connecting to the management interface of your box, you can flush it out and block it easily!
How could an intruder connect to your wifi?
When you live in a building, wifi networks are generally very numerous. However, sometimes people opt for simple passwords that are also easy to guess. The purpose of such a choice is none other than to better remember it. Many also opt for WEP security that is too weak (although more compatible), too easy to decrypt with some free software.
Although it was discovered a few years ago that even the WPA2 WiFi protocol had a flaw called Krack that could be used to break into private networks. The situation is common, and it allows some to enjoy a free internet connection, most often without your knowledge. And it's usually when that person decides to download at full speed that you'll realize it.
Connect to the management interface of your box
To find out if you are not alone on the network, you must connect to the management interface of your internet box. This usually requires entering an IP address or address in your browser. We have collected them in the list below.
Orange (Livebox): http://192.168.1.1 (login: admin / password: if you haven't changed it, these are the first eight characters of your WPA security key. You will get it by pressing the button i of your Livebox.)
Bouygues (Bbox): http://192.168.1.254, https://mabbox.bytel.com (if you have never changed the identifiers, enter Admin and Admin for the login and password)
Free (Freebox): http://mafreebox.comeebox.com (follow the instructions that appear)
Sfr: http://192.168.1.1 (follow the instructions)
As with the Livebox management interface, intruders are generally found quickly, regardless of your provider. Just count the number of connected devices in your home and compare it with those displayed. On some boxes, you will only find this information by accessing the wifi menu.
Block the intruder from accessing your wifi
Now that you know there is an intruder on your network, how do you block them? There are several methods, but the simplest is probably to change your wifi password. Again, you will need to access your management interface.
The procedure differs little from one box to another:
Go to a menu called Wifi. If you can't find an option to modify the key directly, there will probably be a sub-menu or even a sub-sub-menu with more advanced options.
Change the key to a meaningful and easy-to-remember password
Also pay attention that the security of this key is WPA/WPA2 Personal and especially not WEP (too insecure)
Validate at each step
For more detailed instructions, use our tutorial to test and configure your wifi network using 192.168.1.1. At the end of this operation, you will obviously need to connect to your network again with the new key you have chosen. And if you have to enter the key yourself, that means the intruder will have to too. So you kicked him out!
Don't worry, he will soon find another victim. Luckily for you, if your key is secure enough, it will find less secure networks elsewhere that are easier to break into. But it won't be your home... And you will finally have peace! Some routers have an option block next to each device connected to the network. This feature allows most of the time to prevent access to WiFi by excluding the MAC address of the intruder.
If by chance you have noticed slowdowns on your WiFi network but there is no intruder, the problem comes from elsewhere. This tutorial to solve WiFi speed and coverage problems may interest you.
The editorial advises you:
192.168.1.1: how to test and configure your Wi-Fi
Netflix: too many people are using your account, how to identify and block intruders
Mac: how to create a bootable USB drive in macOS?
The ability to speed up or slow down a video on YouTube can be very useful. It was possible to do this in the web version of the platform for a while…Facebook allows you to deactivate the automatic playback of videos in your news feed. It's very simple, even if the path is not obvious to anyone who has never seen it...Google Chrome includes a reading mode that allows you to consult a page in optimal conditions. The functionality, however, is hidden in the bowels of the browser. In this tutorial,…It is easy to know if a contact has blocked you on WhatsApp, but some indicators can also trick you into believing it unfairly. So how do you know...