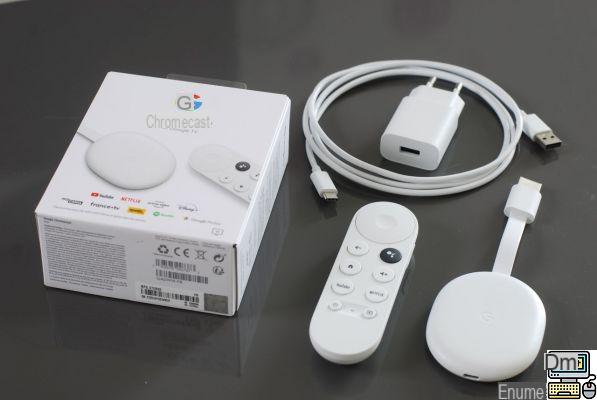 Chromecast with Google TV: a name that is both singular and evocative for this multimedia streaming box! Coming with a remote, it's based on a redesigned version of Android TV with a focus on content recommendation.
Presentation

The Chromecast with Google TV comes with a remote control, a power adapter, and an approximately 1,5m USB-C cable. The small box has a built-in HDMI cable. All white, it is also sold in pink or blue.

Until then, Google's Chromecast product line contained small HDMI dongles designed to stream multimedia content from mobile devices. No interface, no remote control: everything goes through the user's smartphone or tablet. Simple to install, easy to use, these products have won over a large number of buyers. Building on this success, Google decided to use the same surname for a more ambitious product, the Chromecast with Google TV. Still capable of streaming content from mobile devices, it incorporates a TV interface that can be controlled with a remote control. Google now wants to hunt in the lands of multimedia boxes where Apple TV 4K, Nvidia Shield TV and other Amazon Fire TV Stick 4K dominate.
Connectors

Google's little pebble is positioned at the back of televisions. Rather discreet!

The Chromecast with Google TV does not deny its family link with the rest of the range. This box inherits the pebble shape of previous Chromecast and is compact enough (about 8 cm) to hide behind a TV via its small HDMI cable (7 cm).
The connection is reduced to its simplest expression with, in addition to the HDMI connector, a beast USB-C connector for the power supply. A 1,5m USB-C cable is included, as well as an AC adapter.

Besides the HDMI connector, Chromecast with Google TV only has one USB-C connector. This is used for power and, with an adapter, can also pass the Ethernet network signal.

Connectivity must pass through the on-board Wi-Fi 5. Google offers as an option (20 €) an adapter which fulfills the double office of power supply unit and Ethernet socket.
For the rest of the technical details, we note in particular an Amlogic S905 SoC (4x Cortex-A55 at 1,9 GHz) accompanied by 2 GB of RAM. Of the 8 GB of storage space, only 5 GB is available to the user. We will not store videos and other personal photos, but this is sufficient to install various applications intended for multimedia playback. Finally, Bluetooth 4.2 is also offered.
Power consumption is also quite low. In video playback, the device draws between 3 and 6 W depending on the content displayed. In standby, we fall under the watt.
Remote control

The remote is small and has a tendency to slip.

The supplied remote control is quite compact, all round. Plastic is fine, but rather slippery - you better hold the remote firmly to avoid the soap effect. The power comes from two AAA batteries (included). No extravagance to note at the level of the buttons which again boil down to the essentials with a navigation ring and various buttons intended for the management of the interface. An on / off button is also present, just like another offering to switch HDMI input on the TV. The management of the sound volume is entrusted to two buttons located on the right edge of the zappet. A rather original positioning which will satisfy left-handed people - their index finger falls on it -, but which requires uncomfortable thumb gymnastics for right-handed people.

The two side buttons on the remote control are used to control the sound level. Their placement is convenient for left-handed people, less so for right-handed people.

There are then three buttons specific to the Google interface. The first two allow you to launch Netflix and YouTube in one press (without the possibility of customizing the app, too bad), while the last activates the Google Assistant. We guess then, the remote control also incorporates a microphone. This only works on demand and a small activity led lights up when listening. Google on the other hand did not see fit to add backlighting to the various buttons.

The remote control communicates via Bluetooth with the box. However, it incorporates an infrared emitter to control televisions, sound bars and other audio equipment that would not be well managed with HDMI-CEC.

If communication is via Bluetooth, an infrared emitter is present. This can be used to control televisions, soundbars and audio amplifiers which would be devoid of HDMI-CEC compatibility. Well seen !
Interface
The commissioning of the device is extremely simple and requires a smartphone on which Google Home is installed. The app automatically detects the Chromecast, then connects it to the same Wi-Fi network. During the process, the user can already define a list of apps they want to use.
Google TV, a new interface for Android TV that focuses on aggregation

The Google TV interface debuts on this Chromecast. It is based on an Android TV 10 system.

With this Chromecast, Google begins a shift in terms of interface. The system is still Android TV - in version 10 at the time of the test - but the interface as such is now called Google TV. Behind this change of surname hides Google's desire to aggregate the video content of the user's various SVOD packages in order to offer a simpler presentation, based on recommendations based on viewing habits.

The Google TV interface relies heavily on content aggregation and recommendation.

The idea is laudable: rather than juggling its various SVOD apps (Netflix, myCanal, Disney +, etc.), the user finds all of their content centralized on a single interface. It is reminiscent of the TV application on the Apple TV 4K. Once on the home page, a banner offers different universes: For you, Movies, Series, Applications and Bookstore.
As we have just seen, the recommendation tab is based on the user's viewing habits. To help Google's algorithms, it is possible to indicate whether or not you liked a program. The Movies and Series tabs simply aggregate the catalogs of installed apps and divide them according to their genre. Similar to what Netflix offers, these sections also contain recommendations based on previous programs viewed. Watching The Walking Dead, for example, leads to a recommendation line of movies and series about zombies.

Some programs are available on multiple platforms depending on the user's subscriptions. The choice of viewing application is then given under the Viewing options button.

In general, the presentation is rather well done and effectively avoids wasting time juggling SVOD and VOD applications when you don't really know what to watch. In addition, the origin of the videos (Netflix, myCanal, Disney +, etc.) is clearly indicated on the thumbnails. An important point, because the aggregation also offers paid content (rental or purchase) if such apps are installed. The presentation is such that the user will know before clicking if the content is included in their SVOD packages or if it is paid.

The origin of the content is clearly visible. Those only available on VOD or for purchase have a small padlock in addition to the minimum price.

Follow-up reading to review
However, all is not perfect. We regret that Google has not succeeded in better managing the monitoring of reads. Impossible to know that this or that film has been half-seen, any more than it is possible to know if one stopped at such or such episode of a series. This shortcoming will ultimately force the user to launch the application to see which episode he should watch. Hopefully this will be fixed over the course of system updates. In addition, Google gives the possibility of deactivating its aggregation and recommendation system quite simply, so as to be only in front of the list of installed apps.

Previously watched episodes do not appear as such. Too bad, this encourages us to go back to the different SVOD applications.

Finally, if the interface takes the name of Google TV, it is nonetheless based on Android TV and remains compatible with a whole bunch of applications for playing local content (VLC, Plex), music (Spotify, Deezer) and we go.
Smooth navigation, decent Wi-Fi
The navigation in the interface is generally smooth, although some slowdowns can be felt when an app is updated in the background, for example. 4K video playback is smooth, as long as you stay below the 60 Mb / s threshold, a rate beyond which jerks and buffering adversely affect the experience. However, this remains sufficient for intended streaming use. Those who want more will have to turn to the Ethernet adapter which will allow playing videos at the higher bitrate.

The Google TV / Android TV application market is very extensive and adapted to the Spanish market.

Compatibility with 4K HDR displays is essential, with support for Dolby Vision, HDR10 + and HDR10 formats. Dolby audio tracks (including Dolby Atmos) are decoded, but an external amplifier is required to play DTS formats. A point to be taken into consideration for use with Kodi or Plex.
Highlights
Simple and intuitive to use.

Integrated Google voice assistant.

4K HDR compatibility.

Built-in 4K Chromecast.

Well thought-out recommendation system.

Convincing aggregation of the different SVOD and VOD bouquets.
Weak points
No microSD card reader.

8 GB of storage space only.

No movie and episode playback tracking.

Ethernet adapter sold as an option.

No decoding of DTS audio formats.
Conclusion
Note globale
The Chromecast with Google TV is a nice little 4K media box. It is perfect for streaming videos from SVOD packages. The content aggregation system is convincing and avoids juggling between different services to find ideas for films or series. Google's new interface is convincing, even if it is not yet perfect. Above all, the case offers a rather pleasant experience with fairly fluid navigation. With its content rate, Google's little pebble hits the mark, even if it offers a less complete overall service than an Nvidia Shield TV.
Sub Notes
Connectors
Remote control
Interface
Read more