Data Recovery in the Clean Room. What is the clean room for?
Data recovery in the clean room is an intervention that allows you to work on damaged hard disks in total safety.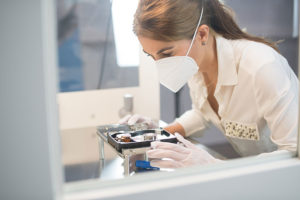 Opening a hard disk without the aid of the clean room leads with total certainty to a negative result of data recovery. In fact, a few fine particles of micro dust deposited in the discs of the disk are enough to make it unreadable and therefore not allow the recovery of the data.
Our laboratory acts in a precise and safe way, guaranteeing the achievement of the objective with professionalism and reliability.
What is a clean room?
When we talk about a clean room, we refer to an aseptic work environment in which the air is cleaner than normal air.
In an ISO 5 Clean Room, the area is 10 to 50 times cleaner than the air we can find in a room.

The cleaning of the air inside the clean room is possible thanks to ventilation systems that ensure that in the environment in which you work there are no particles larger than a certain size.
What is the clean room for in data recovery?
Data recovery in the clean room is used, for example, for data recovery interventions from damaged hard disks.
Our laboratory uses horizontal flow laminar hoods equipped with Hepa filters, which are used to clean the air of the environments in which the data recovery operations of magnetic hard disks take place.
The hoods with Hepa filter guarantee maximum air cleaning, so as to offer maximum safety in data recovery.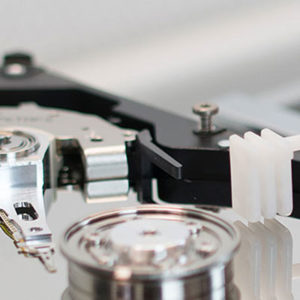 The data recovery carried out in the laboratories guarantees result percentages close to 100%.