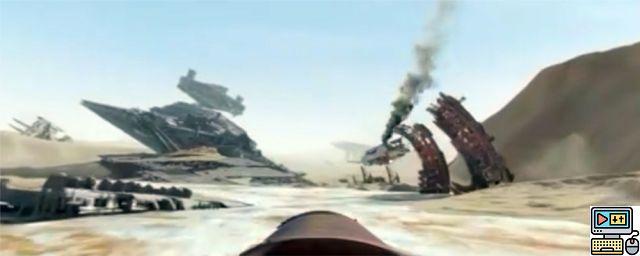 Comment (3)
Announced last March, the 360° video has just made its official appearance on Facebook. On this occasion, the social network has given itself the means to attract the curious: it publishes in particular a sequence provided by Disney and from the next Star Wars.
As promised by Mark Zuckerberg at the F8 Developers Conference in San Francisco earlier this year, 360° videos have just made their debut on Facebook members' News Feeds. In practice, it is not necessary to surround yourself with screens to take advantage of this format, but simply to move your smartphone or use the cursor to choose where to watch. The video below should provide a perfect example: offered by Disney and 56 seconds long, it perfectly allows you to observe the wreckage of an Imperial destroyer lying in the desert while speeding over the sand in a speeder.
For Facebook, of course, the interest is not to promote episode VII of Star Wars. The social network explains "having noticed over time that people appreciate more immersive content within their newsfeed". Lending the success of video on Facebook to this particular interest, the firm is therefore "excited to take a step further with 360° video". According to her, it will now be enough to watch a friend's vacation videos "in a small Spanish village or in the middle of a festival in Brazil" to "be able to look around and experience this place. As if you were there".
Star Wars: The Force Awakens Immersive 360 Experience
Speed across the Jakku desert from Star Wars: The Force Awakens with this immersive 360 experience created exclusively for Facebook.
Posted by Star Wars on mercredi 23 septembre 2015