The controversies are linked on the side of Facebook. The social network is accused of keeping a history of calls and SMS from its users on smartphones. If you want to cut the link that exists in Facebook, Messenger and your telephone contacts, we show you how to do it.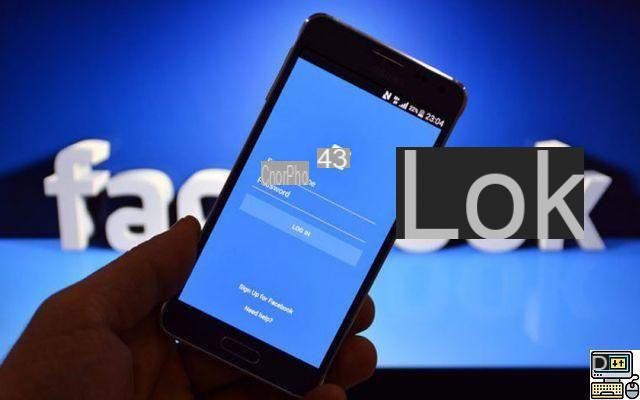 The Rosary of Revelations on Facebook continues to be unrolled. After the controversy over the exploitation of the data of millions of users during the 2016 US presidential election, we now discover that the social network retains call and SMS history users in its database.
In a press release, Facebook specifies that this access has been authorized since 2015 as long as the user agrees to the contact synchronization function via Facebook or Facebook Messenger and Messenger. According to the social network, the user is supposed to have accepted the recording of the metadata of his calls and SMS. After verification, we were unable to identify any place where Facebook explicitly notifies users of access to such data. However, this indiscretion only seems to concern Android smartphones.
How to Block Facebook from Accessing Phone Data
First of all, it should be noted that only the history of calls and SMS is concerned and not their content strictly speaking. We recently showed how to download an archive of user data from Facebook. And it is precisely by pushing their curiosity far that some users have noticed the presence of certain data related to contacts. Now that everyone knows. The question that arises is how to prevent the collection of this data.
Delete or disable contact synchronization
Start by consulting the list of your invited or loaded contacts on Facebook, but also on Facebook Messenger. Some will be surprised to note the presence of several tens or even hundreds of numbers, some of which no longer even appear in their repertoire. This back-up feature is reminiscent of that offered by Google for backing up telephone contacts.
If you no longer wish to have your telephone contacts in the Facebook database and by extension the history of interactions with them, simply delete these numbers. On the invitation management page (see link above), scroll down and click on the link Remove all contacts.
On the Facebook Messenger sync page, click the button Delete everything. Once the contacts have been deleted at the level of the two databases, there remains the step of deactivating synchronizations. If it is not done, the contacts might be backed up again. It seems like the feature has been off by default for a while.
You can, however, check by tapping the three horizontal lines in the top right corner of the Facebook app, then go to App Settings. Under the General section, verify that the option Continuous downloading of contacts is disabled.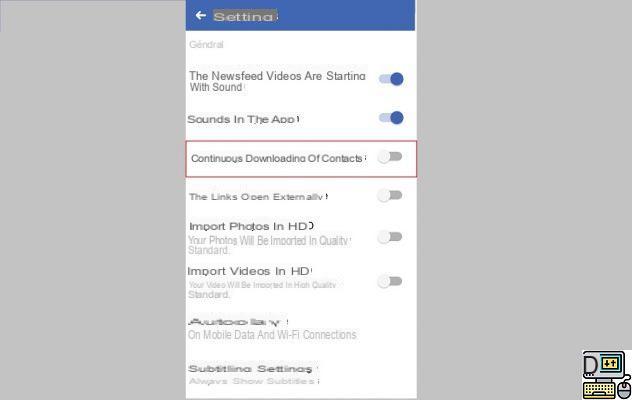 To prevent phone contacts from syncing on the Facebook Messenger app, the process is similar. Open Messenger, tap your profile picture in the top right, scroll down to Contacts option. Press it and check that synchronization is indeed deactivated.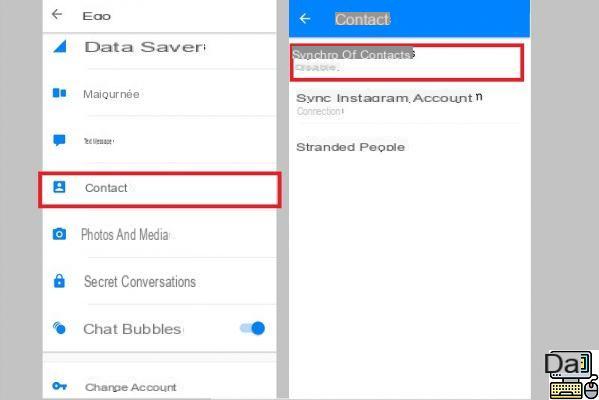 The editorial advises you:
How to log out of Facebook Messenger
Facebook: how to turn off autoplay videos
How to delete your Facebook account
Facebook allows you to turn off videos from autoplaying in your News Feed. It's very simple, even if the path is not obvious to anyone who has never seen it...Facebook Messenger has been using end-to-end encryption since 2016. To take advantage of it, just start a secret conversation with one of your contacts. Still need to know… When you use Instagram, your contacts can know that you are online, a small green circle appearing on your avatar. Except that you might want to survey the application in all… Instagram allows you to activate double authentication so that you no longer depend solely on the security of your main password. A way to significantly strengthen the protection of your account...