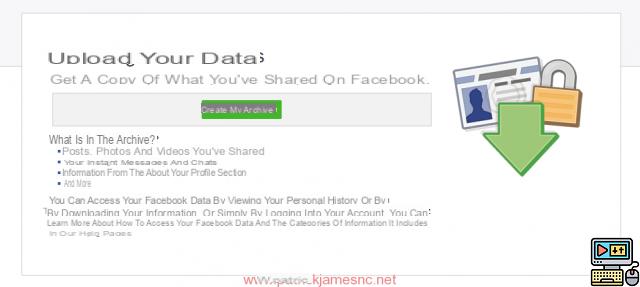 Comment (4)
Embroiled in a vast scandal on personal data, Facebook recognizes structural errors. A scandal that makes everyone want to see what the social network knows about him. And that's good, since we can download a large file containing a good part of our digital life. Explanations.
For many years, we've all joked about the "personal data vacuum cleaner" that Facebook would be. We joked about it, but the day we discover that a good part of this data has leaked outside, the joke suddenly becomes much less fun. Especially for a social network often singled out for its economic model based on the resale of its users' data for purely and simply advertising purposes. Like other social networks, Facebook allows extremely precise marketing targeting, and this precision obviously cannot come out of nowhere. And while just about everyone is aware of this, far fewer of us know that Mark Zuckerberg's service actually allows us to upload a file containing almost all of our activities on the most popular social network on the planet. .
To recover this famous file, you must first use Facebook desktop, on a desktop computer, therefore. You must then go to the small arrow located in the upper bar, on the right, in order to open a menu in which you click at the bottom on "Settings".
Once this action is done, we don't even need to change pages or tabs since the option "download a copy of your Facebook data" is just at the bottom of the right column. Of course, you have to click on it.
The social network then sends us a message indicating the nature of the file, that is to say the data relating to our activities on Facebook, while warning of the need to enter the password of the account before being able to access it. Facebook warns from the outset of the sensitivity of certain data and asks to pay particular attention to it. Mean by this that this file should not be left lying around anywhere.
Once you have clicked on "download the archive", you must enter the password and wait for Facebook to compress the data. The operation takes some time and the social network then sends us an email with the link to download the famous archive.
Once the file has been recovered and decompressed, all that remains is to read its contents. To do this, launch the index.htm file present in the archive. All you have to do is navigate using the links in the left column to see profile data, contact details, diary, photos, videos, friends, messages, pokes — yes! —, events, security data, those relating to our advertising "tastes", or even the applications that we have authorized. For those who have linked their phone number to their Facebook account, it is even possible to see the complete history of incoming and outgoing calls.
Seeing all that Facebook has recorded over the years can of course be uncomfortable and reminds us that it is important to pay particular attention to what we share on a social network. Attention, if this file is interesting, it only reveals part of what Facebook captures as data. We cannot see the exact data collected by the various "external" applications that we use on the service.