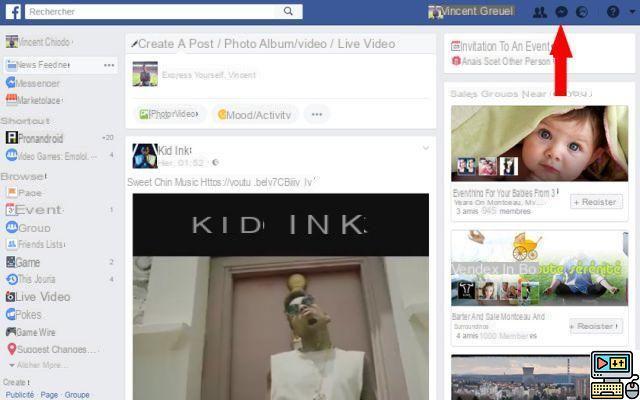 Messenger, Facebook's instant chat software, allows you to chat with your friends by simply sending them private messages. However, not all of them automatically appear in the inbox and remain as unread in a section called "filtered messages". How to access the ones you missed? We explain everything to you in this article.
Unless you are 100% unbeatable on the specifics of Facebook and its instant chat software, Messenger, many users do not know that some messages do not always appear in the inbox. There are those that we receive on a daily basis, that we see constantly and others that are hidden in a very specific section.
The place in question is none other than the filtered posts, which aggregates e-mail messages from people seeking to contact us. Provided only that you know how to access it so as to discover the letters that have been waiting to be read for ages.
Facebook Messenger: how to get to the filtered messages section
This is what we will see without further delay through the explanations and screenshots below, which show you very precisely the path to follow to access filtered messages from Facebook Messenger.
From the Facebook site
Open your web browser (from a PC or laptop)
Go to Facebook and log into your account
Click on the Messenger tab located at the top right of the top bar (bubble with a lightning bolt)
Then select See filtered infiltrations
All of the filtered conversations then appear in a new window and can be displayed by simply clicking on them. By doing so, you will see the said conversation open at the bottom of Facebook. You will have two choices at this precise moment: validate the contact of the person sending the message or delete the request.
It is also possible to access filtered messages through another alternative. The technique is even just as simplistic as evidenced by the following steps. First, simply go to the Messenger tab as done before.
Then click See everything in Messenger
Then head to the gear icon
Click on Invitations by message
Finish by choosing See filtered invitations
From his smartphone
Launch Messenger from your mobile
Click on the icon representing a list of elements (located at the bottom right)
Select to end the section Invitations by message
That's it, all the cards are now in your hands. All you have to do is take a look on Messenger to see how many messages are waiting for a response from you!
The editorial advises you:
How to delete your Facebook account
Facebook: how to hide your photos from the public?
Facebook allows you to turn off videos from autoplaying in your News Feed. It's very simple, even if the path is not obvious to anyone who has never seen it...Facebook Messenger has been using end-to-end encryption since 2016. To take advantage of it, just start a secret conversation with one of your contacts. Still need to know… When you use Instagram, your contacts can know that you are online, a small green circle appearing on your avatar. Except that you might want to survey the application in all… Instagram allows you to activate double authentication so that you no longer depend solely on the security of your main password. A way to significantly strengthen the protection of your account...