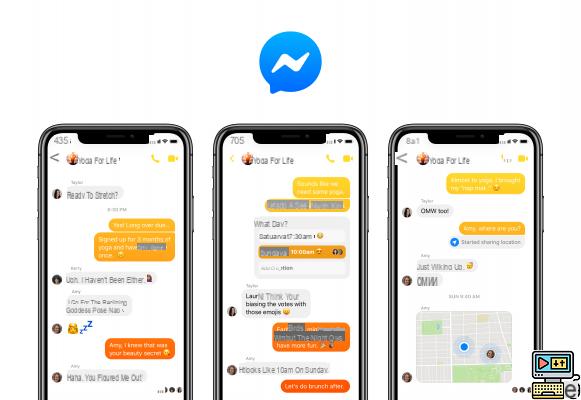 Facebook Messenger now allows you to delete a message sent by mistake or containing a mistake or embarrassing details. Deleting messages was already possible, but they were only deleted on the sender's device, not on the correspondent's.
Facebook Messenger is along with WhatsApp the two most used messaging apps in Spain. They are also both the property of Facebook, which recently announced that it wanted to bring these two services together with a third: Instagram. The details of this merger are still unknown. Will it be a merger or a gateway facilitating exchanges between the owners of the three applications? We will know more in the months to come.
For the time being, Facebook Messenger has just integrated a feature long awaited by users: the possibility of delete messages for " everybody ", that is to say both at the level of the sender and the one who receives them. It must be said that it is quite embarrassing not to have the right to catch up after having made a mistake in a message or sent a text that you regret in the minute that follows.
How do I delete a message in Facebook Messenger?
It's very easy. The path does not differ from the one that was already in place, with a few differences. For delete a facebook messenger message definitely, do the following:
Make a long press on the message in question.
In the menu that appears, press " Remove ».
Choose the option Delete for everyone ».
If you use WhtasApp, you will have noticed that the path is the same as that proposed for a while on the application. And like the latter, you don't have an infinite time limit to delete messages sent by mistake. Indeed, it is only possible to do so within 10 minutes of sending. After this time, the message can no longer be deleted. At least, not for all but only at the level of the sender.
Finally, when a message is deleted, your correspondent knows it. Rather than leaving a blank, Facebook Messenger clearly displays the words "Message deleted". So, despite everything, expect questions from your interlocutor who will probably be curious to know what you were going to say to him.
Finally, if the functionality is not yet available at your level. Just wait for the latest update to arrive. It shouldn't take long.
The editorial advises you:
How to delete your Facebook account
How to link your Facebook and Instagram accounts?
Facebook allows you to turn off videos from autoplaying in your News Feed. It's very simple, even if the path is not obvious to anyone who has never seen it...Facebook Messenger has been using end-to-end encryption since 2016. To take advantage of it, just start a secret conversation with one of your contacts. Still need to know… When you use Instagram, your contacts can know that you are online, a small green circle appearing on your avatar. Except that you might want to survey the application in all… Instagram allows you to activate double authentication so that you no longer depend solely on the security of your main password. A way to significantly strengthen the protection of your account...