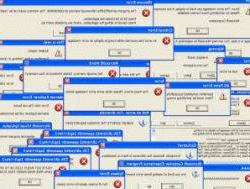 Microsoft has not become the richest company in the world with tricks and deceptions, but with the development of a system that makes it easy for everyone, even the less experienced, to use the computer, while providing countless functions and utilities for daily use. Errors happen and are also frequent, because there are many inexperienced people who use it, because software bugs are never lacking and then because Windows, unlike the Mac, is a system that can be installed on any computer, with different pieces and hardware components. What can be criticized instead of Microsoft is that so much ease of use makes it difficult to solve problems, since the tools for making corrections, if any, are often hidden or difficult to understand.
The usual errors of a PC
are the daily ones that can happen to many people every day, who see their computer suddenly go slower, who see error messages or particular anomalies such as the videos that are not seen, the audio that is not heard, the cd that does not it works, the USB sticks that are not recognized, the disk that makes strange noises and so on.
In this article we therefore make a
summary of manual fixes to all possible Windows 10 or earlier PC errors
(we say almost all ...), within reach and
free for everyone
.
1)
Internet errors
Internet-related problems are the most varied and in this blog we have really examined many of them.
For example, it may be necessary to correct configuration errors for the wifi connection and the router.
In some cases it is possible to restore the connection manually if the PC does not connect.
It may also be necessary to reset the browser (Chrome, Firefox or Edge) to correct errors, crashes, malfunctions or even if too much advertising appears.
2)
Security and malware errors.
There is a whole security section that talks about malware, viruses, and how to prevent and treat them on every PC.
Therefore, I will not dwell on the question; it is enough to know that it is (almost) always possible to remove viruses and malware on your PC for free, without paying any technician.
Among the security errors of a Windows PC, the usual and annoying one is that of
UAC user control
which blocks many simple operations and prevents you from installing programs.
As seen in another article, UAC can be limited or completely disabled (highly discouraged).
3)
The PC freezes or is very slow
Sometimes the PC freezes with an hourglass or a blue dot that turns and you don't understand what it is "thinking" to do.
For example, it may be that it slows down a lot when opening a folder with many files (see here how to open Windows folders faster) or it may be that the
context menu of options
which appears by pressing the right button on an icon or on the blank.
In this case you can disable unnecessary items from the Windows menus to make them faster.
In other articles the problem of Windows blocks has been addressed, explaining how:
- Solve Windows problems: random and frequent freezes and freezes
- Analyze Windows crashes
4)
PC update errors
One type of warning that can annoy every PC is the Windows Update requesting you to
restart the computer continuously after an automatic update
.
We have therefore seen how to disable these automatic restart warnings forever after an update.
In two other articles we also talked about how to fix Windows Update errors when the system does not update and how to install Windows updates
5)
The audio is not heard, the videos are not seen
On this I have written a precise guide with all the possible fixes to Audio and Video problems on Windows PC.
6)
Typing errors and keyboard problems
If we talk about spelling errors in texts, these can be corrected automatically in Word, in Chrome and on any other writing program with the Tinyspell spell checker for PC.
If instead we talk about errors in the keyboard, which does not respond as well as you would like, we have seen, in another article, how to solve the most common keyboard errors on the PC
7)
Software compatibility and program installation
On Windows 8 and Windows 18
, it may happen that, when you install a new program, a warning appears on
incompatible software
.
You can then disable the Program Compatibility Troubleshooter. (go to Start -> run -> Services.msc or Start -> Programs -> Administrative Tools -> Services) and stop the related service).
Or, better especially in Windows 10, press the right button on the program icon, go to the properties and, in the Compatibility tab, press the troubleshooting button or try compatibility for Windows XP if it is an old software.
Another article explains how to resolve Windows Installer errors, program installation and uninstallation errors
8)
PC that does not start, remains with a black screen or does not turn on
This is the worst of PC errors so we have provided several guides in addition to those mentioned in point 3 of this summary post.
You can then use the event log to analyze Windows problems, use MSConfig to do a clean boot and discover external software errors, how to fix the black screen error on PC startup.
In general, we have collected all the possible errors of a computer that freezes or stops at startup.
9)
Errors with the hard disk, with corrupted or not found files and with registry keys
You can solve errors with the hard disk using the scandisk, the usual tool present in every version of Windows.
Since the disk is the most fragile component of the computer, it is also possible to check the integrity and performance of the hard disk with external programs.
For the various errors that may be reported by Windows in file operations we have seen some troubleshooting guides:
Troubleshoot missing DLL errors or missing system files
Solution "file not found or corrupt" if Windows fails: SFC
Repair damaged and corrupted files that no longer open
Restore system files and settings after a virus or malware
recover deleted files on PC
Fix errors and improve performance on Windows from registry keys
Find solutions to Windows startup diagnostics
10 )
All the other usual PC errors that you don't know what to do
As mentioned at the beginning, many and different errors can occur on a PC, some stupid and easy to solve, others much less understandable and mysterious in the causes.
If you don't know what to do and can't figure out what's wrong, there are automatic programs that analyze problems and tools that try to solve them semi-automatically.
We talked about these in two articles:
-
Programs to fix Windows errors and fix PC problems
including Microsoft Fix It
- Programs to fix computer errors quickly
Obviously, with Windows, Mac or any other computer, it is always possible to restore the system configuration if the PC does not work today and thus solve any mysterious problem, hoping it does not recur.
READ NOW:
Why Windows crashes and how to prevent system errors
If you have other boring problems, which are not errors but which you like to solve anyway because they bother, let them know!
Fixes to all possible PC errors for free