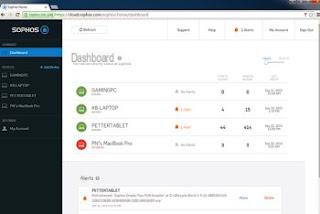 Even if there is no shortage of free antivirus and even if Microsoft includes its own antivirus in Windows 8 and Windows 10, it is always nice to have one more alternative to try, which is not only free, but which offers complete protection and without limitations.
Unfortunately, as we have seen, some companies like AVG have speculated on "free" antivirus by forcing the installation of an adware like AVG WebTuneUp together with the antivirus and it is certainly not the only one.
That
by Sophos
(among the best cybersecurity companies in the world that works mainly at the corporate level) instead is a complete enterprise-level antivirus, free for personal use on the home PC, without advertising and without including deceptive and useless tools.
Furthermore, the Sophos Home Free program is an Antivirus available for both Windows and Mac, which is a rather curious and peculiar fact.
Perhaps some Mac users might be surprised that Sophos has released a new one
free antivirus, not only for Windows, but also for Mac OSX
.
The fact is that viruses on Mac are on the rise and take advantage of the lack of attention to security of Mac users, who compared to Windows users, think they are protected from any malware without the need for an antivirus.
As Sophos herself tells us, however, infections for Macs are real and dangerous and the only way to protect the Mac is the antivirus.
To download
Sophos Home Free Antivirus
just press the download button. The free antivirus can be used forever and provides real-time protection, which is the most important.
I remember that to put a new antivirus on the PC it is necessary to uninstall the one that is already present (but in Windows 10 it is not necessary to do anything).
The program comes with a
simple and clear interface
which includes all the control tools that an antivirus must have.
Sophos Home protects your computer from malicious software in real time
, malware and also from
dangerous websites
and with inappropriate content.
Malware is then automatically blocked as well as hacker intrusion attempts.
Sensing technology used is
the same as the Sophos Endpoint Security business program
, which scores highly in every trade magazine such as AVTest.
Its best features are at least three:
- The
Virus Alert
, which acts when a virus is detected, asks the user what to do and makes the suspicious file impossible to open and copy.
This particular feature makes Sophos one of the most reliable antivirus programs.
- Sophos is a
very light program
which does not slow down the computer at all.
- From the account web page on the Sophos Home site this is possible
manage and configure the antivirus on all added PCs
, becoming comfortable for the more experienced person who has to fix the family's computers, be they Windows PC or Mac.
I haven't tested Sophos antivirus for a long time so I can't give a full judgment on it, but in my test it seemed really efficient and a great alternative to any paid antivirus, to replace AVG or other free antivirus if you're not satisfied.
The only complete and free Antivirus for PC and MAC: Sophos Home