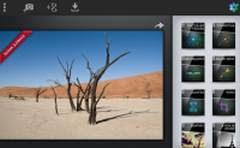 When it comes to photographic applications, one immediately thinks of Instagram as the best and most used.
However, this is not the case, Instagram is above all a social network for sharing photos, but in addition to some vintage effects, it does not allow you to modify or improve the photos in a full way.
The most powerful and most downloaded app in the world is called instead
SnapSeed
, formerly app
for iOS devices
(iPhone and iPad) and now also available
for Android phones and tablets
, in all its power,
free
.
Snapseed has a variety of impressive photo editing tools with lots of photo filters, effects and frames to make your images more beautiful.
What makes the app the best of the many photo editing apps out there is its own
simplicity
in use with the fingers.
The user interface on Android and on iPhone or iPad immediately shows all its features, both basic and advanced.
On a photo, taken or uploaded to the device, you can choose whether to apply
effects
of type:
- Automatic (color and contrast adjustment).
- Selective adjustment (to modify only a part of the photo).
- Fit Image (brightness, contrast, saturation, white balance, atmosphere).
- Straighten and rotate
- Cutout
- Details
- Black and white
- Vintage
- Drama
- Grunge
- Focus
- Edges
- Tilt-Shift
Supported image formats are JPEG and TIFF.
Take AutoCorrect, for example.
By moving your finger up and down, you choose whether to change brightness or contrast while moving your finger left and right increases or decreases the intensity.
If you take the tool to rotate a photo, you can orient the image using two fingers, as if holding it in your hand.
The vintage or grunge filters tool allows you to select some preset styles or modify them using your fingers, always with the up and down, right and left modes.
At any time you can touch the Compare button to see how the photo is changing from the original version.
Among the tools, all easy to use quickly, there are some that deserve special mention such as the selective adjustment, the Tilt Shift and the Drama and Black and White filters, truly remarkable.
The only thing that cannot be done is image zoom, which can be a problem for selective edits on small images, where instead a magnifying glass appears to better see a detail.
Once the modification is complete, you can save your work on the device and share the image on Google+ (this is because the company that develops this app was bought by Google).
The photos are saved in a separate Snapseed folder on the SD card or mobile phone memory.
Snapseed is a serious candidate for the top spot among the best photo editing apps for Android and the best photo and image apps on iPhone and iPad, using your fingers on the touchscreen of a smartphone or, better yet, a tablet.
Snapseed can be downloaded for free from
Google Play
(Android 4.0 or higher only) and from
iTunes Store
, always free of charge, for iPhone and iPad.
Snapseed free for Android and iPhone to edit photos with your fingers