Do you like the magazine format and consume your news with a clear and precise graphic interface? But do you also like to be at the forefront of the news? Do both with Flipboard, for which we give you 7 tips and tricks for using it like a pro.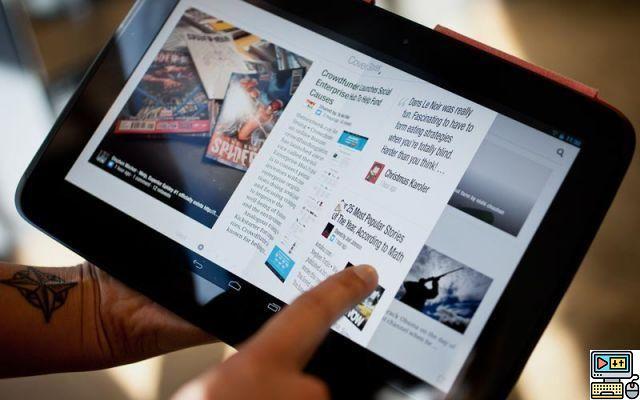 Smartphones can be used for all kinds of things, but it's in keeping themselves informed on a daily basis and quickly that they shine: they are our best assets to overcome boredom or easily increase our knowledge of the world.
But sometimes, websites are not necessarily adapted to the particular format of smartphones and tablets, or are somewhat lacking in charm. The best RSS feed readers thus tend to completely transform them.
And among them, there is one that has stood out for many years: Flipboard, which transforms your favorite websites into a powerful multifunction magazine. Today we are going to teach you how to fully master it.
Unusual: the origin of the logo of Flipboard and many other applications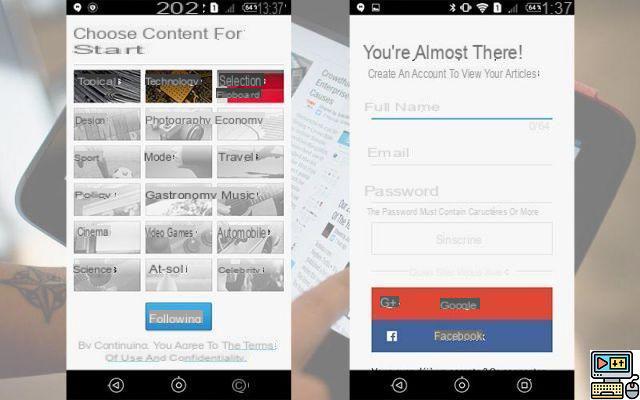 Create your account
Of course, you have to start at the beginning. Download the Flipboard app on your smartphone or tablet and install it. As soon as you arrive, the application will offer you to create an account. This is obviously essential, since it will allow you to keep your configurations even if you change your phone.
The first step will ask you to select basic content, which will be used to populate your Flipboard from the first launch. By clicking on Next, you will have access to the creation of accounts. Note that you can also log in using your Google or Facebook account.
see also: disable UpDay on your Samsung Galaxy S7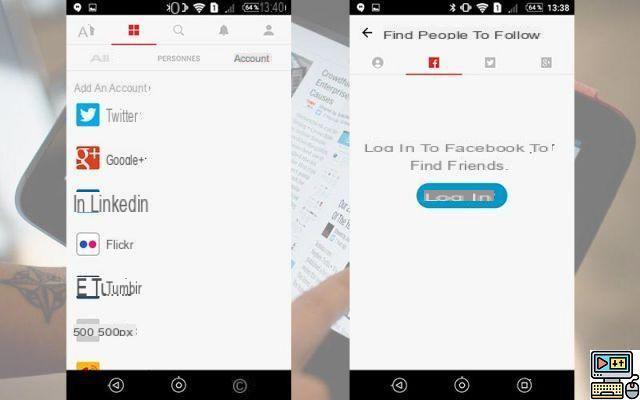 Connect your social networks
Flipboard's main advantage is its extensive integration with social networks. Thus, you will be able to integrate your Facebook, Twitter, LinkedIn feeds and many others into your own magazine and easily share on them. Connecting with these services also allows you to find magazines created by your friends easily.
To do this, go to the followed magazines menu (the square icon). In the third "Accounts" tab, you will be able to select your network and connect to it. With this, your feeds and links shared to you will all be listed on Flipboard.
To find your friends, go to the Account menu "man icon" and press + in the top left. There, you can now see your friends' posts and follow them directly, or log in if you haven't already.
See also: use Facebook Lite to consume less battery and data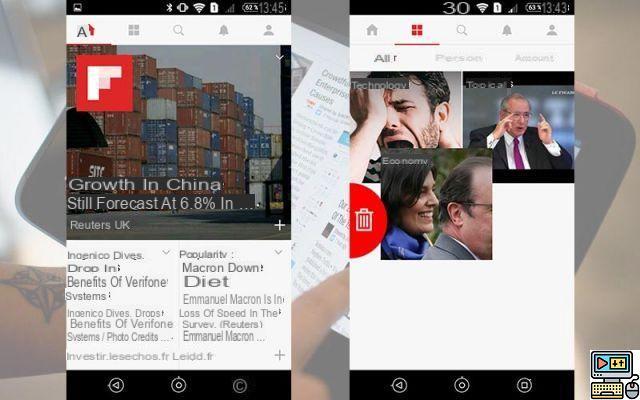 Reorganize or delete your sources
Flipboard's interface is quite simple: the home page lets you see the most-read news on the platform, while the square-shaped menu lets you access your followed magazines. For example, you will find the themes to which you are subscribed, or the feeds of each network that you have added.
If you want to rearrange or delete your sources, just hold down one of them and drag it to where you want it to appear. If you want to get rid of it, just drag it to the trash that appears on the left.
Also read: 6 tips to improve the autonomy of the Galaxy S6 and S6 Edge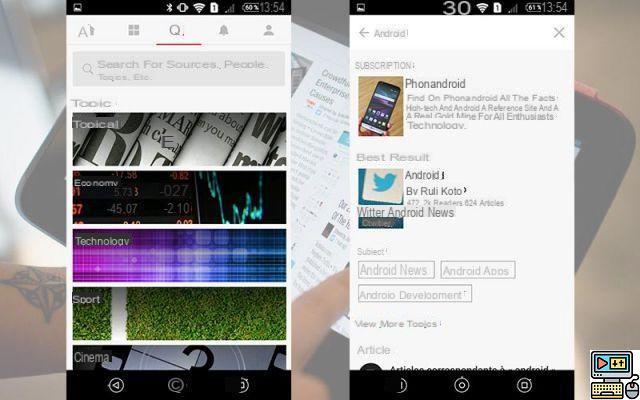 Add a new stream
The application works like an RSS feed reader, except that it has already preloaded the best web sources for you. To find them, simply click on the central magnifying glass.
You can subscribe directly to one of the main topics offered (just in case "Technology") or search for a subject that is close to your heart (just in case "Android"). This will find you all the sites dealing with this theme and allow you to subscribe to them.
However, if you can't find it, know that it is entirely possible for you to type the URL of an RSS feed directly into the search bar. By then clicking on "Social network results", you will easily find your source.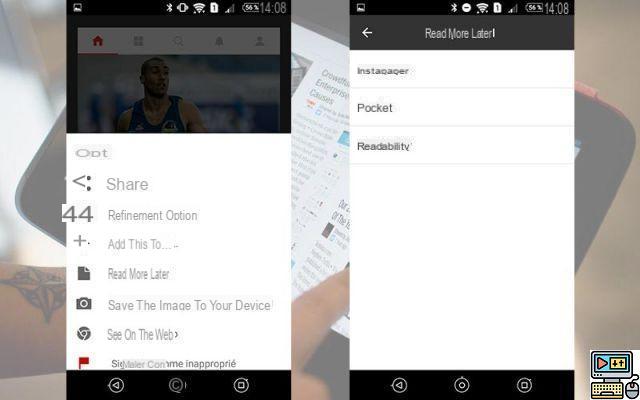 Save an article to read it later
Of course, habits have changed and we don't necessarily have the time now to read articles directly beyond their headlines. Flipboard also thought of these users.
It allows you to save an article to read it later on services already dedicated to this type of use: Instapaper, Pocket and Readability. To do this, you just have to keep pressing on an article and select "Read later", before choosing the service that interests you.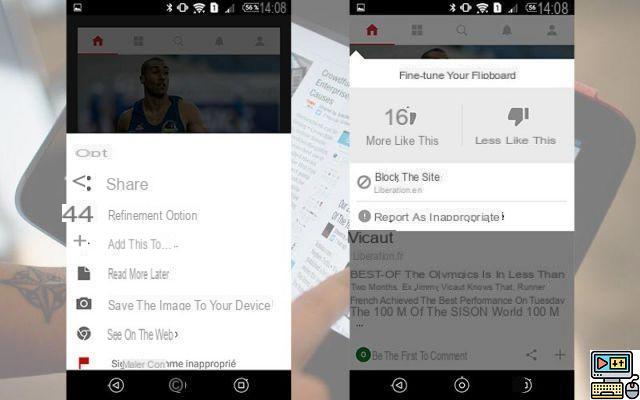 Refine your feed and block content
Generally speaking, Flipboard will automatically fetch the news with the "most clicks" so you can get the biggest news of the day. But all of this may not be to your liking. Fortunately, the application has thought about it.
To optimize your feed even better, all you have to do is keep pressing on a news item. In the options menu, you can then choose "refine option". A new window opens, allowing you to assign thumbs to the post.
Thanks to these thumbs, you will be able to signal to this one that you want more or less content of the same type. And even more, you will be able to block a certain source if you find it intrusive. If you did this by mistake, you can still unblock them by going to Settings > blocked sources.
Also read: How to stop email spam on Android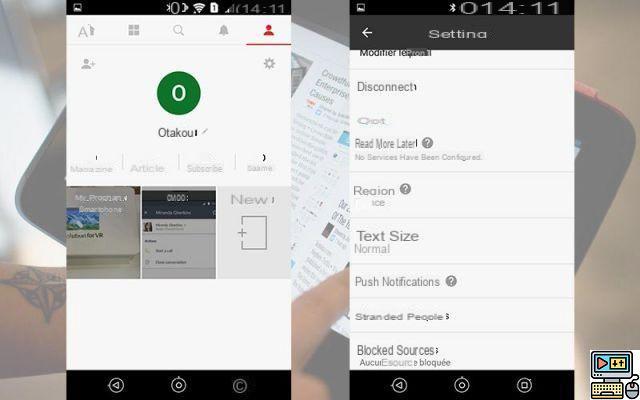 Change country of origin for feeds
Are you bilingual, or simply interested in news that is less local and more international? So you will be tempted to change region, in order to have the most popular news in another country.
To do this, go to your profile page, and click on the cog to access the application settings. Once in this menu, you just have to click on "Regions" and select another region of the world.
When the change has been made, the news offered in the search tab changes completely and your home page also adapts to this new choice. Perfect for following foreign policy for example!
You might be interested: Google Translate celebrated its 10th anniversary, a look back at its history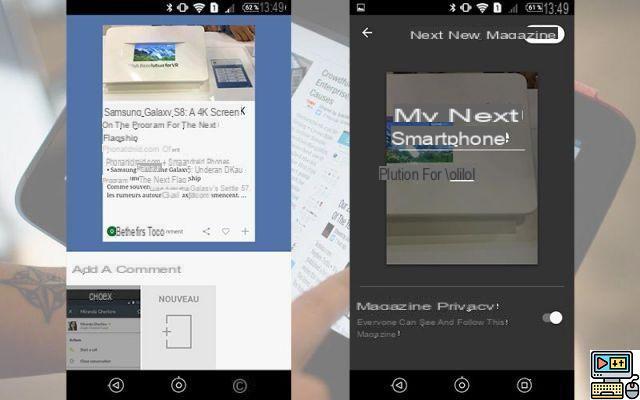 Create your own magazine
Of course, not everything would be complete without the possibility of… creating your own magazine! The interest is multiple: whether it's just storing information to be able to read it again later, or launching your own publication having only the crème de la crème of the internet, having your own Flipboard can quickly become turn out to be addictive.
Nothing could be simpler: when you see a news item that you like, just click on the little "+" at the bottom right of it to be able to add it to a publication. If it is not already created, select "new".
The application will offer you to give a title and write a short introduction for your magazine. You can then choose to make this magazine public or not. If it's public, your friends and members of the Flipboard community can also subscribe to it.
Why make a magazine private? Since you could use the function to remember clothing styles to wear, travel destinations to visit… or advice on how to better live with your hemorrhoids. In short, not necessarily information that we want to share with everyone.
See also: 6 shortcuts you should use more often on Android
There you go, you are now ready to use Flipboard to the fullest of its capabilities! Whether it is to keep you informed of the news, or to share your own articles and publications, it is a very powerful tool that we recommend that you master!