Android GPS apps aren't just Google Maps. In order to be up to date, we offer you our top of the best free GPS applications.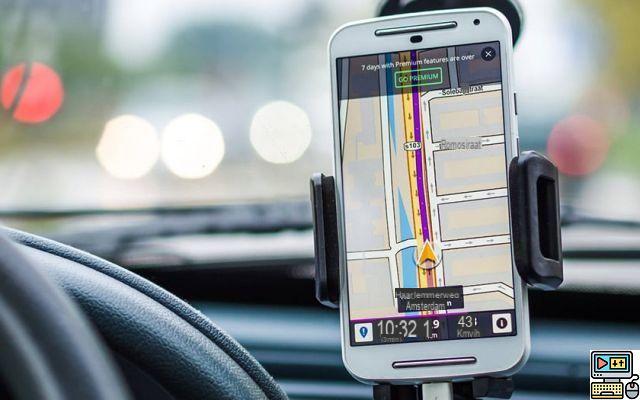 Summary
Waze: the most complete GPS
HERE WeGo: economical in mobile data, clear and precise
Maps.me: for frequent travelers
CoPilot: another very useful offline application
ViaMichelin GPS: a daily essential
Sygic GPS Navigation and Maps: TomTom maps in a free app
Osmand: the application based on OpenStreetMap
MapFactor: speed cameras, offline mode and OpenStreetMap11
Mappy: the ultra complete GPS
Coyote: Alerts, GPS Navigation & Traffic
Comments
Thanks to the GPS applications, you will no longer have any excuse to get lost on the small country roads. Enough to save you precious time and not burn a full tank of gas for nothing. Here we go for our selection, the best of the best is here! These apps do more than point you in the right direction. Thus, you will be able to know thetraffic state to find out about traffic jams and delays and adapt your route accordingly. The same goes for reporting speed cameras. Most GPS devices for Android also have community functions that allow users to help each other. It's not just Google Maps in life!
Waze: the most complete GPS
We no longer present Waze, surely the best Android GPS available on Google Play. The GPS navigation is extremely comprehensive and the strength of this app undoubtedly lies in its community. Indeed, each user of the application can participate in improving navigation data and thus help others find the best routes and save time.
Thus, the route can be recalculated automatically depending on the traffic conditions. The cheapest gas stations or even voice guidance will make the application your best traveling companion. A system of points and rewards within the community encourages you to help each other which allows Waze to be an up-to-date and ever more complete application.
Speed ​​cameras are no longer displayed precisely on Waze, but are included in the danger zone warning, without further details. Be careful, the government could soon ban Waze-type applications indicating the positioning of law enforcement agencies in real time. The service supports machine learning in order to help us in the daily journeys it allows to anticipate certain problems that we might encounter on our journey.

HERE WeGo: economical in mobile data, clear and precise
Formerly known as Nokia HERE, the app has very quickly converted many users to Android. It must be said that the tool has many qualities, starting with a very clear interface, precise information, and recent cartography. There is the possibility of downloading offline maps and of consulting public transport timetables.
Best of all, its use is completely free. You just need to create an account to download the high definition audio guidance or the local mapping on the device. Because, yes, it is possible to use this GPS application without any data connection! The service also allows you to consult GetYourGuide - Trip Advisor - BlaBlaCar - Expedia - Car2Go - Wikipedia - Hotels Combined.

Maps.me: for frequent travelers
True reference, MAPS.ME is one of the best applications for pedestrians, hikers and travelers. All maps and functions are free, maps are available offline, it is a great tool for walking around or when you are abroad.
The app is based on the OpenStreetMap database which is updated by contributors. An ideal open source solution. Available worldwide, it helps identify points of interest and access hiking trails.


CoPilot: another very useful offline application
The "CoPilot" Android GPS Navigator is a very efficient application that will give you the best routes whether you are on foot or by car. It can be used offline without necessarily needing a network connection. To do this you will need to download them to your Android phone or tablet. What to use abroad without additional cost. It also integrates points of interest to display hotels or restaurants for example.
You can download maps of a country or region for free. If you are traveling and want to add new ones, you will need to pay through the in-app purchase system. Again, you will have the right to 14 days of use with all the features of the application. Beyond that, you will have to pay for additional features such as voice navigation or 3D maps.

ViaMichelin GPS: a daily essential
Michelin has above all carved out a solid reputation for itself with its Internet site, ViaMichelin, which allows you to prepare your route from your computer. Here it is a totally free application and which requires a mobile data connection to be used.
All the features that drivers love are there. Danger zones in Spain and Europe (the famous speed cameras are no longer referenced exactly), speed limits, not to mention the essential alerts in the event of exceeding the authorized speed. A very practical feature to avoid taking certain salty fines.

Sygic GPS Navigation and Maps: TomTom maps in a free app
The "Sygic" Android GPS app is one of the most popular on the Google Play Store. Like its competitors, it allows you to download maps for use in offline mode on your phone or tablet. Regarding navigation data, these are TomTom maps which are mainly used, a guarantee of quality. One of the main advantages of this application is the free update of maps and points of interest (restaurants, gas stations, etc.).
3D map display and landscapes also allow you to find your way around. However, some features are chargeable, such as traffic display, an almost essential feature if we want to avoid certain traffic jams. Three alternative routes are also available to you when you choose a destination, enough to go faster or cheaper if you want to avoid tolls, for example.

Osmand: the application based on OpenStreetMap
Osmand is a great navigation app that takes advantage of OpenStreetMap free data. Complete, it has the main features expected of such a tool: voice guidance, offline mode, support for the different stages of the route… Wherever you are on the planet, you do not risk yourself to lose !
Another positive point is that it is not only useful for drivers in cars. Osmand is also particularly effective for cyclists, hikers and others thanks to its inclusion of cycle paths, trails, alternative paths, etc.

MapFactor: speed cameras, offline mode and OpenStreetMap11
In addition to the classic functions, the Android "MapFactor" GPS navigator provides you with warning of the approach of speed cameras by an audio warning. Remote commands are also available to send a new destination or a message directly to the navigation. For maps, OpenStreetMap is still used, a collaborative system allowing the addition and modification of maps around the world.
Off-line navigation, 2D and 3D display as well as the search for the nearest points of interest are all features that you will find in this MapFactor application which has already convinced thousands of users. TomTom Business Cards are also available for optional purchase. Note that there is a Truck version of the application which allows trucks, vans and caravans to know the height of underground passages or the capacity of certain bridges.

Mappy: the ultra complete GPS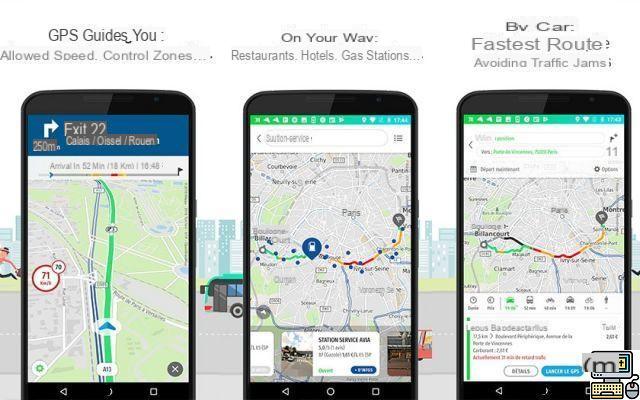 An excellent alternative to Google Maps, Mappy is doing well thanks to the completeness of its offer. The GPS displays a multitude of means of transport (thanks to a slew of partners): car, public transport, taxi, plane, Uber, train, BlaBlaCar, coach, bicycle, self-service bicycle or pedestrian. The icing on the cake, Mappy also lists electric scooters (including COUP! For example). The application makes it possible in particular to access the cards without having an internet connection. Mappy also has a clear and precise interface, in particular for motorists with road traffic in real time.

Coyote: Alerts, GPS Navigation & Traffic
Coyote is getting closer to an alternative to Waze. The operation is similar: the application uses crowdsourcing, that is to say that it displays in real time the reports of motorists. This includes permanent "dangers" including "areas with or without a fixed speed camera (including dangerous sections)" specifies the app. But also temporary dangers such as obstacles fallen on the road and accidents. The app also indicates traffic jams and includes a regularly updated speed limit database.

We hope this has helped you find your best GPS app on Android. There are more on the Play Store that are worth checking out, so if your favorite Android GPS Navigator isn't on the list, feel free to share it with us! You can also find our selection of the best speed camera warning devices. If you take the road often, you've probably tried several, so come and give us your opinion. Which of its applications do you use?