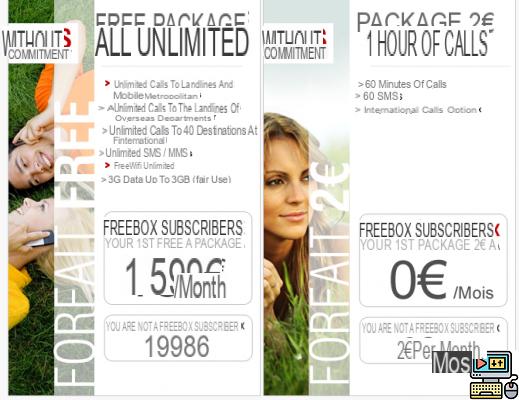 Comment (72)
There it's done. Xavier Niel launched his mobile bomb and some missiles at competition. The unlimited without commitment at less than 20 euros, it is now possible. But then, how does Free do what incumbent operators have never done?
In 2011, the operators had prepared the ground. While waiting for the arrival of the fourth operator and its sensational offers, Orange, SFR and Bouygues Telecom have released slightly more attractive offers, some of which are reserved for heavy mobile web users. At the start of 2012, Niel and his sharp com' (the one that speaks to his core target, the geek addicted to mobile Internet) takes the copy of each of his adversaries and mocks them carefully and cheerfully. This is what the provocative boss did this morning throughout his press conference before and after launching his "ideal package" without commitment (Free has an interest in innovating regularly so as not to see its monthly subscribers slipping away to the competetion).
Said package is, it is true, simple and quite transparent. It is offered for 19,99 euros (or 15,99 euros if subscribed to the Freebox) with unlimited voice and 40 international destinations, unlimited SMS and MMS, unlimited Internet with 3 GB of data (access then restricted) and the possibility of blocking his package to avoid overruns. The competition, more expensive and less generous (MMS, Data not restricted to 1 or 2 GB...), must be fuming.
No to subsidy
But then how can Free cut prices? By not doing like the others and not drawing inspiration from the economic model of the operators in place. Thus, if you do not have a mobile phone or want to change it, you can buy one by spreading the payments (12, 24 or 36 months) and this, without additional cost, promises Free, who does not want to hear about grant. However, it is indeed the subsidy, which allows operators to seduce the consumer by offering the latest smartphones at prices much more advantageous than the "naked" prices of manufacturers. Yes, but here we are, the operators are passing on (royally?) the commercial gesture of attracting customers from the start to their packages. As a result, the packages are expensive and the subscribers... linked.
With the arrival of Free, habits will perhaps change: by not subsidizing the telephones, the trouble-sowing operator can advance lower prices while "making a margin, but not hard on the telephones", assures Niel who also underlines, in an interview with Digital, that "in accordance with the law, Free does not sell at a loss". He also does not have to support the infrastructure of his opponents (much more numerous shops than at Free ...), a not insignificant point which allows him to shake up his comrades today. How will they retaliate? Will they be able to align despite their infrastructure costs? Will they play the difference card by offering new services, new products (Free has brought nothing on this point)? We should find out soon enough.
On Bouygues Telecom's B&You blog...
After the announcement effect, it remains to be seen whether the Free network will offer the expected quality and stability, whether customer service will be easily reachable and whether the general conditions of subscriptions and sales will be as transparent as the flagship package. The offer lives up to expectations, but from now on Free Mobile no longer has the right to make mistakes... As Xavier Niel told us this morning: "launch products, it's easy, it's after that we'll have to see". Indeed.