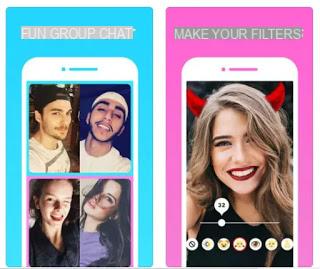 Videochat has always existed since a program called Microsoft NetMeeting was included in Windows 95, which despite the slow connections of the time, still allowed video communications between users of an acceptable level. One day, then, several years ago, a boy invented a site where as soon as you entered it was possible to see a random person on a webcam and, vice versa, be seen by him, with a button to change the interlocutor if the present one was not to one's liking.
He was called
ChatRoulette
, a way to
meet or video chat with strangers
without the need to register an account, which had an extraordinary success and was immediately imitated by many other similar sites, including
Omegle
, become number one. The popularity, however, also brought a flood of controversy as there was no control that prevented them from showing themselves in inappropriate ways and that prevented the youngest from accessing without running into some ambiguous or bad taste character.
To date, while casual video chats of this type have become the tools of the most popular dating sites, there have also been some regular applications that can be used by everyone and on which it is absolutely forbidden to misbehave.
This article lists the
best apps for chat and video chat with strangers
, free and safe, alternatives to Omegle and similar to random chats like Chatroulette, which can entertain, which help to
find people to talk to about common interests
and can also be used, if you are lucky, to flirt,
meeting and dating strangers
.
Keep in mind that these apps, being approved by the Google Play and iTunes Stores, have very strict rules regarding the images that can be transmitted via webcam and no framing or irrelevant shots are tolerated (for example framing a wall).
In most cases it will be required to log in, without registration, through a Facebook account or by creating a nickname.
1)
Hello
(Android and iPhone) is perhaps the best this video chat app that allows you to meet random people on your smartphone. Thanks to the login via Facebook or phone number, 100% of the people who meet and with whom you can communicate in videochat are real. There are several and unique filter options available so you can choose, for example, whether to find males or females.
2)
Wakie
(Android and iPhone) is a social app for making phone calls with people around the world. You can easily search for different people to talk or chat with. The best feature is that you can search for the person to chat with based on our question, to get an answer from those who know and are interested in answering.
3)
Chatous
(Android and iPhone) allows you to start chatting with a new and casual person directly from your smartphone and has the ability to find the right person to meet online, according to your interests. It is a free and easy to use application, where you can indicate a #hashtag to be able to get in touch with people who have selected the same #hashtag. You can also share audio files, edited videos and text during the conversation.
4)
Azar
(Android and iPhone) is perhaps the most used app of this category in the world, in which there are people of all kinds to meet and chat or talk with. You can easily search for people by country and gender. One of the best features of this app is to allow chat with stickers of our face and effects to dress up. Interesting is the function that translates chats into foreign languages ​​in real time, so that you can start the conversation with any person in any country of the world without language difficulties.
5)
Livu
(Android and iPhone) is a free app that allows you to start chatting with strangers, easy to use that can be used anytime, anywhere to search for new friends. The best feature is that of being able to select habits and hobbies in common with others and also that of being able to use different effects to edit photos. You can log in with your phone number or Facebook account to be sure that every person found is real and not a fake.
6)
Topface
(Android and iPhone) is an app to easily discover new friends for chatting, flirting, dating and video calling.
It has an option to filter the gender, it's safe, private, and even allows you to hide your true identity.
7)
Mamba
(Android and iPhone) is a free and secure online dating app for singles that helps find new people online based on different preferences and with personality based match, to chat and make face-to-face video calls.
8)
Tango Videochat
(Android and iPhone) is an app for making video calls to friends and for chatting, which also includes the function to meet new friends and new people with common interests.
It is certainly one of the most used apps in the world for video calls, secure and free, used all over the world.
Free video chat with strangers to see each other and talk (best apps)