Are you already a Free subscriber and want to know how to change and take advantage of the new Freebox Pop? Good news: migration is already possible. Here's everything you need to know before you migrate.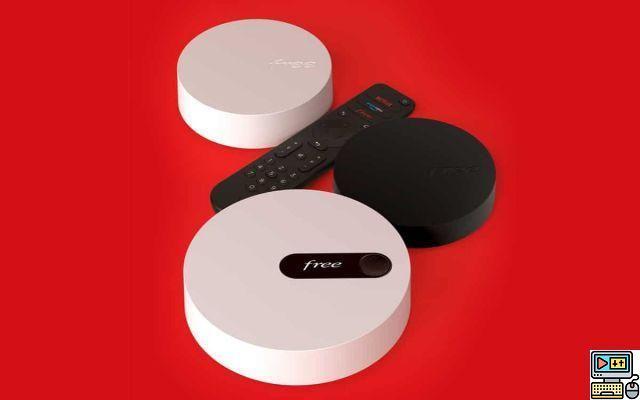 If Free has just unveiled its new Freebox Pop and presents it as a general public and mid-range box, it is not reserved only for new subscribers. People who have already subscribed to a Free fixed offer are not left behind. Free has already set up a system to migrate to the new box. Here's what to expect if you want to change your offer.
How to migrate to the new Freebox Pop when you are already subscribed to Free?
The Freebox Pop definitely has everything to seduce, or almost: a 5 Gb / s speed as a starter and 700 Mb / s output, a hyper compact format, a system running Android TV, the possibility of reviewing all the goals of League 1 matches, access to Netflix, Amazon Prime, Disney +, etc. If some blame it for the lack of Wi-Fi 6, the box is nevertheless offered at the super attractive price of € 39,99 / month (€ 29,99 the first year for new subscribers). Difficult to be choosy in such conditions. And for an additional € 9,99 / month, it is even possible to take advantage of an unlimited 4G + mobile subscription. Something to satisfy all needs and especially all budgets.
But here it is: what to do when you have already subscribed to a Free fixed offer? The Freebox Pop is now accessible to all users and it is not necessary to cancel your current subscription.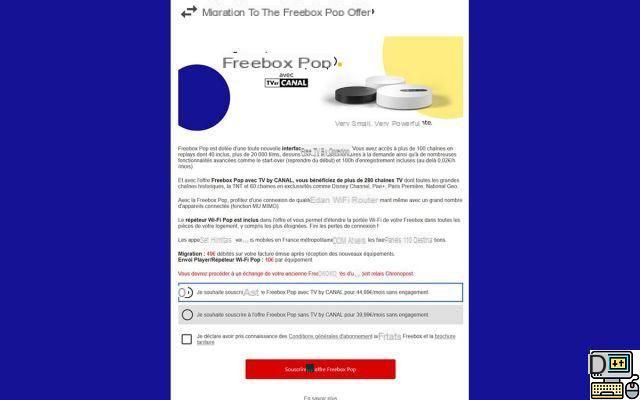 To change your offer, simply go to https://free.com/freebox. Then click the option on Subscriber area located at the top right. Then go to Log in then, in the right column, click on the tab My subscription. You should find the option there Exchange my Freebox with a Freebox Pop.
And a good surprise awaits you if you decide to take the plunge: for € 44,99 / month instead of € 39,99, Free offers you access to TV by Canal. For € 5 more on your bill, you can therefore enjoy access to myCanal, Comédie +, National Geographic, etc. On the other hand, if you want to migrate to the Freebox Pop, migration costs will cost you 49 €, costs which will be debited to you on the invoice upon receipt of the new equipment. Free also reminds that sending each additional "device", whether it is the player or a repeater (but not the modem part, fortunately), will cost you 10 €.