Google Drive is often installed by default on Android devices, and offers 15 GB of free storage to all users. But what is Google Drive, and how do you use it well? With this tutorial, we teach you how to finally take advantage of the American giant's Cloud, in order to be sure that you never lose any of your important files.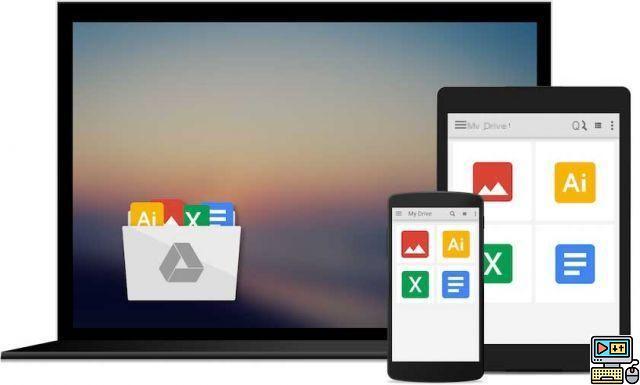 The Android mobile operating system often arrives in your hand with a good number of pre-installed applications. In addition to the advertisements put there by manufacturers and operators, which are fortunately becoming smaller and smaller, other applications are much more interesting.
Among them, the pre-installed Google services are rarely uninstalled between YouTube, Chrome and Gmail. But one last one is often misunderstood, even if it could be your favorite: Google Drive.
Google's online storage service offers you 15 GB for free, as long as you have a Gmail account on your phone. But what is this service, and how can you take full advantage of it? Let us guide you.
What is Google Drive?
Google Drive is Google's online file storage service, commonly referred to as the "Cloud". In short, it is a storage space available only through your Google account, and which allows you to find the files you store there where you want them when you want them.
The advantage of this service is that it is linked to other Google tools. Thus, you can create and edit text documents, spreadsheets and presentations directly online. Your work is thus automatically synchronized on the internet and you never lose anything.
But it is also capable of course of storing any type of file. Note that as the owner of a Google account, you are entitled to a free storage space of 15 GB. Thereafter, a monthly subscription can allow you to extend this memory.
Why use Google Drive?
The first answer to this question is very simple: it's free, why not take advantage of it? On a more serious note, Google Drive is a great way to get used to using the cloud, which has huge benefits.
The main thing is obviously to never lose your files. If your smartphone dies or is stolen, your important files will never be lost. There is also security: thanks to the two-step authentication of Google accounts, it is almost impossible for a stranger to steal your data.
And finally, your files are accessible absolutely everywhere. You can use Google Drive on your PC to synchronize your files, edit your documents directly and find them instantly on your mobile without effort.
How to use Google Drive?
Google Drive Home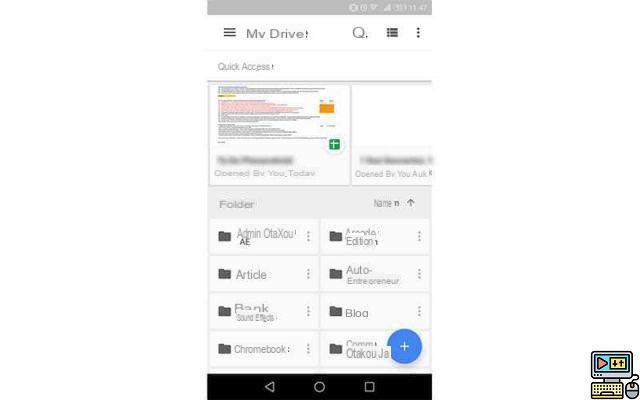 If you have a Google account/Gmail address associated with your phone, just launch the app to access your Drive. If it is not installed by default on your phone, you can find it for free on the Play Store:

Once launched, you access your Drive which is actually a kind of file explorer as you have seen for a long time on your PC. The home page lists all your accessible folders and files already synchronized on your Cloud. Just tap on a file to open it directly from the internet, without even having to download it. You can even download it, share it with friends, in short, do whatever you want with it.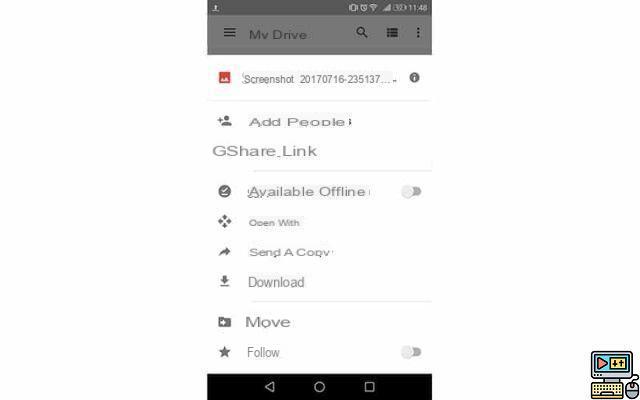 On the top, you can also find the "Quick access" section which will list the last documents you have modified in order to access them more quickly. The menu gives you the possibility to search through your files, or to review the presentation of your home.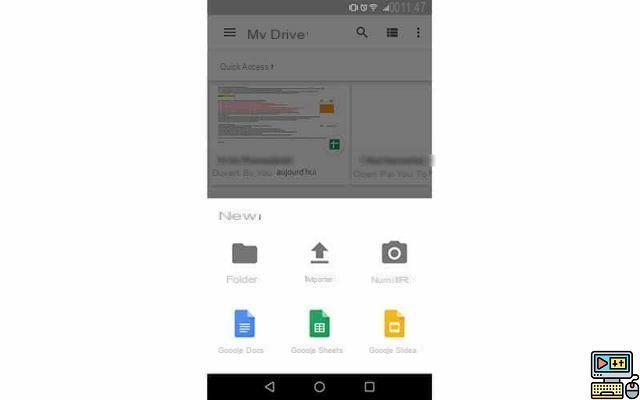 On the homepage, the "+" button will allow you several things. "Folder" lets you create a folder, of course. "Import" allows you to send a file from your phone to your Google Drive memory, and then choose the folder in which you would like to place it.
"Scan" allows you to scan a document in order to import it in PDF format. "Google Docs" allows you to create a text file like Word, "Google Sheets" lets you create a table like Excel, and "Google Slides" a presentation like Powerpoint.
Menu the Google Drive
The Google Drive menu makes it easier to see your files. "My Drive" is the home we just covered, but there are other options waiting for you. "Computers" allows you for example to see all the computers on which you have installed the tool.
"Shared with me" is one of the most interesting categories. Indeed, you can at any time share any document, or even a complete file, with another Google account. In this category, you will therefore see all the documents that others have shared with you.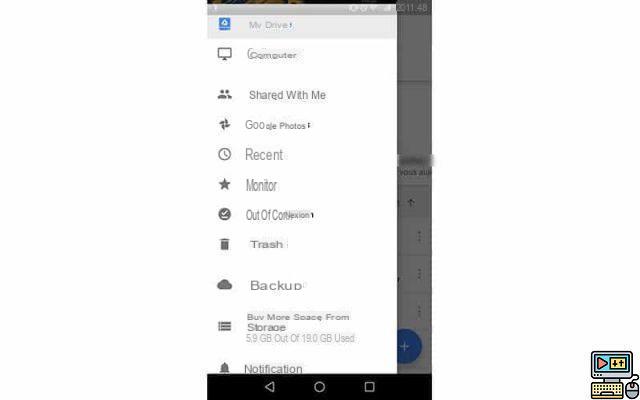 If you use the Google Photos application and free synchronization, you can find in the "Google Photos" category all the photos you have stored on the Google Cloud. Storage is independent of Drive, since it is free and unlimited.
"Recents" lets you see the latest files updated or sent, while "Following" lets you see your favorites grouped together in one category. Finally, you can download certain files offline in case you don't have a connection, and these will be available in "Offline".
In addition to these very classic little tools, you also have a rather special "Backups" category. This contains the complete backups of your Android devices on Google Drive, if you use this feature of course. These are done automatically once configured, and allow you to find your application configurations on all your phones.
Manage storage space
Through this menu, you can also see how many gigas you are using on your free storage space. By clicking on this option, you will also be able to see in detail what is using the most space between your Drive files, your Gmail files and your photos, as well as a percentage of the total used.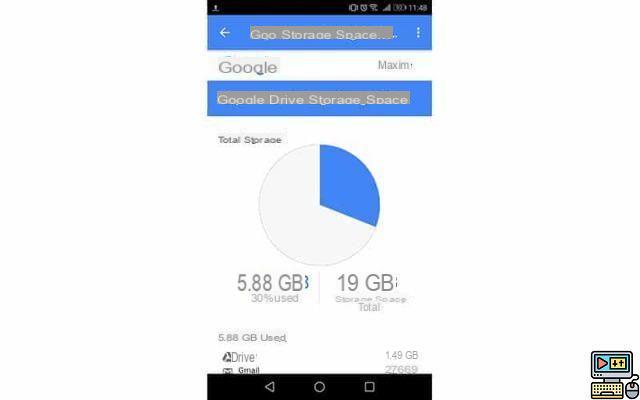 It is in this menu that you can also choose to increase your storage space. Several offers are available, from 100 GB for €1.99/month to 30 TB for €299.99/month. Google Drive is after all as much a tool for individuals as it is for professionals, so its many offerings cover the entire spectrum.
Easily save a file to your Google Drive
Going through the application obviously allows you to manage your files as you wish, like a computer. However, you can also save files to your Drive more easily.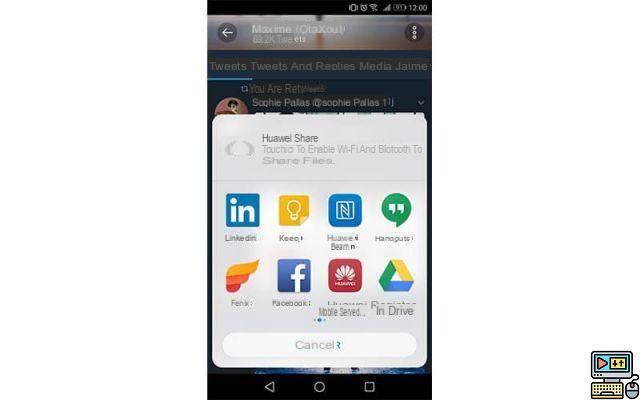 Going through the "Share" menu, anywhere on your phone, you can see that you can share to Google Drive. This option allows you to naturally save a file to your account, without even having to launch the application.
What's more, using Google Drive on your computer, you can easily drag and drop any file which will then be automatically synced across all your devices. That's the whole point of the Cloud! So all you have to do is take advantage of your free 15 gigabytes!