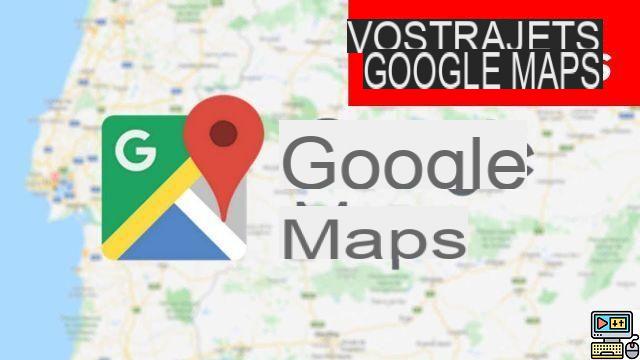 Google Maps keeps track of all your trips, even when the app is not in use. For those who would like not to keep a history of the routes traveled, or delete all or part of what is already kept in the database, it's easy to do. We show you how.
If it is not inconvenient for most users to have access to the history of their routes, everyone does not necessarily want to be traced to the nearest meter. Google is reassuring by saying that only you can consult it. But if for some reason you want delete your trip history, here's how to do it. The process is the same on smartphones Android that on iPhone et iPad.
Google Maps: clear your route history
First of all, specify that Google Maps keeps your history of journeys in two ways: in the section "Your journeys" on the one hand where you will find the routes of your routes and "History Maps" on the other hand which concerns only the places you searched for in the app.
Delete your ride data
Remove a single location from within a set of routes:
Launch Google Maps
Tap the three horizontal lines in the upper left corner ☰ then on the option Your Journeys
Choose a milestone from the history you want to delete from the list of routes
Touch the icon Remove in the upper right corner
Delete day trips:
Dance Google Maps
Press ☰ then Your Journeys
Tap the calendar icon? top right
Choose the day from which you would like to remove the trip data
Touch on the three vertical lines at the top right then on Delete day
These steps described above are suitable if you want to be able to access your route history in Google Maps while deleting some of the retained data if necessary. But the most radical, you can delete all history or simply disable tracking of your movements.
Delete all trip history
Launch Google Maps
Press ☰ > Your Journeys > ⋮ (upper right corner) > History Settings
Select Delete location history
Turn off history in Google Maps
To prevent Google Maps from keeping your route history:
Open Google Maps
Press ☰ > Your Trips > ⋮ > History Settings
Tap Location update on and toggle the switch on the next screen to the left
Delete search history
All places entered in the search bar or route requested in Google Maps are kept, whether they have actually been traveled or not. It is also a way to access the history of your routes. Unfortunately, it is not possible to delete them all at once. This is done entry by entry.
Open Google Maps
Press ☰ > Settings > Google Maps History
Tap the cross next to each entry to delete it from the history
That's it that's all. You are now sure that all the routes you travel have been deleted from the Google Maps history, which protects you from being tracked by any third party in case they have access to your Google account.
The editorial advises you:
Google Maps: how to activate satellite view on iOS and Android
Insufficient storage: how to clean your Android smartphone
How to delete a Google account on Android
The ability to speed up or slow down a video on YouTube can be very useful. It was possible to do this in the web version of the platform for a while...Google Chrome includes a reading mode that allows you to consult a page in optimal conditions. The functionality, however, is hidden in the bowels of the browser. In this tutorial,…Google Chrome records everything you do while browsing the web. If you want to browse without leaving traces, here's how to clean up your browsing history. The Messages application on Android offers you the possibility of sending SMS, MMS and also RCS chats from a PC or Mac. To use this feature, just…