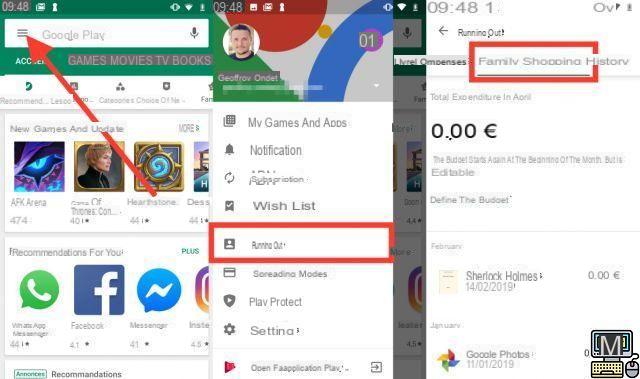 Google has just added an option to the Play Store that allows users to limit their spending. It is now possible to strictly control the budget allocated to purchases on the Android Store. In this article, we will see how to do it.
Many people don't realize how much money they're spending on in-app purchases until they finally open their eyes, often too late. We then spend the rest of the month tightening the belt. On the Google Play Store, it is possible to buy applications, games, books, films, etc. But in-app purchases within apps and games also go through Google Play.
How to set a budget for spending on the Google Play Store
Google decided to tackle the problem by offering a feature in the Play Store. It is obviously still in testing and not all users have access to it yet, but it should soon be available for everyone. However, Google has published a help page that indicates the process.
The option allows you to set a monthly limit on your spending. As soon as the user reaches it, or approaches it, he receives an alert message. The counter resets to zero after a month has elapsed.
It is also a means that parents can use to control the amounts spent by their children. Some parental control applications also allow you to avoid unpleasant surprises. Here's how.
Open the Play Store on your Android smartphone
In the left menu, tap Account and go to the tab Purchase history
Click on the link Set a budget
Set the maximum amount not to be exceeded over the next 30 days and validate
Read also : Google Play Store: How do I get a refund for an app or game?
Each time you purchase an item, you'll receive a message telling you whether you're nearing your budget or over budget. It is also possible to change the allocated amount by following the same process described above.
The editorial advises you:
Outlook to Gmail: how to activate automatic email forwarding
The ability to speed up or slow down a video on YouTube can be very useful. It was possible to do this in the web version of the platform for a while...Google Chrome includes a reading mode that allows you to consult a page in optimal conditions. The functionality, however, is hidden in the bowels of the browser. In this tutorial,…Google Chrome records everything you do while browsing the web. If you want to browse without leaving traces, here's how to clean up your browsing history. The Messages application on Android offers you the possibility of sending SMS, MMS and also RCS chats from a PC or Mac. To use this feature, just…