Hard Disks containing helium !! What are the benefits!! Now also for the consumer market ...
Index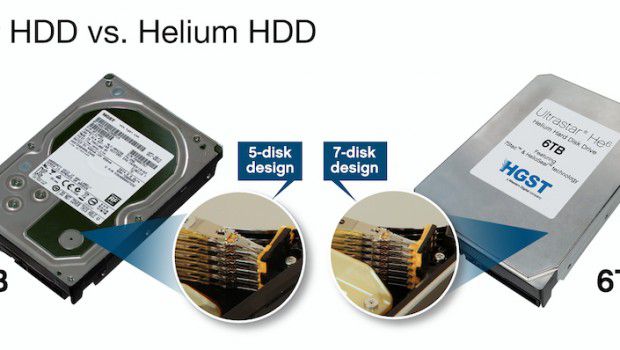 For several years now there have been hard drives on the world market that use Elio inside. Up to now these supports were used in the forefront at the Enterprise level, now they also arrive in the Consumer market.
WHAT ADVANTAGES DOES A DISC WITH HELIUM BRING?
Hard Disks filled with helium allow as a direct benefit, the use of more than five platters per drive and, as indirect consequences, the reduction of total cost of ownership (TCO, Total Cost of Ownership) for enterprises, datacenter and cloud .
Helium is characterized by a density equal to 1/7 of the density of air, hence the motivation to use this gas for the construction of hard disks. The lower density of the helium, in fact, allows to exert a lower resistance on the rotating plates, the direct consequence of which is a reduction of the energy necessary to drive the motor of rotation of the plates. The lower density also causes less vibrations of the moving parts inside the hard disk, thus allowing to reduce the distance between the platters and between the tracks of the platters themselves. In this way it becomes possible to place up to seven platters, with the possibility of significantly increasing the storage capacity of a single hard disk.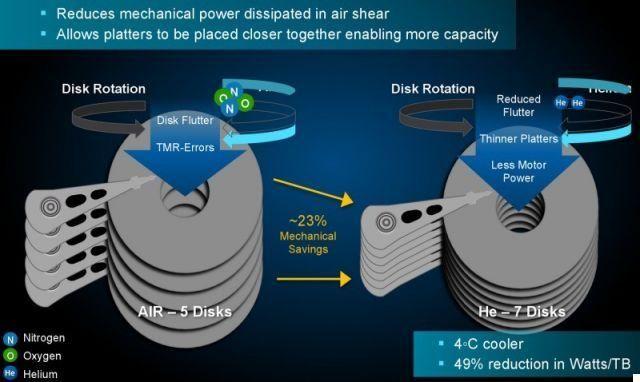 But the benefits don't stop there: the lower resistance to rotation allows the hard disk to operate at lower temperatures than traditional solutions and with lower operating noise. All these features, like a domino effect, have a positive impact on all operating costs.
TODAY HELIUM HARD DISKS ARRIVE IN THE CONSUMER WORLD ...
Today Western Digital formalizes the release of 8 terabyte hard drives filled with helium in the consumer sector. Until now, the use of these supports was aimed exclusively at the enterprise segment market.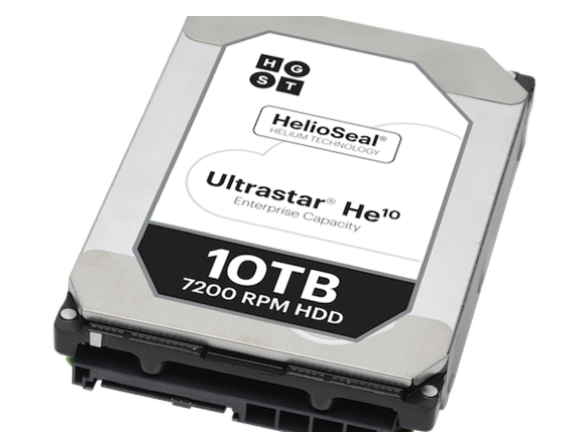 Western Digital said that the new consumer models based on HelioSeal technology will arrive in the NAS space and in the sectors of video surveillance and external desktop applications.
IS IT POSSIBLE TO RECOVER DATA FROM HARD DISK WITH HELIUM?
can say without a shadow of a doubt that its engineers have successfully recovered data from several hard drives that use helium inside them. Today the company is therefore able to offer this service for any type of helium-based support.
The group through its portal is able to give you assistance in case of data loss from any magnetic or solid state media today in the world market.