Index
What Clubhouse is and how it works
How to access the Clubhouse without an invitation
What Clubhouse is and how it works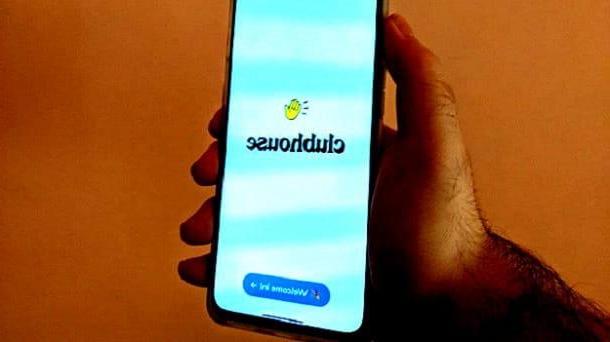 Before going into the details of the procedure on how to access Clubhouse, I think you might be interested in learning more about this application.
Well, Clubhouse is a social network that differs a lot from the classic Facebook, Instagram and TikTok. In fact, there are neither long posts to read nor images and videos to watch. The main component is theaudio, the voice of the people. There is also a feature of text chat, which arrived in July 2021.
Clubhouse therefore represents a "virtual place" totally different from the classic ones and focuses a lot on users interested in dialogue. Perhaps the most fitting comparison could be that with podcasts, now more and more widespread, also thanks to the "push" of platforms such as Spotify.
However, associating Clubhouse with podcasts is a "stretch", as the social network is not a "container" of this type of content. So let's start from the basics: everyone can create one room and invite some guests to talk about a topic any in front of a potential public. All in real time, in fact the communications on Clubhouse are "synchronous" and not "asynchronous" like those of other social networks (where, for example, you can view a post and respond to it at any time).
Are you, for example, a cryptocurrency expert and want to provide advice to those interested in this world? Open a room on Clubhouse e analyze the topic, perhaps with other known guests within the industry, it can be very interesting.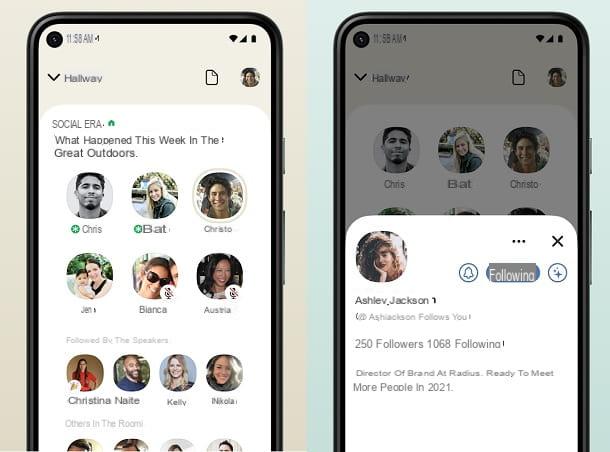 In any case, the rooms have various types of users: i moderators, who can better manage the "chat", the speaker, that is, those who can use the microphone to speak and the public, who can only hear what is being said.
An interesting feature of Clubhouse is that it actually the public can potentially interact as well, As "Raising his hand" and getting the concession by moderators it is possible to be heard by the other people in the room, perhaps to add something relevant to the discussion.
Then there is the question of Club, or gods groups they can too record organized events. Usually, this feature is used by those who want to talk often, for example once a week. In some ways it can be said that it is a sort of audio-only "Facebook group".
The main page of Clubhouse features recommended rooms and the user can choose the topics of interest to you to access content suited to your tastes. Put simply, the social network always tries to make the user find potentially interesting rooms.
In short, it is a social network that winks at those who want to take part in of "virtual conferences", whether it's work o hobby. On the other hand, it is no coincidence that Clubhouse's success came precisely at a time when people had no way to participate in physical conferences, i.e. during the pandemic that began in 2020 (on January 21, 2021, Clubhouse reached a rating of one billion dollars).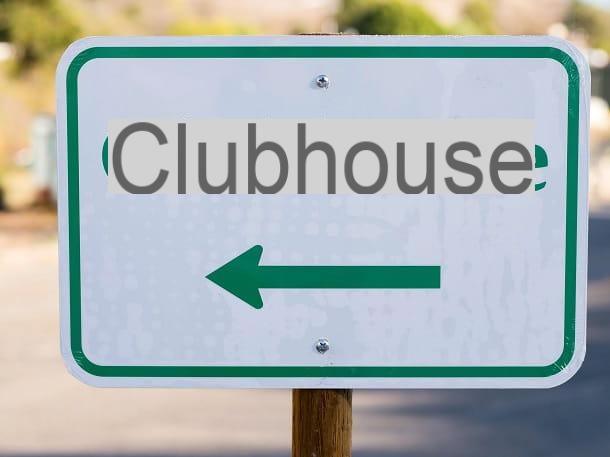 The success of the social network was then "fueled" by some well-known entrepreneurs of the mondo tech. Elon Musk, CEO of SpaceX, has certainly contributed a lot, but also Mark Zuckerberg, CEO of Facebook, has a Clubhouse profile.
Another interesting aspect of the social network is the fact that, in the first preliminary phase, the creators have decided to focus onexclusivity. In fact, both to test everything properly before the final release and a bit for marketing, in April 2020 Clubhouse was released only on the Apple App Store (iPhone) and made available by invitation only.
Put simply, to enter the social network, a person it had to be "authorized" by another who already had a Clubhouse (each user had 5 Invitations initials, which could then increase over time, with participation in the platform). As a "reward", the person who "let in" a particular user received one mention within the profile of the latter. In this way, a huge "word of mouth" was created, which led to the arrival on the social network of about 600.000 users as of December 2020.
In short, the exclusivity and curiosity of users have paid off, at least in the first initial phase. Clubhouse was in fact in the center of ups and downs, but in May 2021 it attracted attention again with the release of its official application, obviously downloadable for free, on the Google Play Store and on alternative stores for Android. Furthermore, in July 2021 the social network returned "to the fore" due to theabandonment of the invitation system. Put simply, now anyone can access the social network.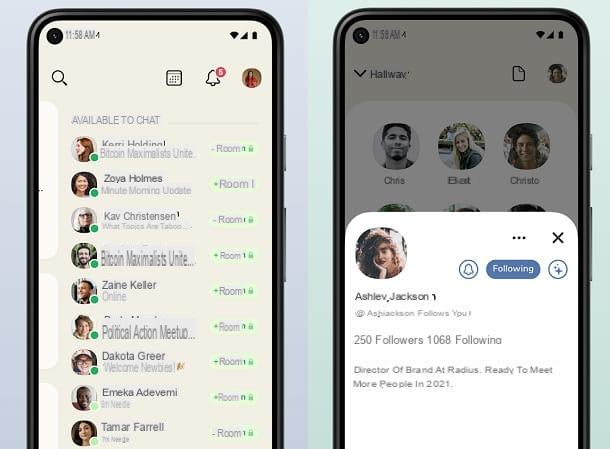 On the other hand, he invitations system it could represent an obstacle, especially if you didn't already have friends on the social network. Now, however, accessing the social network is much easier. However, I understand that the previous method has created a bit of "confusion" and for this reason I am going to explain to you how to enter Clubhouse with the new system.
In any case, before leaving, I only remind you one thing: don't forget that conversations cannot be recorded and shared externally that take place on the social network. For the rest, for download and install Clubhouse, you just need to open the store of your device, search "clubhouse" inside, press on theicona dell'app and tap the button Installa / Ottieni, possibly confirming yours identity su iPhone tramite Face ID, Touch ID o password dell'ID Apple.
How to access the Clubhouse without an invitation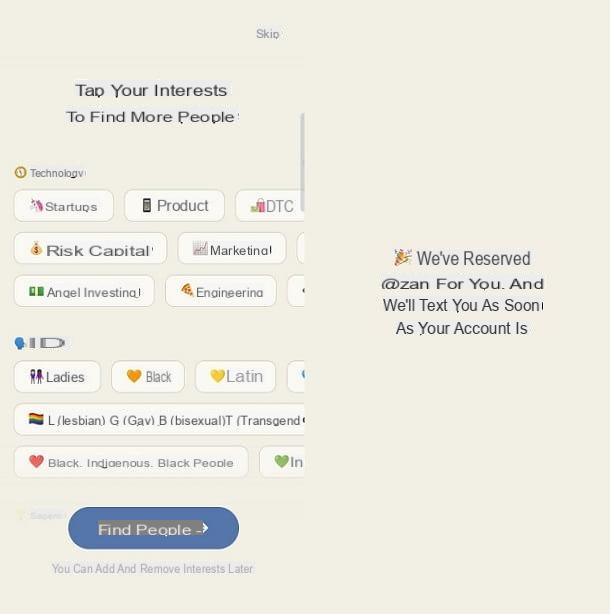 Now that you are aware of the general situation, I would say that it is time to delve into the matter and see how to actually get into it Clubhouse
As mentioned in the previous chapter, thankfully Gone are the days when it was necessary to have an invitation to access the social network. Do you think that some people had even managed to organize groups, obviously full of strangers, in which the telephone numbers were essentially "published" to be invited to the Clubhouse. Obviously this was not exactly a "best" method, as you understand that providing personal data such as a telephone number to people you do not know might not be a good idea.
In any case, I leave immediately with good news: if you have already installed Clubhouse during the preliminary phase, theapplication, entered yours telephone number and selected a username, all you have to do is expect. In fact, the developers confirmed, in July 2021, that they have millions of users on the waiting list, as well as that the latter will come "Let in" over time.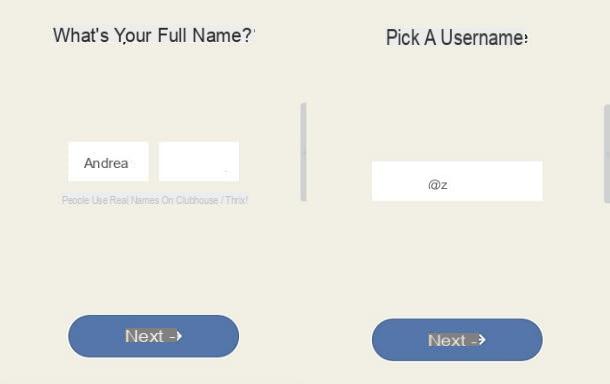 If, on the other hand, you had not "put yourself on the list" in the initial phase, just open theWhatsapp, tap the button Welcome in!, select yours Country, type yours telephone number and confirm the code ricevuto processes SMS.
After that, you will be prompted to enter name and surname, type a username, set one if necessary profile photo (you can take one or choose it from the Gallery), select yours interests, possibly allow access to yours contacts to find friends and choose who you want to follow at first.
Once this is done, you are within Clubhouse. What you see is the main page: at the bottom is the button Start a room which allows you to create a room, while the ones you see on the front page are the rooms already active you may want to participate in.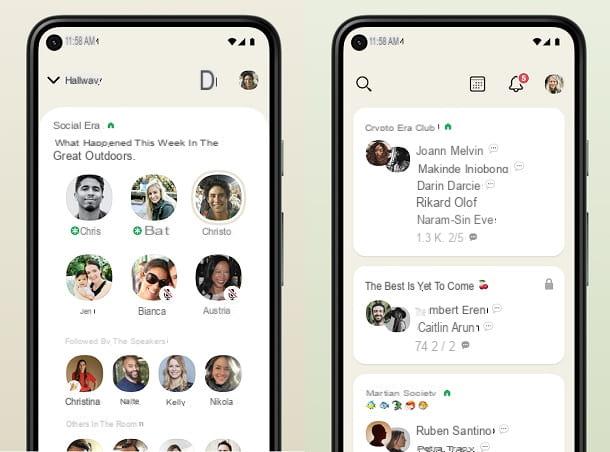 I leave the exploration of the social network to you, but I advise you to complete your profile verifying your email. To do this, just tap on theaccount icon, present at the top right and press the icon @. You will then be prompted to type yours email address and press the button VERIFY.
So you will get anconfirmation email: you just have to press the button Verify my Email to complete the process. Great, now you have successfully set up your Clubhouse profile and can use the social network.
How to access Clubhouse