Are you the administrator of a group on WhatsApp, would you like to give your "charge" to another person but can't find a way to do it? Relax, you are not the only one. This is a problem that many users complain about and unfortunately not much can be done to solve it.
The reason is that WhatsApp does not yet have a function to manage roles within groups and, alas, allows you to change the administrators of the discussions only when the users who currently perform that task leave the conversation.
I know, I didn't give you good news. But maybe I can help you anyway. How? Illustrating a procedure - a bit cumbersome to tell the truth, but effective - that allows you to appoint administrator on WhatsApp without resorting to third-party applications and without losing the messages previously posted in the group.
The only way to actively choose the new administrator of a group on WhatsApp is to delete all the participants in the conversation except yourself (i.e. the current administrator) and the person to whom you want to delegate the management of the group, leave the discussion and ask the only remaining user (the new admin) to re-add all the old participants.
It is not the best of practicality, I realize, but for groups with a limited number of participants it is a viable solution. If you want to try to put it into practice, start WhatsApp, select the group you are an administrator of and press the button menu located at the top right (the icon with the three dots). If you are using an iPhone, you have to press on the group name at the top of the screen and not on the menu button.
At this point, select the voice Info about the group from the menu that opens and delete all the users present in the conversation except yourself and the one to whom you want to entrust the management of the group. If you don't know how to delete the participants in a discussion: just select their names and press the button Remove [name] from the group in the box that appears.
When the operation is completed, tap the button Leave the group to leave the conversation and the only user left in the group will be automatically named administrator. It will then be up to him to add you and all the other participants back to the discussion.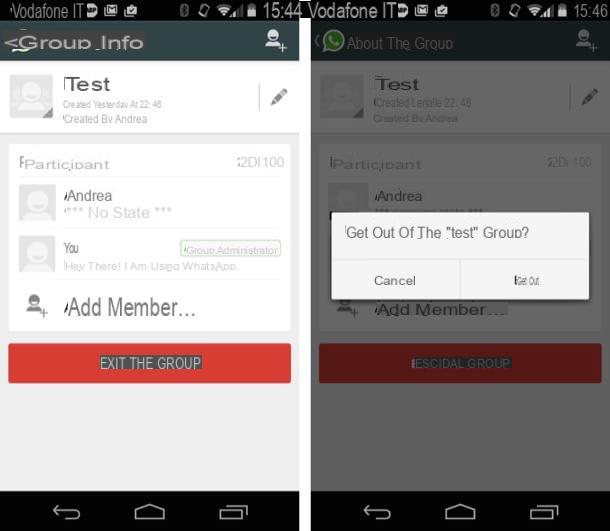 You don't care to know how to appoint administrator on WhatsApp? Would you just like to leave a conversation you created without compromising the other participants' ability to continue using it? No problem.
All you have to do is go to the Info about the group (as seen a few lines above) and press the button Leave the group. In this way you will abandon the discussion and WhatsApp will appoint a new administrator choosing him randomly among all the participants.