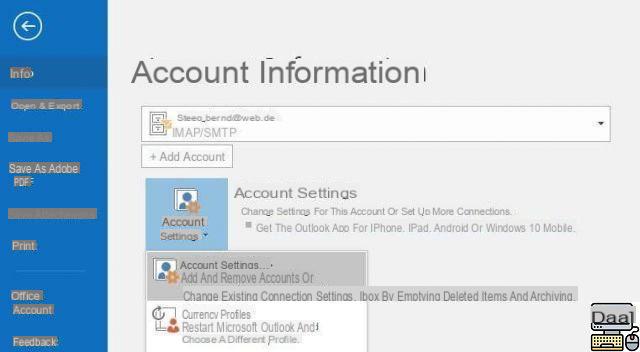 Do you suspect that your account has been hacked or just want to change your Outlook / Hotmail password as a precaution? Here are the steps to follow.
Account hacking is common on the Internet. So you are never safe from password theft. This is why it is advisable to change it regularly regardless of the account. In this guide, we explain how to change your Outlook / Hotmail password if you believe your account has been compromised.
And even if this is not the case, know that it is more than recommended to change your password regularly as a precaution. Especially since your Hotmail / Outlook address is also used to connect you to other accounts or services (Microsoft, Skype, OneDrive, etc.).
Lire aussi >> Outlook to Gmail: how to activate automatic email forwarding
Outlook: how to change password
First of all, sign in to your Microsoft account.
Then go to the following address.
Click on change the password.
Microsoft may ask to verify your identity for security reasons.
To do this, a verification code will be sent to you at the emergency address (or telephone number) of your account.
Click on the icon with an envelope and a hidden address next to it then enter the emergency address entered when creating the account.
Then click Send the code.
If you haven't received the code, try again. And if you do not have access to the second account, click on "I have none of this information" and follow the alternative methods to the end.
Once the verification is complete, type your current password and the new password you want to use for the account.
To be better protected, we recommend that you opt for a password made up of upper case letters, lower case letters, numbers and punctuation marks. Also, avoid terms that are in the dictionary. In short, do not choose a password that is too easy to crack.
There you have it, you have just changed the password for your Outlook account. And if by any chance you want to end the service, here is a guide detailing all the steps to delete an Outlook or Hotmail account.
The editorial advises you:
Delete an Outlook or Hotmail account: how to proceed
macOS: How to reset the password
How to change your Facebook password
Windows 10 won't start? Several reasons can cause problems when starting Windows 10 for the first time or after an update: Incorrect BIOS settings,… December is approaching and the list of "free" Xbox Games With Gold games has fallen. On the menu: escape, island management, orc slaughter and…Halo Infinite is the next first-person shooter video game developed by 343 Industries and published by Xbox Game Studios. Its release is scheduled for the end of 2021 on…The battery is one of the essential parts of our laptops. Like smartphones, battery life is a crucial factor for a good experience. Some apps work...