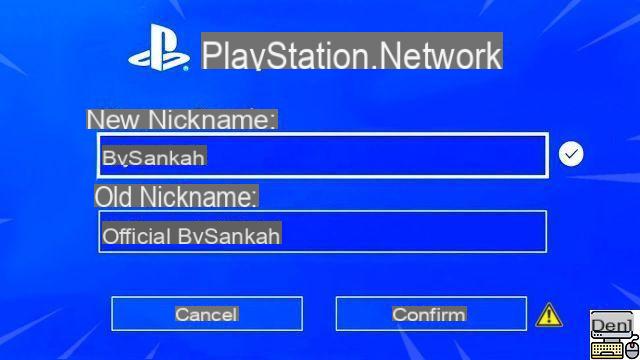 It is now possible to change your PlayStation Network nickname. You've been wanting to change your PSN ID to another for a long time, Sony is finally making it possible. In this article, we will see how to proceed and what are the ins and outs of a nickname change.
Some things are sometimes difficult to understand. While you can change your username or nickname on almost all online services, this possibility was not available to online players on PS4. After several years of requests and above all complaints, Sony has finally decided to implement this feature.
Playstation Network: what you need to know about changing your nickname
Changing PSN nickname is now possible but there are some constraints that it would be better to know before doing so. Already, it is a free option only for the first modification. If you do not want to pay to do so, you will have to think carefully about your first choice.
You keep the possibility of changing your nickname as many times as you wish, but after the first one, each change will cost you €4,99 if you are a PlayStation Plus subscriber or 9,99€ if you are not.
What constraints for the change of PSN ID?
Apart from the paid modification after the first time, Sony explains that users might experience some problems with certain games. Players needn't worry about any games released after April 1, 2018, and the majority of those released before. But for some, hiccups can be seen.
"A large majority of the most popular PS4 games we tested support this feature. Major issues should only occur with a limited number of games," Sony claims.
Back to an old Nickname
You can revert to your old nickname if you wish after the change. Also note that for a period of 30 days, the new Nickname is accompanied by the old one in brackets, which will allow your friends to recognize you easily during the transition period.
How to change your PSN nickname
The stage is set. Now let's come to how to change your ID on PSN. It is possible to do this in two ways: directly in the PS4 interface or from a web browser by logging into your account.
Change your PSN ID from your computer
Log in to your account using a web browser
In the left menu, click PSN Profile
Click on the button Edit next to the option Online ID
Take note of the information contained in the popup then validate
Change Nickname from a PS4
Make sure you are logged into your PSN Profile
Go to Parameters from the console
Click on Account Management > Account Information > Profile > Online ID
Change your username to the new one then validate
That's it, it's not more complicated. You will finally be able to change that good old nickname that stuck to your skin without you having the possibility of choosing a new ID that looks like you.
The editorial advises you:
Star Wars: on TikTok, fans design lightsabers more real than life
The ambitious James Webb Space Telescope is on its way to operational orbit. However, this one still having to test its mirrors and its various instruments. There is still a lot of work to do…According to a recent post by Tom Henderson, a reputable leaker, the remake of the famous The Last of Us should probably be available at the end of the year…Tom Henderson thus announced…Shaquille O'Neal, former basketball star, showed unparalleled generosity. This one has gifted a slew of PS5 consoles and Nintendo Switch has kids whose...The 1997 classic released on the Nintendo 64 may well be available on a new platform in the near future. Indeed, a recent leak suggests that…