Convert dollars to euros via online services
If you are wondering how to convert euros to dollars, know that you will not have to install any programs on your trusted computer. All you need is an Internet connection. In fact, there are numerous online tools and services that in a few clicks will allow you to convert any currency. Now I will list some of them for you, also explaining how to best use it.
Google converter

It will seem trivial as a solution, but use Google it is the easiest and fastest way to know in real time the conversion of the euro into dollars. All you have to do to use the converter offered by the famous search engine is to connect to the Google home page, and type in the search field the conversion you want to make.
For example, if you want to know how many dollars are 100 euros, you will have to write in the search field "100 euros in dollars" and then press Submit. In the blink of an eye you will get the desired result, in the specific case "100 euros = 116,5695 US Dollars".
Of course it is possible to do the same thing with other currencies. If we type in Google "100 euros in yen" the search engine will be able to carry out the task we have just entrusted to it without any problem. What I just pointed out to you is a rather quick solution to use, isn't it?
Google, in addition to being an efficient currency converter, is also a rather versatile tool. Therefore I invite you to read my tutorial which will explain how to search on Google. You will be surprised to know how many "hidden" functions are present in the "made in Mountain View" search engine.
Yahoo Finance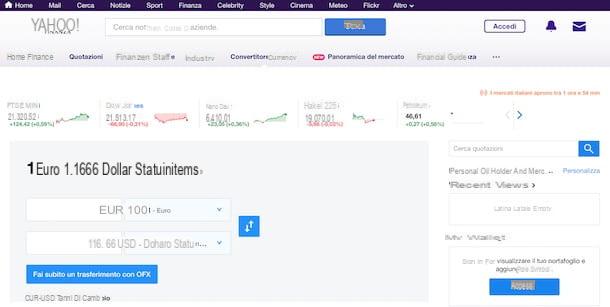 When I am asked how to convert euros into dollars (or vice versa) I cannot but also recommend Yahoo Finance, the currency converter made available by Yahoo !. To be able to use this service, all you have to do is connect to the Yahoo Finance home page and choose from the drop-down menu Euro and then U.S. dollar. By doing this you will be able to do the euro-dollar conversion without any problem.
As you may have noticed, the service made available by Yahoo allows you to make conversions with many other currencies, you will literally be spoiled for choice. Once you have decided which currency to convert, you can enter the number in the appropriate field that you actually want to convert. In real time you will get the required result which will be displayed in the field below.
Yahoo Finance, compared to Google, also offers some additional services. For example, by pressing the blue key on which two arrows are depicted (an arrow pointing upwards and an arrow pointing downwards) it will be possible to reverse the conversion. In this specific case, by clicking on the button in question, it will be possible to see how many euros the dollars are equal to.
At that moment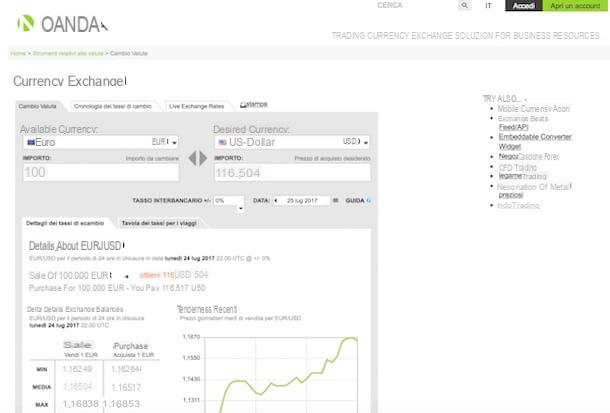 At that moment is another useful service that I have used several times to convert euros into dollars, as well as to convert euros into currencies used in Asia (since I love to visit those areas a lot). This converter, like the services mentioned above, can be used quickly and easily. In fact, no installation of additional plugins is required to use Oanda.
All you need to do is open your web browser preferred (the program you use to browse the Internet) and connect to the home page of the service. On your left you will see the Currency available, while on your right there Desired currency. If you enter an amount in euros in the field on the right, for example "100", you will notice that on the right you will get the corresponding conversion in dollars. Of course, you can use the two drop down menu to change currency at any time.
Oanda also offers some additional services. A few examples? Below you will notice that there is a graph. If you hover your mouse pointer over this graph you will see an orange dot. If you start moving this orange dot "back and forth" on the chart you will be able to see the exchange rate and its changes over time.
Xe.com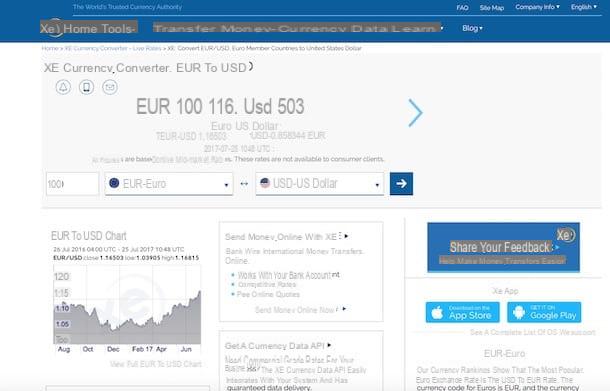 Another online service that could be very useful for you to convert euros into dollars (or any other currency) is Xe.com. To use this tool connected to the main page of this online service. Done? As you can see on the Home page of this service there is a tool that will help you convert euros into any other currency, in your specific case into the US dollar.
Writing on the editable field you can enter the amount you intend to convert (eg 100) from euro to dollar. You can change currency using the two drop down menu: the first indicates the "departure" currency, while the second menu indicates the "destination" currency. Once you have set all the parameters according to your needs, you can proceed with the actual conversion using the appropriate one white arrow on blue background.
When the conversion is completed you will also have access to a graph showing the exchange rate and its changes over the last few months. I also remind you that Xe.com is also available as an app on both Android and iOS.
Convert euros to dollars via mobile app
How do you say? Do you want to convert euros into dollars using your Android smartphone, your iPhone or your iPad? There is no problem. Also in this case I have the solution, indeed the solutions, which are right for you. Let's not waste any more time and see together how to convert euros to dollars using some free apps on both the Google Play Store and the App Store.
Yahoo Finance (Android / iOS)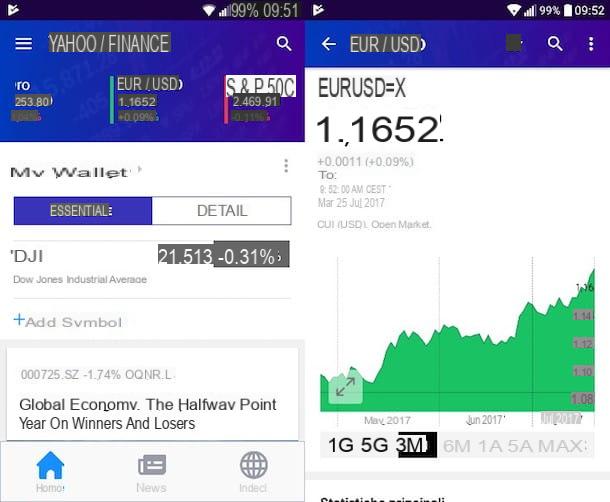 Yahoo Finance is the famous service provided by Yahoo, we have already talked about it extensively in the first part of this tutorial. This service is also available in the form of free app for mobile devices. You can install this software on both your Android smartphone / tablet and your iOS device.
After downloading the app for free from the Google Play Store or the App Store, you need to start the app: tap on the purple icon on the Home or on the button apri (from both the Play Store and the App Store). Once this is done you will need to go to the Yahoo Finance Home to be able to convert euros into dollars and vice versa. To be able to do this it will be necessary to scroll the purple bar at the top until you find the item EUR / USD.
Did you find this entry? Well, now you will have to tap on it. At this point you will see the current conversion between the euro and the dollar (US). The app also allows you to view a "history" that highlights the exchange rate over time. You can view this additional information by scrolling the page from bottom to top.
Exchanger (Android)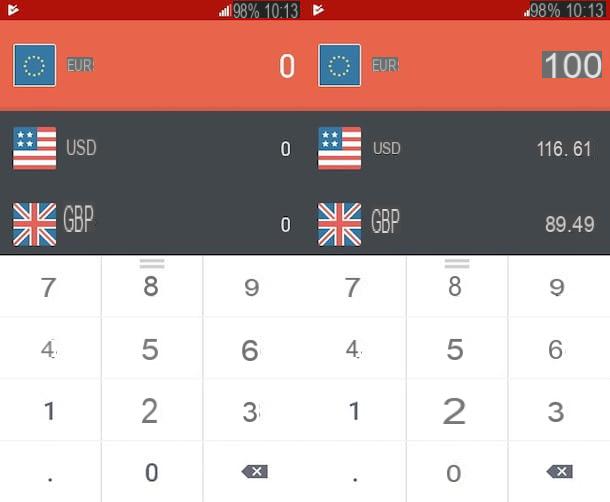 To use the app analyzed in the previous paragraph, however, it is necessary to have a good connection to the Internet. Since we don't always have a reliable connection available when we travel abroad, it's wise to "get" some solution that is available even when you don't have a data connection, don't you think? In this case the right solution is called Exchanger.
This app, available only for Android devices, is characterized by a "minimal" and at the same time very nice interface. More importantly, the app works even without an Internet connection, as I mentioned earlier.
How do you convert euros to dollars with this app? All you have to do is open the app, immediately after installing it from the Google Play Store, and type on the numeric keypad the amount you want to convert. The red bar shows your currency, in this case the euro. By typing the numeric keypad you will change the digit present in this red bar.
When you type in the red bar, the app will convert to all other currencies, not just the US dollar. Convenient isn't it?
Coin Converter (iOS)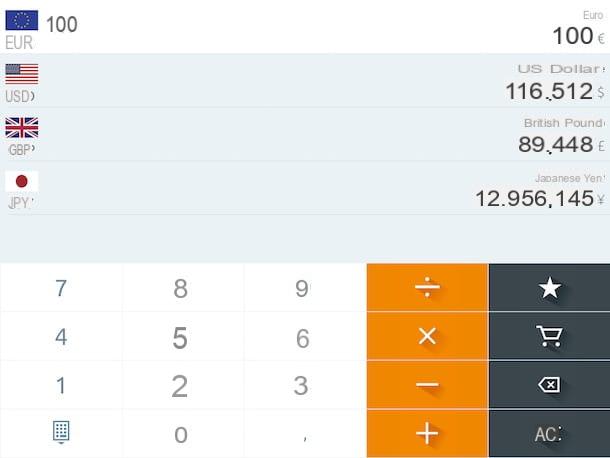 If you are a loyal Apple user, unfortunately you will not be able to download the app that I reported to you in the previous paragraph. Don't worry, even on the App Store there is an app similar to Excharger that will allow you to convert euros into dollars without having to use the Internet connection. The app I'm going to tell you about in this paragraph is called Coin converter and I already anticipate that it is really very simple to use.
Only available on iOS, this app has a very nice interface. The free version of the app allows you to convert into Euros, US Dollars, British Pounds and Japanese Yen. it is also possible buy in-app many other currencies at the cost of 2,29 €.
How do I use the Coin Converter app? First of all, go to the Home of your iPhone or iPad and press the app icon. At this point you will have in front of you the real interface of this software which, basically, is divided into two parts: in the upper part you will find the currencies in which you can make the conversion, in the lower part you will have the numeric keypad at your disposal and also other buttons that you can use to perform some operations, just like you would with a calculator.
Using the numeric keypad, type the amount you want to convert and you will notice that all available currencies will be updated instantly. By tapping on the other currencies you can reverse the conversion (from dollar to other currencies, from yen to other currencies, etc.).
How to convert euros to dollars