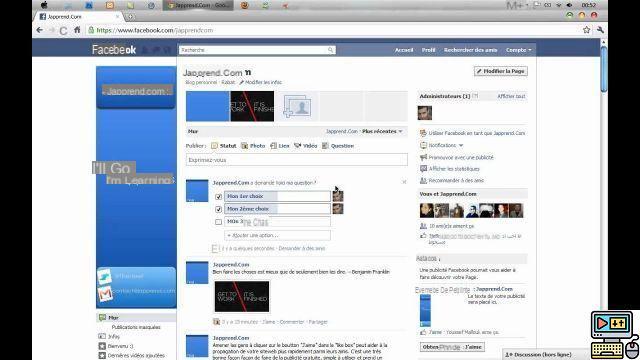 Want to create a poll on Facebook? In this article, we'll show you how to do it. Organizing a survey on Facebook is an informed choice, because it allows you to reach a large audience very quickly.
Whether you are a business or an individual, obtaining the opinions of many people on a given topic is a necessary need in many cases. In the internet age, even pollsters are turning to social media to conduct serious surveys. It is possible to easily create a poll on Facebook, although the functionality has some limitations.
Facebook: how to create a poll?
Things have changed in the new version of Facebook on the web and on mobile. The process is different depending on whether you want to create a survey on your personal account, on a Facebook page or in a discussion group. You can create a Facebook poll from a page or a discussion group. On personal profiles, you can now only do this via Stories from a smartphone. However, this option has one limitation: you can only create a two-question survey.
How to create a survey using Facebook Stories?
Open Facebook on your smartphone (Android or iOS).
Press Create a Story at the top, in the Stories section
In the options available at the top, press Survey.
Tap in the field ask a question to enter your survey question. Then tap the Yes and No fields to customize the responses. As a reminder, you can only create a two-question form in a Story poll.
Once you've added your questions, tap Done at the top right.
Tap Privacy at the bottom left to choose who can see your survey.
Finally, tap Share to post the poll.
Create a poll in a focus group
Open the group in which you want to create a poll. The process is the same on Facebook web (PC) and on smartphones.
Click on the button Create a post
In the small window that opens, click on the three horizontal dots (…) just below.
A menu unfolds with several options. Click on Survey.
Write a description of the survey, fill in the options. These correspond to the questions.
As you can see from the screenshot above, it is possible to add additional options to the survey, allow multiple responses (multiple choice) or allow respondents to add options.
When everything is ready, click on Publish.
Read also : How to create an online questionnaire or survey with Google Forms
Create a poll on a Facebook page
To create a poll on a Facebook Page, you must now go through the publication tools. Follow the process below.
Go to your page.
In the right menu, click Publishing tools.
Click on the gear icon at the bottom left and then on Classic publication tool.
From there, you can create a poll by following the method described in the previous section (Create a poll for groups). The process is the same.
The editorial advises you:
How to delete your Facebook account
How to link your Facebook and Instagram accounts?
Facebook: how to activate double authentication for more security
Facebook allows you to turn off videos from autoplaying in your News Feed. It's very simple, even if the path is not obvious to anyone who has never seen it...Facebook Messenger has been using end-to-end encryption since 2016. To take advantage of it, just start a secret conversation with one of your contacts. Still need to know… When you use Instagram, your contacts can know that you are online, a small green circle appearing on your avatar. Except that you might want to survey the application in all… Instagram allows you to activate double authentication so that you no longer depend solely on the security of your main password. A way to significantly strengthen the protection of your account...