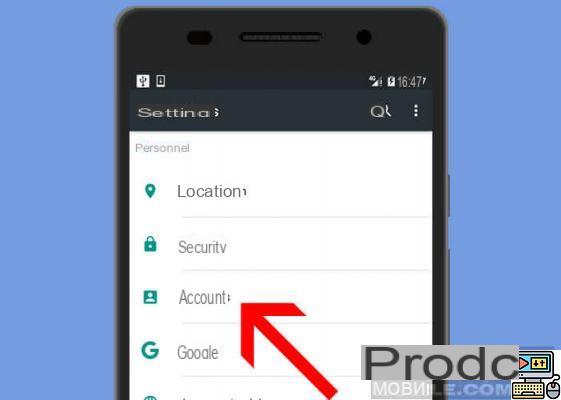 Want to delete a Google account on Android? Whether it's cleaning up before reselling or simply limiting the number of accounts linked to a device, we'll show you how to do it. It is indeed possible to use several Google accounts on the same device and this can cause synchronization problems depending on the account you use on other devices.
This is one of the first steps required when setting up a new Android smartphone. Registering your Google account (Gmail) not only allows you to access the Play Store, but also to synchronize your contacts, calendars, and application data in the Cloud. If you want delete google account on android without performing a complete reset of your smartphone, there is nothing simpler.
Android: how to delete a Google account in a few steps
Several reasons can lead you to delete a Google account on Android: you have several configured on the same smartphone, you sell your device or lend it to someone, but do not necessarily want to return to factory settings , among other reasons.
Removing a Google account from an Android smartphone or tablet does not mean that the account itself will be affected. This will still exist, but will no longer be associated with the device. But before taking this step, make sure you know everything it entails:
The account will also be unlinked from the Gmail app. You will no longer be able to receive email notifications from the affected account unless you log in again.
You will no longer be able to access data linked to your Google account from the smartphone, including photos and videos hosted in the Cloud.
Content you purchased from Google Play and YouTube is no longer accessible from the device.
Any information you've kept in Chrome, such as bookmarks, browsing and search history, will be lost, but only on the affected device. If you want to go further, you can also find out how to clear Google search history and remove all your traces.
Ready to take the leap?
Here's how to delete a Google account on Android
The process is essentially the same, regardless of the version of Android and the brand of smartphone you are using.
Go to Parameters then in the section Accounts
Press Manage your account
Tap your name just below the profile picture to expand the drop-down menu of linked accounts.
Fully down, press Manage accounts on this device
Select the Google account to delete from the list
Press Delete account
Read the warning message displayed on the screen carefully and then confirm the deletion.
That's it that's all. The account in question is now removed from the device, along with all associated data. Finally, it should be noted that to add an account again, the beginning of the process is the same. All you have to do at point 4 is to click on "Add an account" and follow the steps to the end.
The editorial advises you:
How to delete your Facebook account
How to delete your Instagram account?
How to turn off Ok Google and stop Google Assistant from listening to you all the time
The ability to speed up or slow down a video on YouTube can be very useful. It was possible to do this in the web version of the platform for a while...Google Chrome includes a reading mode that allows you to consult a page in optimal conditions. The functionality, however, is hidden in the bowels of the browser. In this tutorial,…Google Chrome records everything you do while browsing the web. If you want to browse without leaving traces, here's how to clean up your browsing history. The Messages application on Android offers you the possibility of sending SMS, MMS and also RCS chats from a PC or Mac. To use this feature, just…