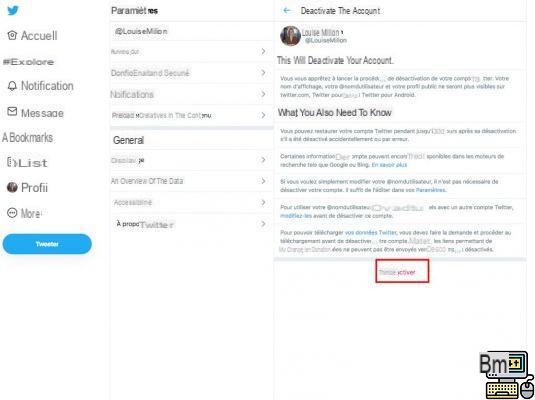 Deleting or deactivating your Twitter account is easy, a few small steps are enough in most cases. We detail here everything you need to know about it, as well as the procedure to follow to delete the account.
It is possible to deactivate his account his account Twitter. Remove the account is just as simple. In fact, you don't have to do anything else after deactivation, except wait a month. Your account will be permanently deleted. Corn to take off any trace of its passage on a social network may be difficult. So, as for Facebook and Instagram, we detail the procedure to follow.
Permanently delete your Twitter account
First, simply deactivate the Twitter account. The deletion is done automatically after this step if you do not log in again within 30 days. Just follow these 5 simple steps:
First, log in to your account
In the left menu, click on the icon Plus, And then Settings and privacy
On smartphone (mobile app), tap the menu Parameters represented by the three horizontal lines at the top right. Select option Privacy settings.
Then go to the menu Your account then click Disable Account. The process is the same in the mobile app.
Read the conditions carefully, they indicate in particular that you will have 30 days to reconsider your decision. Also, some of your content will remain viewable after deletion, and Twitter can't do anything about Google search results, which may still index your tweets.
Click on the button deactivate at the bottom of the page to confirm.
You now have to enter your password, to prove that you are the owner of the account
Your account is now deactivated, but beware: it will be automatically reactivated if you seek to reconnect within 30 days.
The editorial advises you:
How to delete your Facebook account
Netflix: how to delete a profile or your account?
How to delete your Instagram account?
Banned in January 2021 from Twitter, Donald Trump suffers from no longer being able to use his favorite social network. As he fights against his banishment from the platform in court,…Twitter is experiencing a general outage this Friday, October 1, 2021. The problem seems to have started last night. For many users, it is simply impossible to access the social network, which…Many Twitter users would like to be able to edit a tweet after it has been posted. A feature that could well land in the future, the social network having surveyed its flock to… Anxious to find new sources of income, Twitter is currently working on paid subscriptions. According to researcher Jane Manchun Wong, these will give access to premium features. Start…