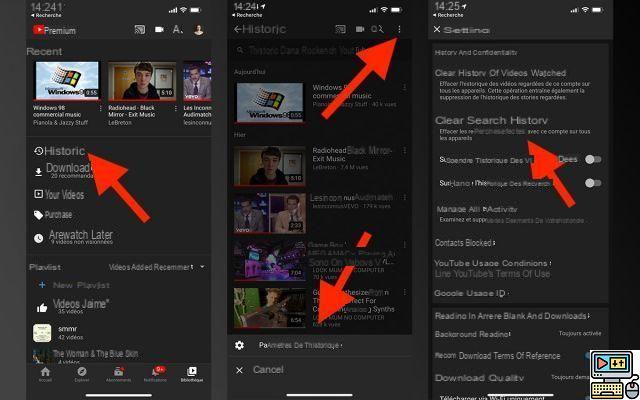 YouTube keeps a history of the videos you watch. Having access to your activities makes it easier to find content you've watched in the past. It's practical, of course, but sometimes you don't necessarily want to keep track of your activities on the video platform. Fortunately, this allows anyone who wants to delete all or part of their history.
YouTube keeps a history of your activities on your Google account. These data also contain search history only videos that you have watched in the past few months. They are practical to improve your experience and in particular feed the algorithm of recommendations. If for some reason you want to get rid of it, here's how to do it. You have the option to delete one or more videos from the history, or even all of the stored data.
How to Clear YouTube History
The easiest process for Supprimer YouTube video history is as follows.
On the YouTube website
Make sure you are logged in with your Gmail address
In the left menu, click on the option History
You access all the videos viewed in the last few days
Hover over each video to display the delete cross on the right. Click on the latter to remove the video from the history. Repeat the process for all the content you want to erase.
To clear all YouTube video history, click on the corresponding link in the right column (see image above).
Delete YouTube History from iPhone or Android Smartphone
The process of deleting YouTube history is slightly different. Here you can only delete all history, without the possibility to do it video by video.
Open the app on your smartphone and make sure you are logged in with your Gmail account
Click on your profile icon at the top right then on Parameters
Select History and confidentiality
Press Clear history of watched videos or Clear search history according to the desired option
On the same screen, you also have an option to disable both search and video history. By doing so, the application will no longer retain them.
The editorial advises you:
Netflix: how to delete a profile or your account?
How to delete a Google account on Android
How to delete your Facebook account
The ability to speed up or slow down a video on YouTube can be very useful. It was possible to do this in the web version of the platform for a while…YouTube now offers a Night mode, also called Dark mode, to change all light surfaces to dark surfaces. Since we always make it easy for you, here's how to activate the mode… First broadcast in 1984, the famous animated series based on Transformers toys was uploaded to YouTube. You can now watch videos for free…In order to increase subscriptions to YouTube Premium, Google is testing a cheaper subscription in Europe. It's YouTube Premium Lite, which offers browsing that includes YouTube Kids and…