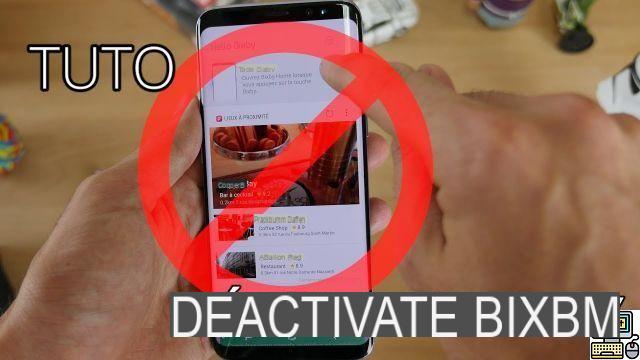 It is possible to deactivate the Bixby button on the Galaxy S9, S8 and on the Note 8. The dedicated key of the Samsung voice assistant remains useless for the vast majority of users. Especially since with us, Bixby is still expected in its Spanish version. Here's how to disable the button or reprogram it to trigger a different action.
The Galaxy S9, S8 and Note 8 have four side buttons, one more on the left edge which can be bulky. If you have one of these smartphones, you have probably more than once inadvertently touched the Bixby button while trying to lower the volume. Samsung ended up rolling out an update for deactivate Bixby in the settings, which was not possible initially. And for the most radical, it is possible to go further by simply remapping the function button.
Disable Bixby on Galaxy S9, S8 and Note 8
The most direct solution to disable Bixby is through the feature settings. To access it, press said button or swipe left from the right edge to open Bixby. Next :
Tap the gear icon in the top right
An option allows you to disable Bixby. Flip the switch to "Bixby key"
From now on, Bixby will no longer launch when the dedicated button is pressed. But it is still possible to access it via voice command or by swiping left on the screen. And if you don't want to just disable Bixby so that it becomes just a decorative button, you can always assign it another function.
Reprogram Bixby
There are several apps to modify the behavior of physical buttons on Android, such as customizing the action of the Home button. In the specific case of Bixby, there is an app that does it well: Bixby Button Remapper by BxAction.
Click here to download Bixby Button Remapper from Play Store
Open the app. On the main screen, tap on the "Action" section of the app's main interface, then tap Bixby. From there, you can choose a specific behavior for the button from about thirty actions offered, including the triggering of Google Assistant.
The editorial advises you:
Windows 10: How to turn Windows Defender on or off
How to delete your Facebook account
Already relevant on Pixel 6, the final version of Android 12 should appear before the end of the year on other phones. On the Samsung side, the new… The already famous smartphone with a foldable screen, the Galaxy Z Flip3 sports new colors and not just any colors since they are the colors of your choice! Samsung tells you…The new S22 range will soon take over from the Galaxy S21. But what should we expect? Is Samsung planning dantesque features for its future flagships? What are the…Samsung just announced that its digital car key functionality is starting to roll out. Here are the Galaxy models and the first vehicle compatible with this advanced technology. The…