Designed in the 1990s by Adobe, the PDF format allows you to combine text, images and objects such as tables or vector objects in a document. The PDF is very practical, because it allows you to preserve the layout of the original document, to read it on all media and to protect its access if necessary. It is thus the most popular format for sharing professional and administrative documents, whether for publication or for printing.
However, it can be practical to be able to edit or modify a PDF file to add content to it, to fill out a registration form or to annotate a document. Modifying a PDF allows the user to correct, add text or even sign a document.
To do this, there are a host of free, paid, and trial version tools to edit and modify a PDF.
The editorial staff invites you to discover this selection of the best tools to modify a PDF document for free without watermark.
Annotate and add text with Adobe Acrobat Reader DC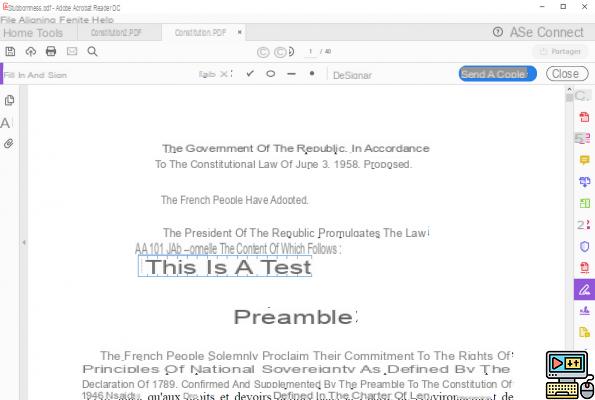 Reference in the field of PDF, Adobe Acrobat Reader DC is a software allowing to consult its PDF files, to convert its documents, to reorganize its pages and to combine PDF.

In addition, the software allows you to annotate your documents to add comments and to highlight or cross out existing text. Adobe Acrobat Reader DC also offers to add text to fill out a form and sign its documents.

The user must therefore select the Fill and sign tab and then choose the options to add text, add a cross or a tick or affix a signature. Very practical tools for filling out a form or answering a questionnaire.

Download Adobe Acrobat Reader DC for Windows
Download Adobe Acrobat Reader DC for macOS


Create a PDF document with OpenOffice
Even if they do not offer to modify or open PDF documents, the free office suites OpenOffice and LibreOffice allow you to export your text documents to PDF format.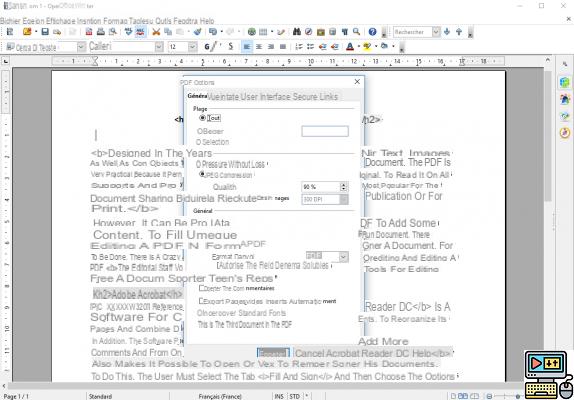 To OpenOffice, the user must go to the File tab and then select the Export as PDF... option. A window is then displayed on the screen to configure several options such as page selection, image compression, layout as well as password protection.

Download OpenOffice for Windows
Download OpenOffice for macOS
Download OpenOffice for Linux


Edit your PDFs with the very complete Foxit Reader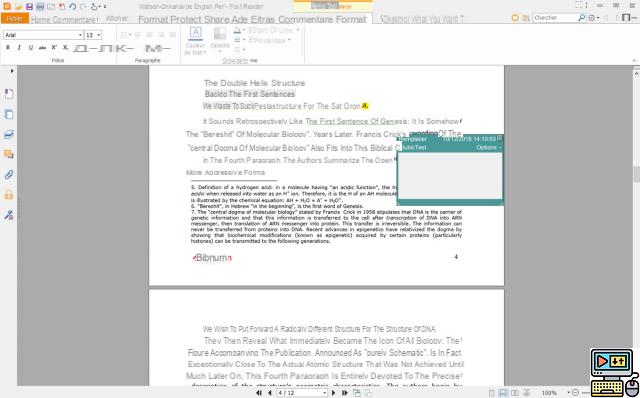 Foxit Reader
is one of the most extensive free PDF readers on the market. Entirely in Spanish, this software allows you to read, comment and protect your documents. The Comment tab is packed with options for annotating documents, adding a line of text, taking measurements, and applying a customizable stamp.
The user is able to add another file as an attachment and to customize the display of his notes and comments thanks to the many text formatting options.
Foxit Reader
also offers the management of electronic signatures to authenticate documents.
Download Foxit Reader for Windows
Download Foxit Reader for macOS
Download Foxit Reader for Linux
Edit a PDF with precision with InkScape
Open source and cross-platform,
Inkscape
is a free software initially allowing to create and edit vector drawings in SVG format. It is also very effective for modifying and editing the content of a PDF document in depth. Only downside, it allows you to work on one page at a time, but leaves many possibilities to the user. The latter can thus move images and erase entire passages to replace them with new text.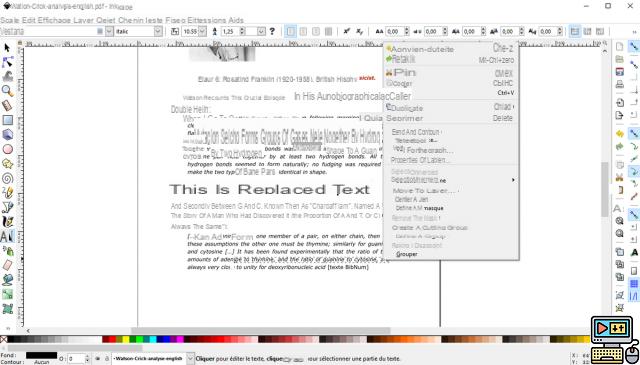 The software also offers good management of layers as well as automatic recognition of fonts if they are already installed. Finally, note that
Inkscape
allows exporting in PDF format, but also in the form of a PNG image.
Download Inkscape for Windows
Download Inkscape for macOS
Download Inkscape for Linux