Index
Hacking techniques to enter a Facebook profile

Keylogger
Passwords saved in the browser
Social engineering
Phishing

How to protect your Facebook profile

Use a strong password
Enable two-factor authentication
Use the privacy settings that are best for you
Check for active Facebook sessions
Don't connect to public Wi-Fi networks
Use a good unlock PIN

How to enter a Facebook profile after forgetting the password
Hacking techniques to enter a Facebook profile

If you're wondering how "bad" hackers get into another person's Facebook profile, you need to know that there are some hacking techniques that allow you to retrieve the login credentials of another user with a certain ease. The techniques that I will present to you in the next lines allow you to do this in various ways: through some programs capable of capturing all the words that have been typed on the keyboard of a PC (including passwords), the recovery of passwords by taking them from the Web browser used by "Victim" or through the use of so-called "social engineering" techniques.

Keylogger
To adopt the first method that I briefly illustrated to you a moment ago, that is to capture all the words and phrases typed by your "victim" on the PC keyboard, it is necessary to use a keylogger, which is a program that secretly records everything that is typed on the keyboard.
The most advanced keyloggers, after recording the words typed by the "victim", send this information to the crackers via e-mail. The less advanced keyloggers, on the other hand, allow you to physically recover the data from the computer of the "victim" and then copy them to an external memory medium, such as a trivial USB key. One of the simplest to use and easiest to find keyloggers is Home KeyLogger, the operation of which is explained in detail in this guide that I have prepared especially for you.

Passwords saved in the browser
The second hacking technique that can be used to enter a Facebook profile without authorization is the recover passwords saved in the web browser database used by the "victim" to access his account. As you may already know, Google Chrome, Mozilla Firefox, Edge, Safari and many other browsers allow you to save your passwords so that you do not have to enter them every time you want to access a particular account: it is possible to exploit this vulnerability to access the profile Facebook of another person.
Obviously, also to use the method described above, you must have physical access to the victim's computer and have the time to install one of the free programs that allow you to retrieve passwords from the browser database, such as the FacebookPasswordDecryptor software, whose operation is described in detail in this article I have published especially for you.
Social engineering
Another hacking technique that can be used to forcibly log into a Facebook profile, and I warn you about, has to do withSOCIAL ENGINEERING. Some may cunningly ask you to lend them your smartphone, perhaps because they pretend to be in a difficult situation, and use this excuse to log into your Facebook account and steal some of your personal information.

Phishing
In still other cases, you may receive an email that at first might appear to come from Facebook (or a notification from a Facebook page) but which, in reality, hides an attempt to Phishing. By clicking on the link that is provided to you and entering your login credentials on the web page that looks a lot like Facebook, you will be the one to provide the cybercriminals with your login credentials. So watch out for suspicious emails and notifications!
Caution: entering another person's account without having their authorization can represent a criminal offense. The information described in this article has been written for informational purposes only. I take no responsibility for how you will use this information.

How to protect your Facebook profile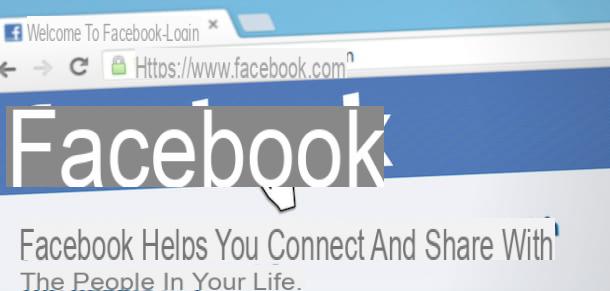 If you want prevent someone from gaining access to your Facebook login credentials, you must absolutely take some precautions that can secure your account. Some of these measures are to choose a sufficiently secure password, activate two-factor authentication and choose the privacy settings that best suit your needs.

Use a strong password
If you want to keep your Facebook account safe you must first use a sufficiently secure password, which is therefore difficult to capture. In doing so, keep in mind the following "tips" that apply not only to Facebook, but also to any other type of account.
Use long passwords — the longer your password, the less likely it is that it will be intercepted by some attacker. For this reason, use passwords that have one length between 15 and 18 characters.
Change passwords regularly - since no password is 100% secure it is good that you change it regularly, at least every 30-60 days.
Choose words that do not make sense - if you choose a password consisting of nonsense words that have numbers, letters and symbols (eg. !, ?, £, $, %, &, etc.), you will not allow malicious people to guess your password using classic dictionary-based attacks. Of course, you must also avoid using your personal information (name, surname, date of birth, etc.), as they could easily be intercepted by anyone who would like to enter your Facebook account.
Use different passwords for each account - the password you use to log into Facebook must be different from the passwords of all the accounts you use. If you do not pay attention to this advice and some attacker manages to intercept the password of one of your accounts, all other accounts in your possession will be put in serious danger.
If you want to make your life easier, use a password manager like 1Password e LastPass, thanks to which you can safely store and manage your passwords by remembering a single master password. I told you about it in more detail in my tutorial on how to manage passwords.
Enable two-factor authentication
Enable two-factor authentication it's a great way to increase the security of your Facebook account. In this way, even if someone unfortunately gets hold of your account password, they will still not be able to access your profile since they will not have the second access key that you will receive via SMS on your smartphone every time someone tries to make a new one. access.
To activate two-factor authentication, connect to the Facebook website and click on arrow (located at the top right, next to the "?" symbol), select the item Settings from the menu that appears and, on the page that opens, select the item from the left sidebar Security and access. Then click the button Modification located next to the item Use two-factor authentication.
At this point, click on the link Configure located next to the item Two-factor authentication is disabled, click on your bottone Activate in the box that appears on the screen and follow the instructions on the screen to complete the procedure.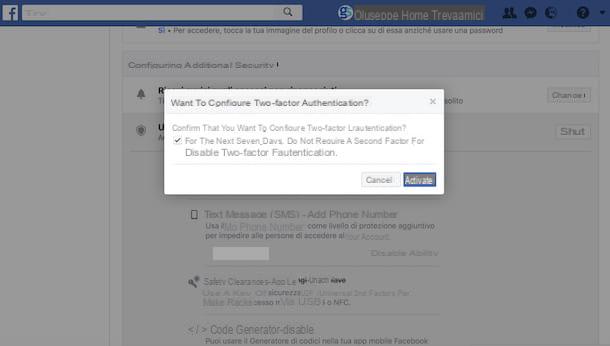 Once you have activated two-factor authentication, every time you log in to Facebook from a new device or a new browser, you will be asked to enter a verification code that will be sent to you by the Facebook team on your smartphone.

Use the privacy settings that are best for you
Another aspect you need to pay attention to to avoid revealing valuable information regarding your Facebook account is choosing privacy settings that can "obscure" some of your personal information from malicious people.
To change the privacy settings of your Facebook account, connect to the social network website and log in using your account login credentials. Then click on the arrow pointing down (located next to the "?" symbol) and, in the drop-down menu that appears, click on the item Settings.
On the page that opens, click on the item Privacy and, in the box you see, choose who can view the various contents you post on Facebook by clicking on the link Modification located next to the various items you see on the screen and choose the option Friends if you want this information to be visible only to your friends, Friends except ... if you want to show certain contents only to some of your friends or Only me if you want certain information to be withheld from everyone and only visible to you.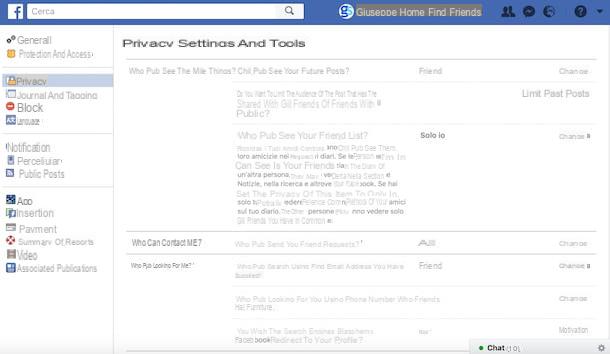 In addition to choosing the most suitable privacy settings for you, I also advise you to be careful not to reveal some of your personal information through Facebook posts, photos and so on. For example, avoid revealing times when you are not usually at home or revealing where you live, where you go to school or where your workplace is. All of this sensitive information could pose a serious threat to you if it gets into the wrong hands. Listen to me!

Check for active Facebook sessions
Another protection method you can take to protect your Facebook profile is to view (and, when necessary, close) the Facebook sessions active. By doing this, you will be able to discover any unauthorized access and close them before it's too late. Before telling you how to view the accesses, however, I suggest you activate the access alerts in order to be promptly informed in which case someone should access your profile illegally.
Then connect to the Facebook website, log in to your account, click on arrow situata in alto a destra e seleciona la voce Settings in the drop-down menu that appears. On the next page, select the entry Protection and accounts located on the left sidebar, click on the button Modification placed next to the item Receive alerts on unrecognized logins, put the check mark next to the options Receive notifications e Send access alerts via SMS to [your mobile number] e pulsing sul pulsating Save Changes.
This way you can receive real-time notifications of any suspicious logins and remedy the situation before some attacker does damage using your account. If this happens, go to the section Where are you logged in (always on the page where you are at this moment) to view and close the accesses made to your account, click on the symbol (...) and, in the menu that opens, click on the option Logout to end the session and block unwanted access. Then reset your password following the advice I gave you in the dedicated paragraph.

Don't connect to public Wi-Fi networks
If you want to prevent someone from taking over your Facebook account, avoid connecting to public Wi-Fi networks which are notoriously more vulnerable to cyber attacks and which could be used by unscrupulous attackers to "sniff" your data. For this reason, do not connect to public Wi-Fi networks and use your carrier's 4G / LTE connection.

Use a good unlock PIN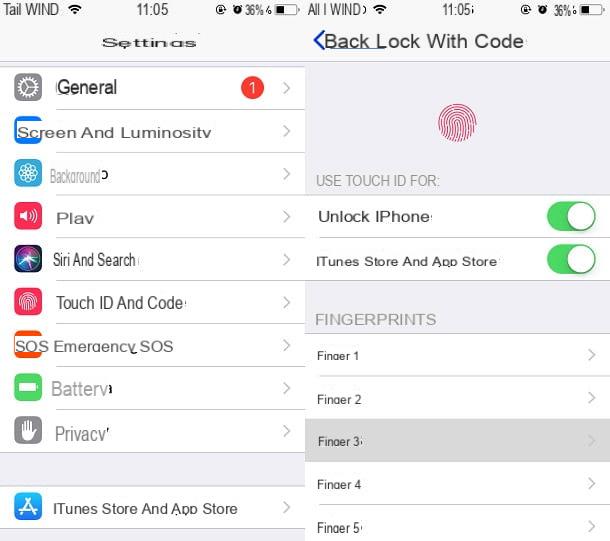 To prevent someone from illegally accessing your smartphone, use a good unlock PIN and, if your smartphone has one, activate the unlock via the fingerprint sensor. In any case, I advise you not to use sequences that can be easily captured by users who are present in the vicinity.
If you have a device available iOS, go to the Settings> Touch ID and passcode> Add passcode (o Change codice), while on a device Android, go to the Settings> Security> Screen Lock> PIN.

How to enter a Facebook profile after forgetting the password

You stai chiedendo how to enter a Facebook profile why did you forget your password and now you can no longer log in to your account? Thanks to a simple password recovery procedure, regaining possession of your account will not be complicated at all, you can be sure!
First, connect to the Facebook website and, if you do not remember your login credentials, click on the link Non ricordi più come accere all'account? which is located immediately after the fields to insert theemail or phone and Password. On the page that opens, you should see a box in which you are asked to enter your e-mail address or your telephone number in a specific field: then enter your email or phone and click on the blue button Search. At this point you should receive, via e-mail or SMS, a code to 6 digits that you will need to enter in the field insert the code.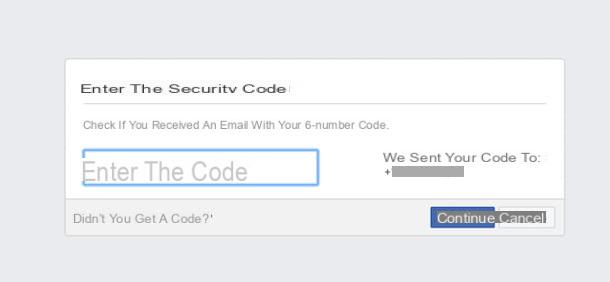 After entering the 6-digit code in the appropriate box, click on the button Continue to continue with the password recovery procedure and, on the page that opens, set a secure password in the field New password (using the advice I gave you in the paragraph dedicated to secure passwords). After doing this, click on the button Continue. On the next page, then affix the checkmark on the option Disconnect from other devicesclick on your bottone Continue and, as if by "magic", you will finally be able to recover your account! Did you see how simple it was?
For more information on how to recover your Facebook password, read the article I dedicated to this topic. I am sure you will find this reading very useful.
How to enter a Facebook profile