Services for obtaining username and password combinations
As I mentioned, some online services are available on the net thanks to which you can obtain username and password combinations that are useful for immediately accessing the Internet sites that interest you. Below you will find those that in my humble opinion represent the best solutions of this type currently present on the square.
BugMeNot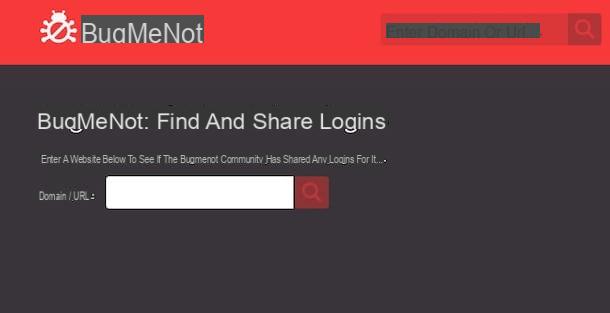 The first mandatory step you must take if you want to find out how to enter sites without registering is to go to BugMeNot, the world's most popular online service where users share their login details to allow others to access forums and websites without having to register first. The only problem with BugMeNot is that it does not allow you to view the access data of some sites considered too "sensitive" to be used with standard credentials, such as Facebook and Twitter.
To use it, all you have to do is connect to its main page using the link I gave you a moment ago, type the address of the site you want to access without registration in the bar located at the top center in correspondence with the item Domain/URL: and click on the red button depicting a magnifying glass.
The search results are displayed in order of reliability (success rate), this means that the username and password combinations you see in the first places are the ones that almost certainly work, while the last ones on the list are most likely no longer valid. Once the search results have been displayed, all you have to do is copy and paste where required the data corresponding to the username and password that are indicated to you by the service.
Also, if a specific username and password combination doesn't work, you can report it on BugMeNot so that any other interesting users will immediately know about it. To do this, press the appropriate buttons that you find under the wording Did this login work? corresponding to each of the available login data. To indicate that a given username and password combination works, press the green button depicting a check, while to indicate that it does not work, presses the red button depicting a x.
You can also use BugMeNot in the form of a bookmarklet by clicking here and dragging the red button located at the top of the web page that is shown to you in the favorites bar of the web browser you usually use to browse. In this way, when you are on a site that requires registration, just press the BugMeNot button added to the browser window to immediately obtain login and password to enter. Convenient, right?
Login 2

To be able to enter sites without registering you can also contact Login 2, a service similar to BugMeNot that does not have blocks regarding Facebook or other social networks. The flaw, however, lies in the fact that Login 2 does not indicate the percentage of reliability of the access data provided, so you have to try them all until you find the right one.
To use it, all you have to do is connect to its main page using the link I just provided, type the address of the Internet site you wish to be able to access without registration in the bar located in the center of the screen and click on the blue button Get located on the right.
The resulting username and password combinations are shown one at a time. To use it, just copy and paste everything where required. Easier than that?
In the event that a given combination of username and password does not work, to view others you will have to click on the button Not working, show more.
Other solutions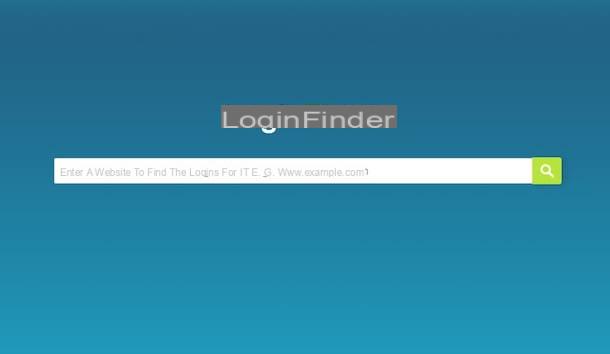 In the unfortunate event that the services to be exploited to enter sites without registering that I have already indicated to you have stopped working or if by looking in the respective databases you were unable to find working username and password combinations, you can try to rely on alternative solutions which you find indicated below.
LoginFinder - This is a service practically similar to those I have already proposed but based on a more limited database.
Fake Account - This is another Web service that allows you to obtain a fictitious username and password but which, unlike those already proposed, also allows you to view combinations for accessing sites in a random manner.
User-Agent Switcher - This is a Firefox add-on that can be used to browse forums or sites where login is required without registering.
Services for obtaining temporary emails
As an alternative to the use of services, such as those seen in the previous lines, thanks to which it is possible to enter sites without registering using ready-to-use user name and password combinations, you can resort to the use of Web services that allow you to create temporary e-mail addresses that, in fact, you can use to create an account on the sites of your interest without providing your actual e-mail address and, consequently, without actually registering.
Airmail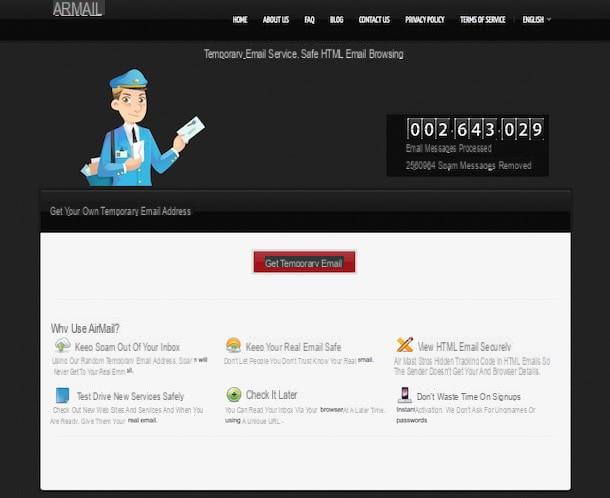 The first service to create temporary emails that I suggest you use is the one offered by Airmail, which generates a random email address that you can use to sign up for websites that interest you without having to provide your real email account.
To get your mailbox with AirMail, the first and practically only step you need to take is to connect to the main page of the site using the link I just provided and click on the button Get Temporary Email. Once this is done, a page will open with the contents of the box and the complete address entrusted to you by the service (you can find it in the field next to the item your email is:).
Once you have used the address to register for an online service, you can read the emails received directly from the browser by clicking on their title.
Just keep in mind that to keep your temporary address "alive", you'll need to log into it at least once a day using the URL you see in the address bar. If you no longer log in to your AirMail box, it will be deleted (along with all messages it contains) after 24 hours.
YOPmail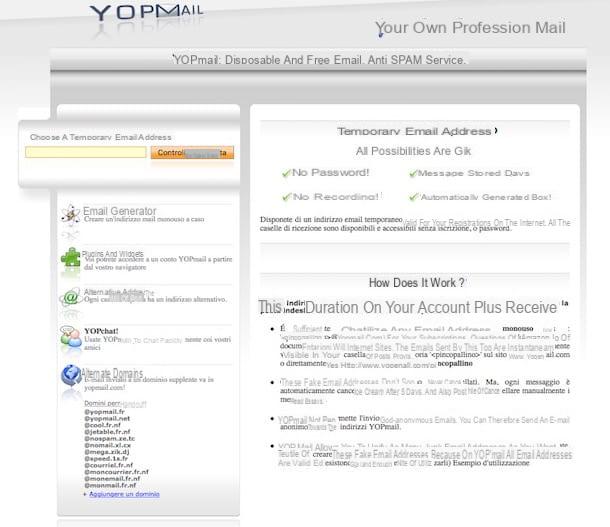 Another great solution by which you can create temporary email addresses that I invite you to try is YOPmail. It's free, it supports a wide range of different addresses (yopmail.com, mega.zik.dj, courriel.fr.nf, nospam.ze.tc and others that you find indicated in the lower left part of the main page of the service) and is extremely simple to use.
To use a temporary address with Yopmail you don't need to create it in advance. This means that you can register for any online service and have e-mail messages sent to an address invented from scratch (having as domain yopmail.com or one of the alternative addresses mentioned above) and only then go to consult the contents of your mailbox.
How? Nothing easier. To read the emails received on Yopmail, connected to the main page of the service, type the first part of your address in the field Choose a Temporary Email Address and click on the button To check the mailbox. By default, messages are automatically deleted after 8 days, but if you want you can delete them manually by selecting them and clicking the button with al. x red.
Other solutions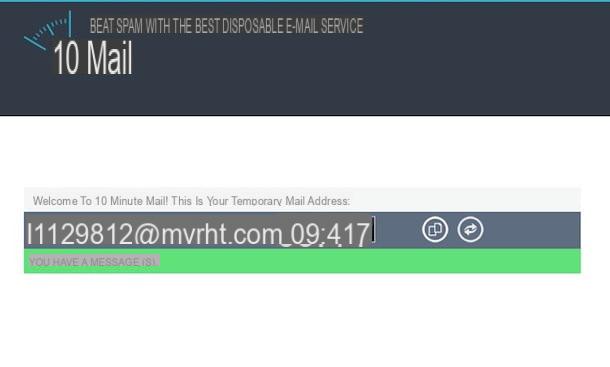 The solutions to create temporary emails to be used to enter sites without registering that I have already proposed have not been able to attract your attention in a particular way or have they stopped working? Then take a look at the ones listed below. I am sure that among these you will be able to find the one that suits you best.
10MinuteMail - This is a very popular "disposable" email service that allows you to create temporary mailboxes lasting 10 minutes (renewable upon user request).
MyTashMail - This is a practically historical temporary email service that allows you to create addresses @mt2015.com custom.
Mailnator - This is a service that allows you to generate temporary mailboxes with a suffix @ mailnator.com.
How to enter sites without registering