Index:
How to find an Android mobile
How to find an iOS mobile
How to find an Android mobile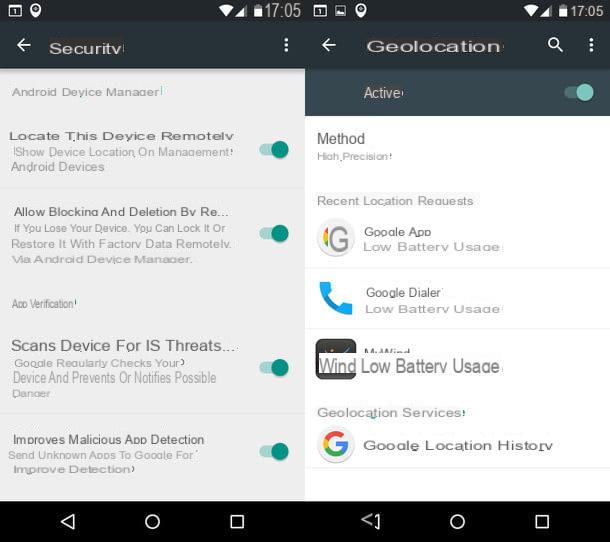 In case you need to find your Android smartphone, know that you can use an internal feature of your mobile device called Find my device which will allow you to geolocate your smartphone remotely, as long as you have previously activated some specific settings.
To make the smartphone's geolocation function work remotely, you will therefore first have to activate the GPS on your smartphone and then make sure that some specific items in the settings menu are active. Then follow the steps that I will show you in the following lines so that you can track your device remotely.
The first thing to do is to tap on the settings app which has the symbol of a gear. Then locate the wording Geolocation and tap on it by then moving the lever from OFF a ON to activate geolocation on your mobile device.
Once you have done this, go back to the settings screen and tap on the wording Google. At this point you will need to locate the item Safety and tap on it in order to view the section Find my device.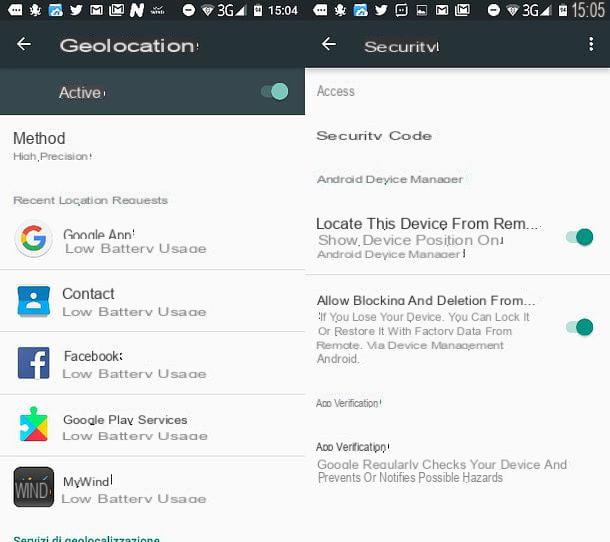 Then tapping on the wording Find my device make sure the toggle is moved up ON otherwise, move it to the right to activate it. Furthermore, if present, it also activates the additional functions named Allow remote blocking and wipe.
By carrying out these specific operations you will be sure to be able to remotely locate your mobile phone in case you have lost it. Obviously keep in mind that to find a mobile phone remotely it will be necessary that the geolocation and the mode Find my device are always active.
Now you can choose two different ways to track your mobile phone remotely: you can connect to the Find My Device website and track your device via the web interface or, if you have another Android smartphone, you can download the application free called Find my Device.
In both cases, to find your Android phone you will need to log in using the Google account on the phone you lost.
My advice is to carry out the procedure through the official website of Find My Device as this can be used on both a Windows computer or a Mac computer and is accessible using any web browser.
That said, once you have connected to the Find my device website and logged in using the data of the Google account on the mobile phone you want to track, you can start using all the tools of the service. Find my device.
Once logged in, wait for your Android device to be displayed on a map so that at the end of the survey you can find your mobile phone by its location.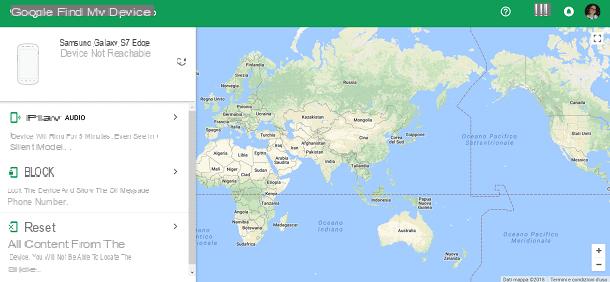 Il servizio Find my device it is also very useful for quickly carrying out some recommended operations in the event of a lost device; in fact, you can block or delete the data on your smartphone or even make it ring to find it more easily if you are nearby.
To carry out these operations, simply press the button respectively Play audio, its pulsating Block or on the button Reset.
In the latter case, however, keep in mind that by deleting all the data on your device you will no longer be able to use the service Find my device as your smartphone will be formatted and you will also lose all the data contained within it; it is therefore a drastic operation to be carried out in an emergency.

How to find an iOS mobile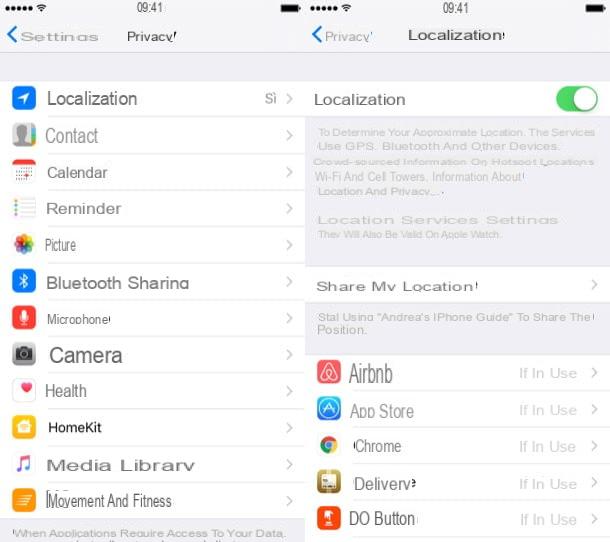 If you need to find your smartphone and this is an iPhone, then again you will be happy to know that you can track your device through the use of a predefined tool which is called Find my iPhone.
This service has several features similar to Find My Device on Android smartphones and will therefore allow you to locate your iPhone remotely through a convenient web interface or through an application downloadable from the iOS App Store.
Before we start talking to you about how it works Find my iPhone I must remind you that some settings must be activated so that you can locate your smartphone and find it remotely; without the activation of these features it will not be possible to use the tool Find my iPhone.
That said, the first thing you need to do is tap the app Settings which presents the symbol of a gear and then locate the wording Privacy and tap on it.
In the new screen that will open, then tap on the wording Location and move the lever from OFF a ON to activate the location on your smartphone. Then, tap on the wording Share my location and then move from OFF a ON the toggle to activate this feature so that your device can be tracked remotely.
Go back to the section now Settings> Location of your iOS device and then locate the list of applications that use the location of your smartphone. Once you have located the application Find iPhone tap on it and make sure there is a check mark next to the wording While using the app.
As already explained, this is a fundamental procedure for the correct functioning of the instrument Find iPhone which can now be activated through the instructions that I will provide you in the following lines.
Tap the app again Settings and then tap on the item [uo nome] that is, the one that identifies the name you have set on your Apple ID.
By tapping on the wording in question you will be able to view some specific information relating to your Apple ID; then scroll down this screen until you find the wording iPhone of [your name] which is the one related to the device you own.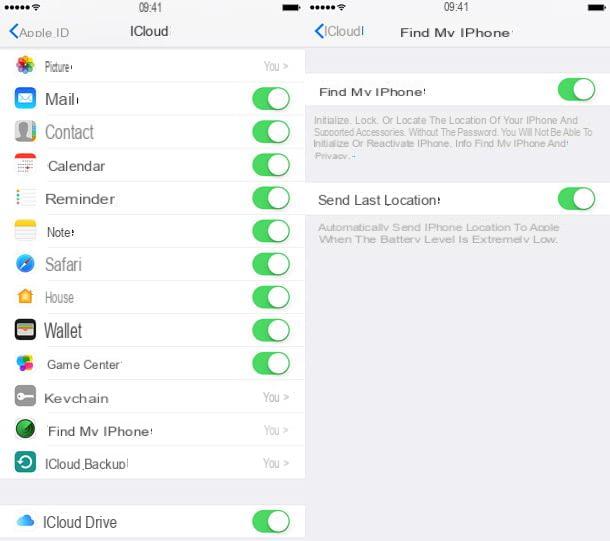 Then tap on it and locate the wording Find my iPhone. At this point, to activate the remote location feature you will have to tap on the wording Find my iPhone and then, on the next screen, move from OFF a ON land levers that you can see at the entry Find my iPhone e Send last position.
By activating these specific settings you will be able to locate your smartphone remotely and also, automatically, it will send the location of your device to the Find my iPhone service in case the battery is at a low level.
Once you have carried out all these preliminary operations indicated by me, you can use the remote location service Find my iPhone; I advise you to use it via the Internet site as in case you want to use Find my iPhone via application you will have to install the dedicated app on another iOS smartphone.
On the contrary, the website Find my iPhone, can be used from any desktop browser or any browser for mobile devices.
To use the service Find my iPhone you must then reach the official iCloud website using a browser to browse the Internet, then you must log in using your Apple ID data, the same as your iOS device.
Once you are logged in to iCloud click on the app Find my iPhone so that you can start using this service to find your mobile phone.
Then wait for the home screen to load Find my iPhone and that your device is displayed on a geographical map which will show you where it is and its position will be updated in real time.
Obviously I remind you that the service Find my iPhone it will be usable only if all the settings I mentioned in the previous lines have been previously activated.
Once you have viewed the location of your mobile you can also perform some operations in order to track it easily. Then tap on location of your mobile phone and then on button (s) to display the additional features of Find my iPhone.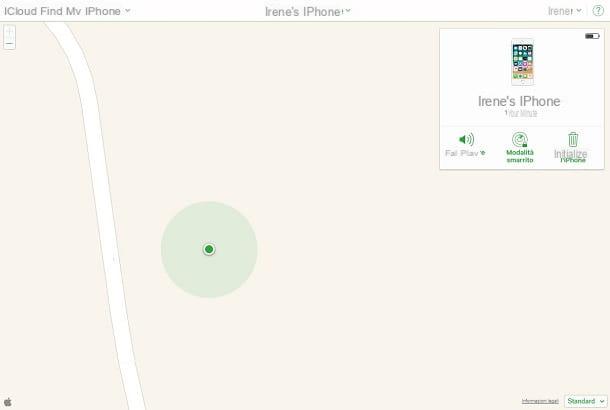 In particular, by tapping the button Make it ring you can activate an audible alarm on your device by making it sound, in this way in case you find yourself nearby you may be able to track it more easily.
If you click the button instead Lost mode your smartphone will enter a particular mode which will show some information on the screen that will allow those who find your device to return it to you.
Instead the button named Initialize the iPhone refers to the device reset remotely: however, keep in mind that by tapping on that button you will restore your smartphone to the factory settings and therefore you will no longer be able to trace it through the service Find my iPhone. It is therefore an option to be used as a last resort.
How to find a cellphone