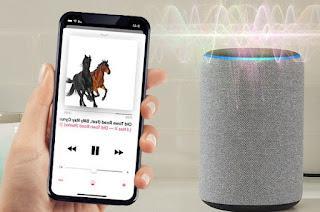 We have decided to place Amazon's voice assistant in one of the rooms of our house and we want to use it to be able to listen to some music for free, using only voice commands to start playback? Although Alexa and Amazon Echo products give their best in combination with a Spotify Premium account, there are many other services available with which to listen to free music from the speaker or compatible Echo speakers.
In this guide we will show you
how to listen to free music with Alexa, via app or Echo
, using only the free services compatible with them, deliberately ignoring all the services that require a subscription to work. We will then be able to ask Alexa to play some healthy music to fill the atmosphere of the house or to make any party organized pleasant.
How to listen to free music with Alexa, via app or Echo
Below we have collected the methods with which to listen to free music from our Amazon Echo or the Amazon Alexa app, to be installed for free on Android and iOS. It is also possible to open Alexa from a PC on the site
alexa.amazon.com
. In any case, we install the app, since it is the only way to correctly configure the Alexa skills and the free music services that we are going to use. If we have not yet configured the Amazon Echo to access the Internet via your home network, we recommend that you first read our article on how
Set up a new Amazon Echo and Alexa settings
.
Amazon Prime Music
All Amazon Prime subscribers benefit from free
2 million songs can be played without limits and without any kind of advertising
; being Amazon Prime well integrated with Alexa, these songs are immediately accessible via voice commands. First we sign up for a subscription to Amazon Prime, as also described in ours
guide your Amazon Prime
(since it is activated mainly to obtain the shipping benefits, all the rest of the included services can be considered valid free options).
Once you have subscribed, all we have to do is say "
Hey alexa
"to wake up the device's microphone and use one of the voice commands shown below to start playing the music:
"Play some rock (or other genre) music"
"Play relaxing music"
"Play workout music"
"Play sad music (or other mood)"
"Play music for party"
Alexa will do so
automatically draw from music playlists on the Amazon Music service
and available for free. Unfortunately, this type of request cannot be used to play music by a specific artist or musical group: we will first have to verify that it is present in the database provided for free, otherwise Alexa will ask us (after giving the voice command) if we wish to activate the subscription. to Amazon Music Unlimited, which provides full access to the entire music database (over 30 million songs for € 9,99 per month).
If the voice commands shown above don't work, open the Amazon Alexa app on our mobile device, open the menu at the top left (with the three horizontal lines), go to Settings -> Music -> Default services and make sure that is selected
Amazon Music
.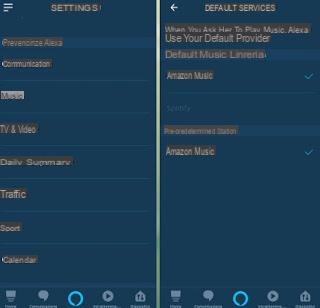 Spotify
Through Echo you can also listen to free music using the Spotify app, which works great for playing playlists in random order. With Spotify for free, you can't search for individual songs, but you can search by artists or by music genres.
To connect Spotify to Alexa, you need to install the Spotify app on your smartphone and then configure access to spotify from the Alexa app, in the Settings, in the Music section.
Online radio
With Amazon Alexa the streaming radio stations of TuneIn are available, one of the largest services for the diffusion of online radio stations, including many in your languagen radios. To be able to listen to a specific radio station through our Amazon Echo, simply say "
Hey alexa
"and, once the microphone is activated, indicate the station to be played (with a phrase such as" play [radio station name] ").
To discover the radios available with Alexa, let's open the app of the same name on our smartphone, let's go to the menu
Entertainment
below and select
Navigate to Music -> TuneIn
.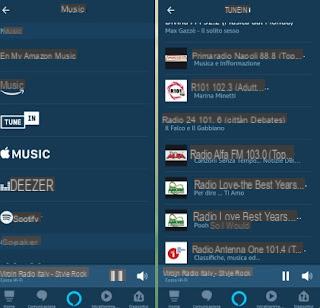 If we cannot find the radio that interests us, we can always search for the specific skill (if it exists): to do this we open the menu at the top left (with the three horizontal lines), select
Skills and games
then we use the search button at the top right to search for the specific skill for the radio we intend to add to our Alexa service.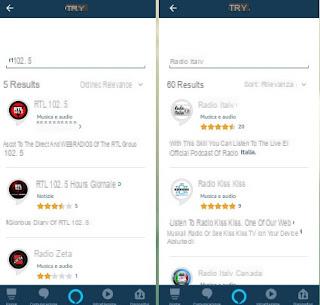 We tap on it, then press on Enable to use to add it to Alexa. From now on, just say "Hey Alexa, start [Name-skill-radio]" to immediately open the enabled skill.
Audio playback via Bluetooth
If none of the methods described has satisfied you, we can always
use the Amazon Echo as if it were a simple Bluetooth speaker
, so that we can play the audio produced by our smartphone from apps containing music videos (such as YouTube) or other audio streaming apps. To do this, we always open the Amazon Alexa app on our mobile device, open the now famous menu at the top left (with the three horizontal lines) then go to the Settings menu -> Device settings; from here we press on the name associated with our Amazon Echo, we tap on the item
Bluetooth devices
then we press the button
Pair new device
.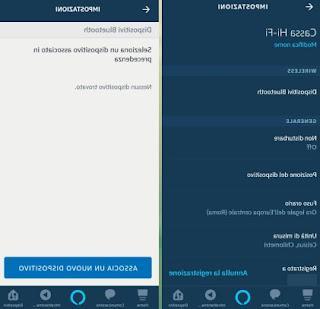 The search for our smartphone or tablet will now start (which must have Bluetooth already active to appear in the app); as soon as the device to be added appears, press on its name and confirm where necessary. Once everything is connected
the audio from our mobile device will be played through the Amazon Echo
, so you can listen to free music. To keep the listening quality high, we invite you not to go further than 5 meters from the Amazon Echo.
The same thing can also be done
connecting the PC to an Echo via Bluetooth
, to listen to music from your computer (or from Youtube) on Alexa / Echo.
Conclusions
Listening to free music through the Amazon Echo or through the Amazon Alexa app is possible, just take advantage of the music service included for Prime customers or one of the radio skills integrated into Alexa or that can be integrated at any time. If we want to play the audio of our YouTube or YouTube Music playlists, we can do it by pairing our smartphone or tablet to the Echo via Bluetooth technology (it will become a wireless speaker in effect).
As seen in another guide, it is also possible to play MP3 music and PC songs in wifi, without bluetooth.
If we want to know the other Alexa functions, just read our guide on
Functions of the Amazon Echo, what it is used for and what it does
.
If, on the other hand, we wanted to add Alexa voice commands to old stereos or speakers without Wi-Fi or Bluetooth, just read our in-depth analysis on how
Add Alexa to stereos and speakers with Echo Input
.
Do we want to use speakers other than the Amazon Echo, but with Alexa voice commands? We've rounded up all the best alternatives in our guide to
Best alternative speakers to Echo with Alexa and voice commands
.
How to listen to free music with Alexa, via app or Echo