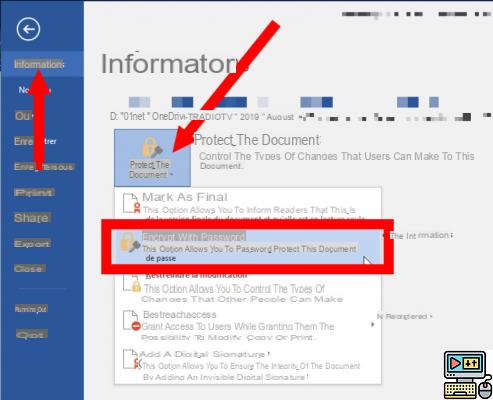 You have a Word or Excel document that you want to password protect. It is possible and it is even very easy. Two options are available: simple protection (read or modify) and encryption for more security. In this tutorial, we will see how to do it.
For the security of your professional or personal files, protect by password is essential. The Microsoft Office suite, and therefore the Excel and Word applications allow this. The process is the same for all the applications in the suite. Here's how to do it.
How to put a password on Word or Excel?
There are two ways to protect a Word or Excel file. The first is to simply add a password without which it will be impossible to modify or open the document. The second method goes beyond simple password protection. The file is fully encrypted for added security.
Add a password to a Word or Excel document
Open the file you want to password protect
Click on File> Save As> Browse
At the bottom left of the Save button, click Tools
In the dialog box that opens, enter the password for reading (to prevent opening the document without the password)
Fill in only the second field Password for modification if you want to make the file read-only, i.e. allow free access to the document, but prevent any modification (saving)
Encrypt a Word or Excel document
If you want to go beyond adding a password to Word or Excel document, here's how to encrypt it.
Open the Word or Excel document to be encrypted
Click on File
In the tab Information, click on the drop-down list Protect document / workbook then encrypt with password
All you have to do is enter the desired password and you're done. Be sure to keep the password jealously so that you don't forget it, as this will permanently prevent you from accessing the protected file.
The editorial advises you:
How to convert Word document to PDF
How to round in Excel (up or down)
Word: how to create an automatic table of contents
The ability to speed up or slow down a video on YouTube can be very useful. It was possible to do this in the web version of the platform for a while…Facebook allows you to deactivate the automatic playback of videos in your news feed. It's very simple, even if the path is not obvious to anyone who has never seen it...Google Chrome includes a reading mode that allows you to consult a page in optimal conditions. The functionality, however, is hidden in the bowels of the browser. In this tutorial,…It is easy to know if a contact has blocked you on WhatsApp, but some indicators can also trick you into believing it unfairly. So how do you know...