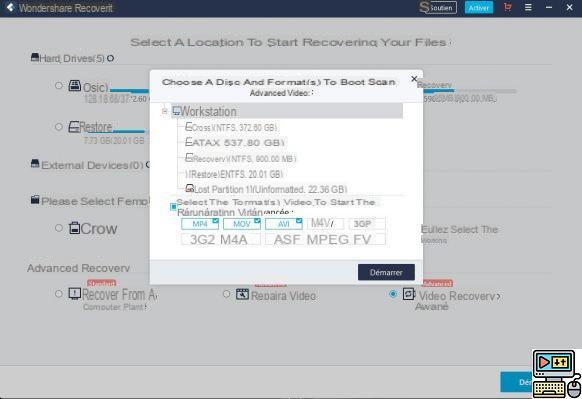 Advertisement How to recover lost data on your computer? Sponsored dossier Published on 30/10/20 at 12:15 p.m.
You have just finished a very important file and your computer suddenly crashes. You have been working on the best CV of your life for several days, which will allow you to land the job of your dreams and there, a power cut has just erased everything. You kept all your personal photos and videos on your computer and a virus wiped it all out in 5 seconds.
Losing your data following a virus attack, a hardware failure, a system reset or a handling error is obviously a painful ordeal, but unfortunately very common. Many software solutions exist to restore your lost or deleted data. Some are free but often limited, but most are paid. We will focus in this article on one of these paid data recovery software: Wondershare Recoverit. Why this one in particular? Because it is one of the most reliable solutions on the market with an excellent data recovery rate and it offers interesting additional features that should not be overlooked.
How to optimize the recovery of your data?
First, let's start with some simple computer tips that should allow you to optimize the recovery of your lost or deleted data.
First of all, as soon as you notice the disappearance of certain files, it is important to stop working on your computer before having searched for and restored the erased elements. Be aware that a deleted file is not completely erased from your hard disk or storage space, as long as no other files have been saved on the same sectors of the hard disk. They remain stored and are invisible until they are retrieved or replaced with other files. We often talk about disc rewriting. It is therefore imperative to no longer request the storage medium on which the deleted files were located until they are restored.

© Wondershare Recoverit

Then when you use lost data recovery software like Wondershare Recoverit, make sure to save the restored files to another external storage media like external hard drive, SD card or USB flash drive. This will avoid writing back to the storage device containing the deleted items.
Of course, data recovery is not foolproof and some files cannot be restored, such as in a full format with overwrite. So, it is recommended to take backups of your files on different storage devices or cloud storage services regularly.
Why use Wondershare Recoverit?
Wondershare Recoverit is a very easy-to-use recovery software solution that is acclaimed by thousands of users worldwide. Developed in 2003 by the Wondershare company, it has continued to evolve to offer ever more improvements, to support ever more file extensions, to be compatible with the latest devices on the market.
The software can be downloaded and installed on computers with Windows or Mac operating system. The trial version allows you to scan and preview the lost data to provide insightful insight into the files it can recover. Small appreciable info, no third-party application will come to invite itself at the time of the installation. It even has a built-in antivirus module that protects your files if they have come under virus attack.
It allows to recover deleted or lost files in any storage media, in the trash even emptied, in a formatted drive, in a lost partition, in an external device including smartphones, etc.

© Wondershare Recoverit

Wondershare Recoverit is even able to restore long-deleted files with its deep scanning system.
Its intuitive and Spanish-language interface, combined with restoration wizards, facilitates the analysis and the recovery process. No particular configuration is required, which makes it accessible to all users, even the least experienced. We will see later, via a very simple tutorial, how to recover lost data from your PC or Mac.
Another undeniable advantage of this software is its ability to support more than 1 file formats and file systems: PDF documents, Office files, ebooks, photos and images in standard, proprietary or raw format, videos and movies, audio files with metadata support, emails, archives, web files and many other formats.

© Wondershare Recoverit

Wondershare Recoverit is also able to handle the most common file systems (NTFS, FAT, HFS+ and APFS) and restore data not only from an internal or external hard drive, but also from the Recycle Bin built into your system, memory card, digital camera, camcorder, USB flash drive, smartphone and any attached storage device. The recovery process also extends to lost, deleted or resized partitions.
In 3 simple steps, you are able to preview a document, an image, a video before immediate restoration. In short, if you want to preview them before restoring them, know that you will be able to do so for all formats and types of data less than 15MB on Mac and those less than 30MB on Windows. Of course, it is possible to recover several files on the fly rather than restoring them one by one.
But the features of Wondershare Recoverit do not end with file recovery. It is also possible with the Standard subscription to create a bootable disc in order to access the data even if your computer does not want to start. It is obviously on another computer that you will have to download and install Wondershare Recoverit and create a bootable USB key for example or any other bootable media.
For video recovery, Wondershare Recoverit Advanced edition comes with additional advanced tools to repair damaged videos. To do this, it gathers and matches the fragments of the videos to merge them and then restore the complete video.
How to recover lost data on your computer?
If you have not made a backup and you think your data is lost permanently, download and install Wondershare Recoverit on your Windows or Mac OS X computer. Note that the software is compatible with computers running Windows XP/7/ 8/10 or Mac OS X 11 or later.
No difficulty or particular configuration is necessary during the installation phase. Simply follow the instructions of the installation wizard.
Then launch the program and access the home interface showing the various directories, disks and connected devices.
Select the location where your deleted files are located. You will notice that the interface is simple and shortcuts allow you to quickly execute data restoration from the recycle bin, your computer's desktop or a specific folder. Reducing the field of investigation in this way makes it possible to accelerate the waiting time for the analysis of the files.
The advanced options are indicated below with the mention of the corresponding subscription. You will be able to run the scan without recovery.
Click "Start" to run the full scanner.

© Wondershare Recoverit

Each file in the selected location will be scanned and displayed in the results list in real time. The waiting time varies depending on the number and size of the files to be recovered. If you wish, you can pause or stop the current analysis at any time.

© Wondershare Recoverit

Two display modes are available to you to sort and classify the search results. The path display works like the tree view of your explorer. Ranking is based on directories and the subfolders they contain. The second display mode is by file type. Items that can be recovered are sorted into different categories: graphic, video, document, database, web files, archives, miscellaneous, or no extension. Then within each category, they are classified by extension. This organization thus optimizes the search for documents to restore, but it is possible to select everything to recover them all.
But if you know the name of the file to restore, enter it directly in the search field at the top left. An advanced filtering system allows to show only deleted files, a specific file type, to hide or show system files, to specify the file size (according to different slices) and to indicate a modification date range .

© Wondershare Recoverit

As said before, Wondershare Recoverit includes a preview module. Select the file to study and click on the "Preview" button that appears in the file properties panel on the right.

© Wondershare Recoverit

A new window opens and allows you to view the image, document, video (via an integrated media player) or any other supported file type. If it is the correct file, click the "Recover" button to save it or close the window to select multiple files to restore simultaneously.

© Wondershare Recoverit

Finally, you will need to determine a backup folder or create a new one for your recovered file(s).
Regarding the advanced video recovery mode, accessible from the home interface, Wondershare Recoverit integrates a specific scan. You will need to select a disc and one (or more) video format before starting the analysis.

© Wondershare Recoverit

You will need to arm yourself with a little patience because the process is longer. Indeed, the software performs several scans to find and merge all the fragments of the videos.

© Wondershare Recoverit

However, in this advanced video recovery and repair configuration, you will not be able to perform real-time preview like other files. You will have to wait for the process to complete.
Offers and prices
It is possible to recover up to 100 MB of data for free with Recoverit Free. To overcome this limitation, the subscription to a subscription formula is necessary. Three formulas are available to you: Recoverit Essential, Recoverit Standard and Recoverit Advanced.
With Recoverit Essential, you get unlimited recovery features at:
● 45,99€ for 1 month
● €59,99 for 1 year
● €69,99 for life
With Recoverit Standard, you get a bootable media creation module in addition to lost data recovery tools at the price of:
● 59,99€ for 1 month
● €69,99 for 1 year
● €79,99 for life
With the most complete plan, Recoverit Advanced, you benefit from an advanced video recovery and repair module in addition to recovery features at the price of:
● 69,99€ for 1 month
● €79,99 for 1 year
● €89,99 for life
Conclusion
Wondershare Recoverit therefore offers a unique, simple and quick solution to easily recover all your lost data, regardless of the type of files, and the storage media on which your data was located.
The app has excellent value for money for all the features it offers. Available for both Windows and Mac computers, it makes it easy to restore deleted files in a few simple steps, accessible to everyone.
Whatever the data loss situation, Wondershare Recoverit takes care of everything. It automates and optimizes all settings, leaving few manual configurations for the user to deal with. No need to call on outsiders, you can do it yourself, provided you follow a few rules and take a few precautions.